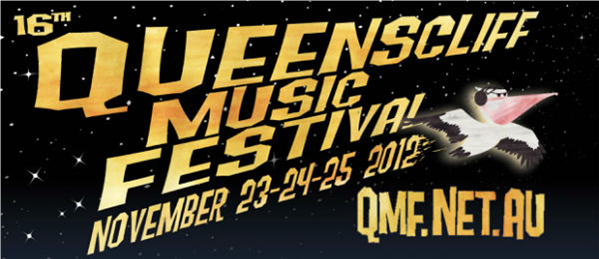 Telstra Road to Discovery Semi-Final at QMF 2012
For 16 years the Queenscliff Music Festival has built a reputation for showcasing emerging acts alongside those already enjoying success. A large percentage of these acts have then gone on to forge stellar musical careers of their own. Queenscliff Music Festival prides itself on being part of that nurturing process.
QMF is pleased to announce that this year's Festival will host the Semi-Final of the Telstra Road to Discovery program – Saturday November 24, 2012, 11:00am on the Hippos Stage. QMF is the final stepping stone for 17 performance and songwriting finalists from around the country for a place in the Final at the 2013 Tamworth Country Music Festival.
Telstra Road to Discovery is a National talent development program which offers genuine career opportunities for emerging talent no matter where they live (from metropolitan cities to regional towns, plus a digital heat for those who live more than 300 kms from the nearest heat). 13 performance artists and 4 songwriters will compete at the QMF, they are currently being selected via a nationwide round of live performance heats, songwriting and digital categories.
In the week leading up to the Festival, the heat winners will fly to Melbourne to take part in "Boot Camp" – a three day music mentoring and rehearsal workshop involving some of the biggest names in the music industry. Then they will hit the road, cross the Westgate, down the Princes Hwy, swing onto the Bellarine Hwy and hit the Hippos Stage Saturday morning of the Festival. The 10 winners to go through to the Final will be announced on the main Lighthouse stage prior to Gurrumul's performance at 1.45pm.
Queenscliff Music Festival Director, Michael Carrucan was excited about the opportunity to host the Semi-Final – "This is great for a Festival like us and our punters who come to see the best in Australian music.  A real honour and a big thanks to Telstra for letting us host the Semi-Final and showcase some of the fantastic talent we have throughout Australia. These are performers and songwriters who will grace our main stage one day in their own right. Seeing artists emerge and then following them throughout their career after an event like this is something really special"
The ultimate performer and songwriter winners at Tamworth will each receive a highly sought after 12 month tailored music mentorship package, plus a return trip to Nashville USA including a showcase gig at the Americana Festival, local gigs in Australia and New Zealand, and face time with some of the biggest names in Australian music.
For more information and how to enter go to www.telstra.com/trtd
Other brilliant lights on the QMF bill include Missy Higgins, Gurrumul, Cat Empire, You Am I, Something For Kate, Ian Moss, Baby Animals, Mia Dyson, Jordie Lane, Diesel, Shannon Noll, British India , TZU, Owl Eyes, The Beards, Clairy Browne & The Bangin' Rackettes, King Cannons, Electric Empire, Deep Street Soul, Ruby Boots, Kingswood, Ngaiire, King Gizzard & The Lizard Wizard just to name a few.
56+ acts, 150 performances across 5 stages in the festival precinct as well as on the "QMF Family Express" historic train and music stages in the towns unique and beautiful venues – The Queenscliff Inn, Vue Grand Hotel, Lombardys on Hesse and Stoked on Hesse. For those living on the Mornington Peninsula, the Sorrento-Queenscliff Ferry is offering festivalgoer's a great deal – take your car on the ferry to the Festival and your friends ride for free.
All tickets on sale now at www.qmf.net.au
Friday night Ticket $75
Saturday Ticket $115 (including ALL Fees)
Saturday Youth Ticket (14-17 yrs) $45,
Children 13 & under -Free
Adult 3-Day- $204, Saturday Night after 6pm $75,
Camping available for just $38 per person for the whole weekend
 Lineup info, the initial schedule and some new information on accommodation options are available at: