From official bio: "Based out of Southampton in Hampshire (south coast of England), SUMMERS has hit the music scene worldwide with a vengeance! Summers gets their name from two brothers, Crash and Ricky Summers, who formed the group in 2007 to create a unique blend of iconic stadium rock and the new wave of music. Contributing to this incredible sound are guitarists Jason Sepala and Joedy Rose and drummer Andy Pope. Crash is the lead vocalist and Ricky provides the bass line.
This is a talented group of singers and musicians who devote time to vocal harmony, evoking memories of classic rock bands like Bon Jovi and the Eagles. The skin-tight, twin-guitar riffs of Sepala and Rose may take you back to Thin Lizzy days.
SUMMERS released their debut single "Too Late" in August 2011 and expect to release their debut album 364 in early 2013.  Check out the Summers website for soundbytes of the finished tracks…"
Crash Summers now takes it away to introduce Summers and tell us why they're one of the best things you've never heard…
Let's start with the basics first, how would you describe what Summers aims to deliver in a musical sense?
Summers aim is simple; to bring good ol rock music back to the surface with catchy sing along choruses and feel good melodies which you can't forget…no matter how hard you try!!
Summers is a five piece band, can you introduce your band members and give a rock 'n' roll fact or myth about each!
Crash Summers – Singer. Is a nice guy!
Ricky Summers – Bass. Is the mastermind behind most of Summers songs.
Jase Sepala – Guitar. Does NOT realise how good he is.
Joedy Rose – Guitar. Is nicknamed Tommy Lee and its not because he plays drums.
Andy Pope – Drums. Goes partying with Motorhead when they are in town.
On your website you've got song samples from your forthcoming debut album '364', which incidentally sound awesome!.  When are we likely to see the album released and for those that haven't yet checked out the song samples, here's your chance to tell them what they can expect from the album?
Thank you! We are extremely proud of it and are looking to release the album at the beginning of 2013.  You can expect an album full of great melodies, hooks, sing along chorus and just an album we hope everyone will want in their collection.
As the album is obviously already recorded, when you think back to the recording sessions for the album, what 3 things/memories most immediately come to mind?
We were lucky enough to go to Cyprus to record the album and we spent 3 months out there.  There are certainly great memories and stories (some of which are best kept between Summers) but here are our top three:
1) We all fell in love with Rachel McAdams as we only had 2 DVD's to watch and one of themwas Wedding Crashers.  The band would sit down and watch it almost every night and fight over who she would choose if given the chance.  All of us were devastated when we found out she was married, however, never say never.
2) We all starved and could only afford to eat once a day. We'd usually eat in the evening after recording and it didn't matter what food it was because it always tasted amazing.
3) And finally, just being able to record, party and starve with your mates in a lovely part of the world doing something we're all so passionate about.
I couldn't help but notice a track titled "Rock Machine" which is a song for Phil Lynott from Thin Lizzy.  Aside from of course being one of the greatest rock frontmen ever, what is it about Phil Lynott for you personally that inspired you to record a song in his honour?
Our producer is a huge fan and regularly made reference to Lizzy and their trade.  Twin guitar sounds epic, but we never intentionally meant to write/record the track.  It just happened and we couldn't leave it off the album.
In terms of your song writing, what do you consider to be the most important ingredients that need to feature in a Summers song?
Our general motto is KISS – Keep It Simple Stupid.  The main ingredients have to be a catchy melody with a sing-a-long chorus.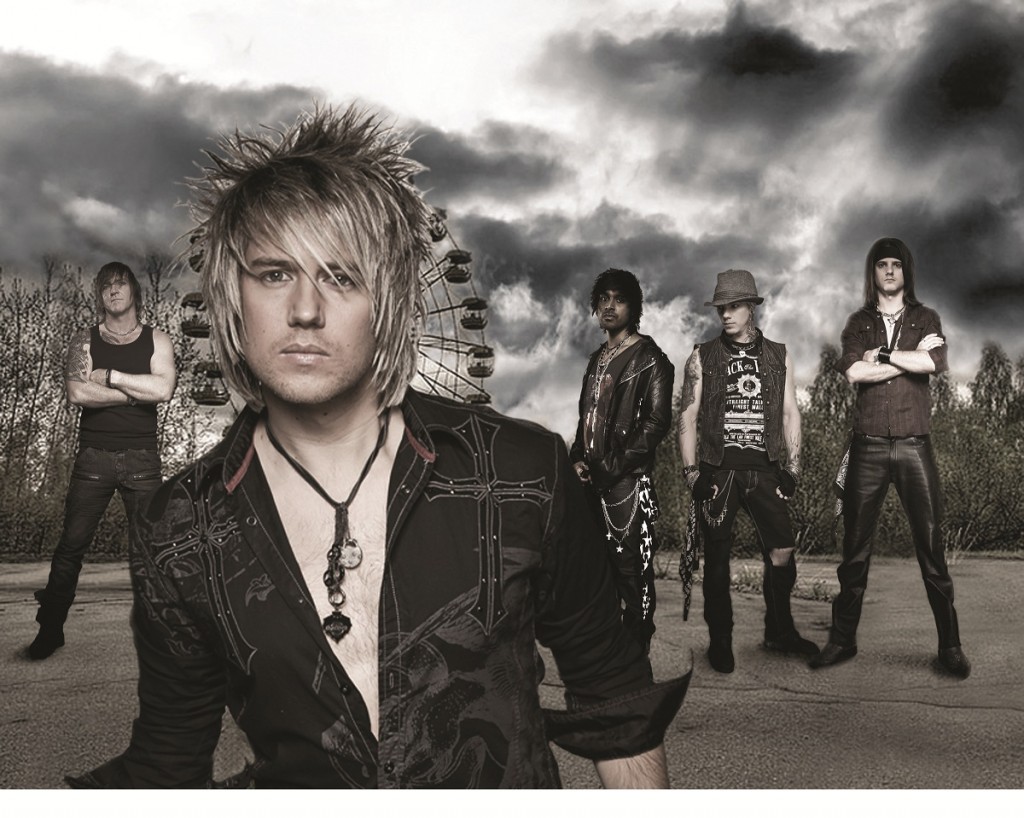 In both a musical and lyrical sense, who and what are some of the greatest influences on the music of Summers?
I think Summers biggest influence is producer Mutt Lange (AC/DC, Def Leppard, Bryan Adams, to name a few…) we love what he does and how he creates 'moments' in songs which not a lot of producers do these days (in our eyes).  We write most of our songs about things that effect our lives or friends etc.
Can you remember the life defining sight, sound, touch and/or smell whilst growing up that made you think being a "rock star" was the path you wanted to tread?
Most of us were into music from a young age and our parents were in bands or used to play instruments.  It really all started from there.  Then we started watching videos of rock stars and saw they were getting lots of girls.  The rest is history
If you were a person in the crowd at one of your gigs, what five words would you walk away using to describe the performance you just witnessed?
Loud. Energetic. Catchy. Fun. Professional.
For the benefit of those reading this in galaxies far, far, away, how would you describe the current music scene over there in UK and Summers journey to find a place within it?
Rock music similar to ours is more of an underground scene in the UK at the moment.  But there are always people who want to Rock and we strongly believe it will come around again…and we intend to be at the forefront of it all!
Here's a chance to gaze into your crystal ball, over the next 12 months, Summers will have:
1. The release of our album '364' for everyone to buy and own.
2. To have completed a tour.
3. To have achieved a bigger and ever growing fan base
Essential Information
From: South Coast England
Sounds like: Arena rock Mutt Lange style!
Band members: Crash Summers – Lead vocals , Ricky Summers – Bass & Vocals, Jason Sepala – Guitars & Vocals, Joedy Rose – Guitars & Vocals, Andy Pope – Drums & Vocals
Website: www.officialsummers.com
Upcoming release: 364 (2013 TBC)