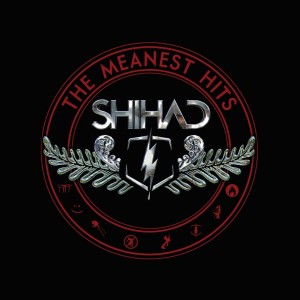 In a career now spanning nearly 25 years and having made a huge impact on the rock scenes both in their native New Zealand and current home here in Australia, Shihad recognise this in pretty much the best way possible, with the release of a 38 song double disc titled The Meanest Hits and armed with a new single Right Outta Nowhere.  On this release, all eras of the band are totally represented and let's face it, when you are compiling a release such as this, you are never going to please every person with the track listing.  No less I'm sure the band themselves, who probably endured hours of debate with which songs to include, or not include.  Rather than present the 38 songs in chronological order, the sequencing flits back and forth from era to era in what comes across rather seamlessly I must say, given the musical expanses of Shihad.
For those who might be new to Shihad, this release is a compelling insight into the musical evolution of the band from their New Zealand thrash metal beginnings represented for example by the track It off what I am sure is the truly out of print first EP Devolve, released in 1990..  The self titled album and one of the definitive Shihad tracks Home was when things really started to happen here in Australia, whilst the period of name change to Pacifier and it's singles such as Bullitproof and Run, for better or worse brought them prominence in the USA.  Even their most recent studio album Ignite released in 2010 is represented with four songs.  The release is completed with a well presented booklet, with liner notes relating to each album and to top it off, there's the new track.  Heck, I'm a completist and of course I'm going to state that this is an essential release for all the Shihad fans out there.  Regardless of whether you own every album, or are casually familiar with them from becoming a staple on festivals such as the Big Day Out.
As a side note, combined with this release, has been the premiere in New Zealand and just recently at Splendour In The Grass of Beautiful Machine, a movie that documents the bands history through the rise, the tragedy, band name changes, the fame and their musical evolution, a further Australian release/screening is still to be officially announced.  The total Shihad experience is to see them live and the band are currently in the midst of their The Meanest tour which promises to equally present the fervour of the bands early years, as well as their progression into a major festival and stadium rock act.  Sydney, Brisbane, Adelaide, you're up next….
Check out our interview with Shihad's Phil Knight right here…
Essential Information
For fans of: Shihad, of course, of course!
Release date: 2012
Record label: Warner Music Australia
Website: www.shihad.com
Tour dates
Friday 7th September – The Metro, Sydney
Saturday 8th September – The Hi-Fi, Brisbane
Thursday 27th September – The Governor Hindmarsh, Adelaide