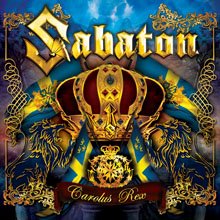 Swedish rockers, SABATON are headed to Australia for the very first time in January 2013 in support of NIGHTWISH in Sydney and Melbourne only. They bring with them their power packed symphonic power metal sound which is epic and symphonic in the modern power metal genre. SABATON has unique, distinctive vocals, gallant guitar melodies, and their lyrical concepts are drawn from World War I, World War II and other conflicts including songs about battles and leaders on all sides of said conflicts.
Currently one of the hottest acts in Europe and Scandinavia, SABATON is an explosive live act with a tremendous and ever growing loyal fan base. The overwhelming demand for a stand-alone headline show by the bands Australian fans has been heard and acknowledged.
Performing ONE EXCLUSIVE headline show in Australia, SABATON will be unleashing their assault in Melbourne at The Corner on Sunday 13th January 2013. They will be performing tracks in support of their latest release 'Carolus Rex' along with all the fan favourites. SABATON will be supported on the night will by EYEFEAR and BLACK MAJESTY.
TICKETS ON SALE at 9.00 a.m. Thursday 13th September from www.metalmassacre.com.au
Sunday 13th January – Corner Hotel, MELBOURNE (18+) w/ Eyefear & Black Majesty
Tickets from www.metalmassacre.com.au