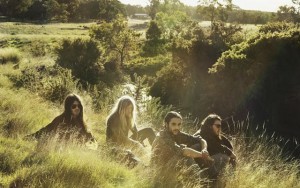 Redcoats announce the release of their debut self-titled album out 19 October. To support this release the band will be touring throughout November on their Who's Rollin' album tour, full dates below.
Following from first single lifted from the album, Raven, Redcoats have also just released second single Evergreen to radio. Watch the psychedelic inspired clip here now!
Their album follows the release of their debut EP in 2011. Recorded with Rob Long and mixed and mastered by Lindsay Gravina, both singles, 'Dreamshaker' and 'Kay Trucker' received high rotation on triple j. The close of 2011 saw 'Dreamshaker' climb to #76 in Triple J's Hottest 100 poll, cementing the band's status as one to watch.
Singer Emilio Mercuri possesses the sort of classic seventies rock timbre that can compete with the thunderous riffs of the era, which proved handy when he ran into the formidable rhythm section of bassist Rhys Kelly and drummer Andrew Braidner – who'd already started playing in bands at high school in Melbourne. They found a fellow journeyman in guitarist Neil Wilkinson.
Everything is supersize in Redcoats' world: epic drums and vocals, and a guitar and bass synergy that throbs, chops and drones. "We set out to do something that was bold," states Mercuri. "It's an honest brand of rock'n'roll."
When it came to plotting the course of their debut album, the band decided isolation was the best option. They bunkered up in a valley at the foot of the Grampians, and again in the bush outside Daylesford, to forge songs out of jam sessions that went on long into the night. It's a trippy odyssey brilliantly captured by LA producer Dave Schiffman (Nine Inch Nails, Red Hot Chili Peppers, Dead Meadow, Dandy Warhols, Mars Volta), who flew into Byron Bay's 301 Studios to work with the band before handing over to Howie Weinberg for mastering.
Their debut, self-titled EP was recorded with Rob Long in 2011 and mixed and mastered by Lindsay Gravina. Its first single, 'Dreamshaker', climbed to #76 in Triple J's Hottest 100 poll, cementing the band's status as one to watch.
The band's individuality and hard-work ethic made them an obvious support choice for fellow heavyweight acts such as Stone Temple Pilots, Grinspoon, Papa Vs Pretty, Calling All Cars and Karnivool. This is a band you must see live to experience the full Redcoats effect.
The Redcoats experience transcends modern genre-labeling; instead tapping into the roots of modern rock, back when experimentation was boundless.
Whatever it is, it's a feeling Redcoats have bottled and shaken up.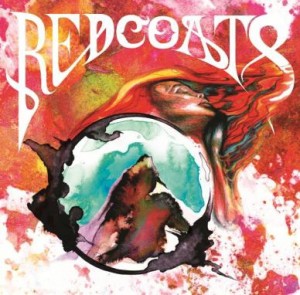 Album Release: 'Redcoats' Out October 19
www.redcoatsmusic.com | facebook.com/Redcoatsmusic
Pre order the album at JB HI-FI
Download the latest single Evergreen for free HERE
Pre order the album now at iTunes to receive a bonus track
New clip for Evergreen now
'Redcoats' brand of rock is a little psychedelia with a hint of blues and seamlessly blends from one song to the next' – The Music
'Redcoats are simply brilliant at what they do. Their style of music is completely mesmerizing, entrancing, and played with an undeniable level of skill to match' – Faster Louder
REDCOATS
Emilio Mercuri – Vocals
Neil Wilkinson – Guitar
Rhys Kelly – Bass
Andrew Braidner – Drums
REDCOATS WHO'S ROLLIN' ALBUM LAUNCH TOUR
Presented by Street Press Australian and Faster Louder 
8 November             Karova Lounge – Ballarat, VIC
9 November             The Bended Elbow – Geelong, VIC
10 November           Ding Dong Lounge – Melbourne, VIC
15 November           Star Bar – Bendigo, VIC
16 November           Whalers Hotel – Warrnambool, VIC
17 November           Jive Bar – Adelaide, SA
22 November           Alhambra Lounge – Brisbane, QLD
23 November           Great Northern Hotel – Byron Bay, NSW
24 November           Spotted Cow – Toowoomba, QLD
29 November           Great Northern Hotel – Newcastle, NSW
30 November           Annandale Hotel – Sydney, NSW
1 December             Transit Bar – Canberra, ACT
Comments
comments