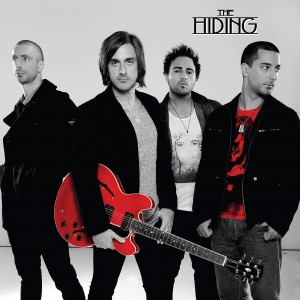 Melbourne band The Hiding will be performing some exclusive showcases as part of CMJ festival in New York City mid October. The boys will be performing tracks from their debut self titled EP that saw them receive radio play on over 140 college stations across the USA. In Australia, one of their songs was selected to be used in hit reality TV show The Block, which was aired to over 1.5 million viewers.
Leading up to CMJ, The Hiding will commence a follow up college radio campaign that will feature their two new singles set for digital release globally later this month through iTunes.
The Hiding (Anthony Salce, Ryan Di Cecco, Adrian Perri and Joe Torre) formed out of a previous band in the summer of 2010. This project saw them tour Australia extensively, supporting some of the countries most respected national and international acts. Due to a direction change, it was at this point The Hiding was born.
The Hiding have hit the studio again with Jimi Maroudas and produced two follow up singles that will get released in conjunction with their CMJ showcase in October 2012. These tracks were work shopped with Berklee song writing lecturer Pat Pattison who worked with the boys to ensure their song writing tools were constantly evolving.