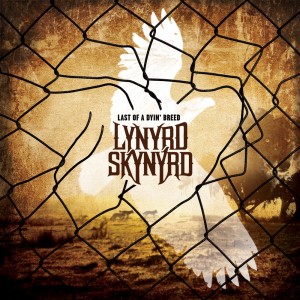 In 25 words or less: Last Of A Dyin' Breed stoutly keeps the flag of everything Lynyrd Skynyrd represent, past, present and future flying loud and proud.
I'm a 37yo who grew up in Melbourne, Australia on a diet of 80's hard rock, you know, Poison, Europe, White Lion, Def Leppard, Whitesnake, Winger, Tesla, all that kind of awesome stuff and…Cinderella.  My first introduction to Lynyrd Skynyrd was on the Cinderella Tales From A Gypsy road VHS release when as part of the live footage there was this awesome song that I knew definitely wasn't a Cinderella song.  A few years later (remember this was the days before Shazam and the Internet!!) I eventually came to discover that song to be Sweet Home Alabama by Southern rock rebels Lynyrd Skynyrd.  The few years that followed, I learnt of their tragic history when in 1977, Ronnie Van Zant, Steve Gaines, and his sister Cassie, one of the group's backing vocalists, along with their road manager and the pilots died in an airplane crash, whilst the other band members sustained serious injury.  I've pretty much consumed as much as I could about Lynyrd Skynyrd, both in written form, visual form and of course musically…hell, I even recently ate at Lynyrd Skynyrd BBQ and Beer, their mighty fine establishment in Las Vegas, USA.  So whilst I definitely don't have Southern redneck running through my blood, I certainly consider myself to be more into Skynyrd' then just Sweet Home Alabama and Freebird!
Having maintained a relatively regular output of releases over the last 20 or so years, new studio album Last Of A Dyin' Breed continues on from where the 2009 release God & Guns left off.  I guess when you have established yourself for over 40 years, as essentially the definitive Southern rock band, the Lynyrd Skynyrd that we hear today in 2012, doesn't really surprise greatly.  The essential Lynyrd Skynyrd elements are all still there, except with harder rock lashings, as opposed to the swampy countryfried boogie that old school fans might be used to on classic tracks such as What's Your Name or Gimme Two Steps for instance.
The opening duo of the title track and One Day At A Time are classic Skynyrd rockers, whilst Homegrown sees the modern tinges creeping in, immediately Nickelback springs to mind on this one.  The lyrically heartfelt ballad Ready To Fly is simply stunning, man how I love this track.  Good Teacher is a stomping bluesy rocker whilst elsewhere former Marilyn Manson and now Rob Zombie guitar extraordinaire John 5 contributes to the lyrically reflective and musically passive duo of Something To Live For and Start Livin' Life Again. 
Whilst the years have continued to claim further Skynyrd band members, Gary Rossington (guitar), Johnny Van Zant (vocals) and Rickey Medlocke (guitar) continue to fly the flag for one of the all time classic rock bands.  The Last Of A Dyin' Breed indeed Lynyrd Skynyrd are…and this album stoutly keeps the flag of everything they represent, past, present and future flying loud and proud.
Essential Information 
For fans of: Lynyrd Skynyrd and classic bluesy rock
Release date: August 17, 2012
Record label: Loud & Proud/Roadrunner Records
Producer: Bob Marlette
Website: www.lynyrdskynyrd.com
Track listing
Last Of A Dyin' Breed
One Day At A Time
Homegrown
Ready To Fly
Mississippi Blood
Good Teacher
Something To Live For
Life's Twisted
Nothing Comes Easy
Honey Hole
Start Livin' Life Again