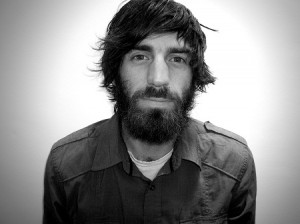 Australia has a notable fondness for the 'every man.' This encompasses the kind of relatable, not-so-every-day performers that steal the imagination of audiences wherever they roam. This rare breed tells stories through music, so fantastic and amorous that they wind around hearts, reach into heads. Enter Tasmania's Lincoln Le Fevre.
He is a little bit punk, a little bit country, a little bit rock'n'roll.  He's no bullshit, no pretences, immediately relatable and 100% approachable. It is real words and real music.  Borne out of the freezing waters of the Derwent River, his verbose lyrical style, confident musical delivery and rich vocal timbre are stirring to behold.
One of Hobart's most admired songwriters; Lincoln Le Fevre has largely been a state secret until recently. He subscribes to the grand tradition of chord striking, richly orchestrated, narrative songs. And while this obviously calls to mind national treasurePaul Kelly, it also deftly references the styles of artists of such artistic pedigree as Elvis Costello, Ryan Adams, Lucero and Raymond Chandler. The result is Lincoln's very Australian, very sumptuous canon of songs that relate the stories of people just like him: the 'every day folk.'
Resonation is Lincoln Le Fevre's sophomore album, recorded at Melbourne's Sing Sing Studios with master producer and Tasmanian ex-pat Paul McKercher (You Am I, Augie March, Screamfeeder) at the helm.  The result 12 song volume is motivating, diverse, warm chunk of storytelling with a heavy dose of soul.
Being the remarkable person that he is, Le Fevre has a whole world of other accolades under his belt.  When at home, Linc teaches music and production to college students. He's shared stages with Ben Kewller, Evan Dando, Chuck Ragan (Hot Water Music),Tom Gabel (Against Me!) and Tim Rogers. He plays guitar in Tassie punk rock powerhouse Ride the Tiger, and enjoyed a stellar career with indie rock stalwarts Fell to Erin. Add to notable local production work (5 Amplified Awards), and a triple j Unearthed win to attend the inaugural APRA Song Summit. Delving deeper, Lincoln Le Fevre becomes a hugely fascinating character, and remains a one-in-a-million songwriter and performer.
Preview a private stream of On and On below, and don't miss the opportunity to witness Lincoln Le Fevre live – on tour around Australia with Melbourne's Jamie Hay.
Upcoming shows:
Saturday September 15th – The Old Bar, Poison City Weekender acoustic show
Sunday September 16th – The Reverence Hotel, PCR Weekender
Friday September 21st – Republic Bar, Hobart, with Mia Dyson
Thursday September 27th – Royal Oak, Launceston
Resonation album launch shows w/ Jamie Hay:
Wednesday October 24th – Republic Bar, Hobart
Friday October 26th – Royal Oak Boatshed. Launceston
Saturday October 27th – Red Hot Music, Devonport
Saturday November 10th – The Reverence Hotel, Footscray
Thursday November 22nd – X&Y Bar, Brisbane
Friday November 23rd – O'Dowds, Rockhampton
Saturday November 24th – The Shed – Byron Bay
Saturday December 1st – Lass OGowry, Newcastle
Sunday December 2nd – Blackwire Records, Sydney
Resonation will be released via Poison City Records on October 12