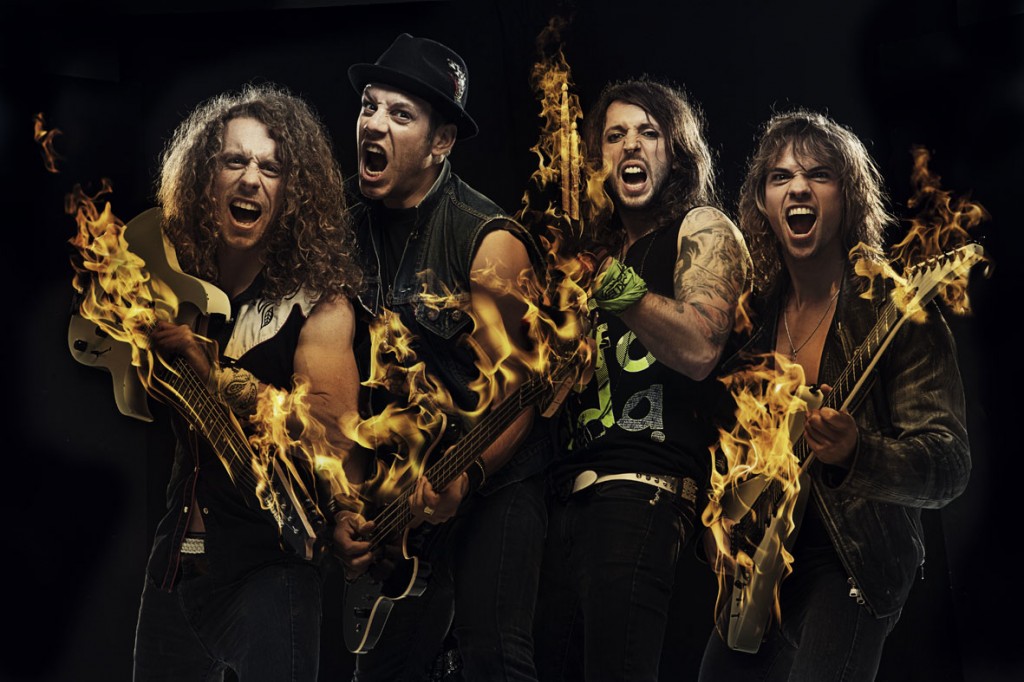 UK rockers Jettblack first came onto my radar back in 2010 with the cracking song Two Hot Girls that came from debut album Get Your Hands Dirty.  Sometimes not much more needs to be said to describe a band than simply ROCK and that's just definitely the case when it comes to Jettblack.  With influences stated as being "anything up until about 1994", Jettblack deliver a big ROCK sound that will appeal to anyone with a love of the rock n roll excesses of the 80's and early 90's.  But don't just take my word for it, we've got singer and guitarist Jon Dow on board to introduce the band to you and chat about their blistering new album Raining Rock, out now on Spinefarm Records…
Hey guys, thanks for taking the time to do this interview for May The Rock Be With You!  You have your new album 'Raining Rock' out and about now.  For those reading this that obviously live under a rock and haven't yet heard Jettblack, how would you describe the style of ROCK that Jettblack deliver?
Our rock is weighty and fragrant with both smooth and jagged edges, plus goes hand in hand with about six or so pints and an air guitar.
Can you introduce each member of Jettblack and give a rock 'n' roll fact or myth about each?
Matt is our drummer, he has the thickest eyeliner applied in rock and looks identical to his sister only with a beard.
Tom is our bassist, he has the most powerful gluteus maximus in the rock world and can become instantly unrecognizable with the removal of his bandana, bit like Clark Kent's glasses.
Along with myself, Will sings and plays guitar, Will actually first learned to walk on his hands and play guitar with his feet, testament to the mans talent that he can now do it the other way round too.
I'm Jon, I am actually the strongest mammal pound for pound on earth. Not the Wolverine as previously believed.
For those of us familiar with your previous album 'Get Your Hands Dirty' how would you compare that album to what you have ultimately delivered with 'Raining Rock'?
Our new album isn't a million miles in style from Get Your Hands Dirty but maybe a bit heavier in places and more riffy.  Get Your Hands Dirty is a bit rougher as you'd aspect from a first album but is still packed with sing along numbers, both highly recommended if I do say so myself.
I always love to find out the meaning behind the choice of an album title…so 'Raining Rock', what does that represent?
It really only represents the title track which is kind of both an instantly iconic song and title.  Easily accessible for rock lovers globally, it does exactly what is says on the tin.
When and where did the songwriting and recording take place for 'Raining Rock', was this something significantly different to the approach you have taken in the past?
The song writing and recording for Raining Rock and Get Your Hands Dirty were almost identical in method, this was mainly because we were very happy with the way things went with Dan Weller and Lester Woodward the first time.  Dan is totally on the same wavelength when it comes to production and Lester is hands down the hardest working mixer willing to put up with us.
We were lucky enough to record a lot of Raining Rock at Ian Paice's personal studio in the grounds of his delightful house and even managed to get him to throw down a drum solo on one of our tracks.  Very cool, yes I am bragging.
Would you say there were any major influences on the new album both musically and lyrically?
Just kind of all guitar based music from the last fifty years I suppose but I'm sure you'll all be able to pick them out when you give it a listen, in the "still of the night"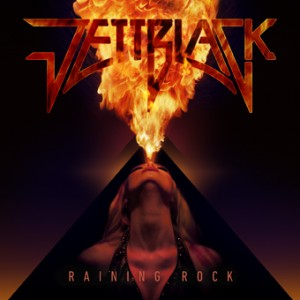 We've picked out 3 of our favorite tracks from the album, here's an opportunity for you provide some comments/thoughts on each:
Never Gonna Give It Up – Actually written by my Dad, the song is as positive and melodic as Living on a prayer on HRT.
Black Gold – Not sure what it's about as I didn't write it but it's about as epic as music legally should be with a solo that can remove underwear at a quarter mile.
Raining Rock – Just rocks, but watch out, Rufus might turn up in a time machine if you play it too loud.
When you think back to the recording sessions for 'Raining Rock', what are 3 thoughts/memories that most immediately come to mind?
Metronomes, carrots and Dan Weller losing his mind through sleep deprivation.
You have a bunch of UK based shows during October, beyond those shows, do you have any firm touring plans for the rest of 2012, or looking further ahead into 2013?
We're playing Hard Rock Hell this December and supporting some bigger names in the New Year, top secret of course.  We need a lot of time off though to spend our fortunes, divorce wives, rehab etc.
How would you describe the bands live performance using just 5 words?
Hot, Moist, Naked, Hairy, Showing Off
When you look out from the stage into the crowd during a Jettblack gig, what do you typically see?
Mainly people drinking, they're usually smiling which is reassuring depending on what town we're in, a mosh is a given although we won't hold it against you if you simply prefer a hoe down of standard headbang/air guitar.
Here you are doing an interview for an Australian based rock website, how much international interest have you noticed in the band over the bands history so far?
Yeah a lot more with this recent release, supposedly we're big in Poland and the Yanks are mad for it.  Could get a good stint of holidays out of this if we keep it up, anyone in OZ want to put us up?
What would you say have been some of the biggest learning experiences so far in the life and times of Jettblack?
Jettblack aren't so much about learning, but more about experiencing new culture and ways of rocking, although I was disappointed to find McDonalds isn't themed by each countries native cuisine.
Here's a chance to gaze into your crystal ball, over the next 12 months, Jettblack will have:
1. Metal neck
2. A second headline tour
3. A massive Australia fan base.
Essential Information
From: London, UK
Band members: Will Stapleton, Jon Dow, Matt Oliver, Tom Wright
Website: www.jettblackuk.com
Latest release: Raining Rock (2012, Spinefarm Records)