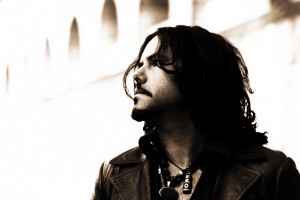 Following a hugely successful Australian & Canadian tour with The Tea Party, JEFF MARTIN will top the year off by touring Australia – Solo – this November/December.
The Tea Party's Australian tour in July had the fans out in droves to capture the magic of the band that once was, and still remains.  After 7 years apart, the resurrection of the band saw Jeff Martin completely in his element, with a fire in his belly, performing at his absolute finest alongside his fellow band mates. 
"Up front, Martin exudes a blend of self-deprecating charm and shameless showmanship that serves to elevate the evening to something more satisfying than a classic hits cash-in and signals the return of a newly-united force."  – Inpress, Jul 2012
"Martin, dressed in leather despite the heat, strutted to the front of the stage and led the band into the modal rocker, his gorgeous and authoritative upper baritone/low tenor in fine shape after the band's recent Australian tour.  His Gibson Les Paul strapped around his hips, Martin took over, laying sweet modal lines in between the band's Zeppelinesque stomp and generally acting like he owned the place. (He did)."  Buffalo News – Aug 2012
For those who missed the The Tea Party's recent Australian tour, a live Double Album was recorded and will be released in September through HERE , with a live concert DVD to follow in November.
Don't miss Jeff Martin live through November & December at the following venues:
Jeff Martin – Touring November/December 2012
Thu Nov 8 -Royal Oak, Launceston TAS
Fri Nov 9 – Red Hot Music, Devonport TAS
Sat Nov 10 – Republic Bar, Hobart TAS
Wed Nov 14 – Clarendon Guesthouse, NSW
Thu Nov 15 – The Abbey, Canberra ACT
Fri Nov 16 – The Fitzroy, Windsor NSW
Sat Nov 17 – Coogee Bay Diggers Sydney NSW
Sun Nov 18 – The Basement, Sydney NSW
Thu Nov 22 – Friends Restaurant, Perth WA
Fri Nov 23 – Jive Bar, Adelaide SA
Thu Nov 29 – The Brewery Byron Bay NSW
Fri Nov 30 – The Venue, Townsville QLD
Sat Dec 1 – Coolangatta Hotel, Coolangatta QLD
Wed Dec 5 – Karova Lounge, Ballarat VIC
Thu Dec 6 – Ruby's Lounge, Belgrave VIC
Fri Dec 7 – Cherry Bar, Melbourne VIC
Sat Dec 8 – Northcote Social Club, Melbourne VIC
Mon Dec 10 – Lizottes, Newcastle NSW
Tue Dec 11 – Lizottes, Kincumber NSW
Wed Dec 12 – Lizottes, Dee Why NSW
Fri Dec 14 – The Factory Theatre, Sydney NSW
Sat Dec 15 – The Heritage, Wollongong NSW
Sun Dec 16 – The Vanguard, NSW
Tue Dec 18 & Wed Dec 19 – The Brass Monkey, Cronulla NSW
Fri Dec 21 – Clancy's, Dunsborough WA
Sat Dec 22 – Mojo's, Fremantle WA
Sun Dec 23 – Indi Bar, Scarborough WA