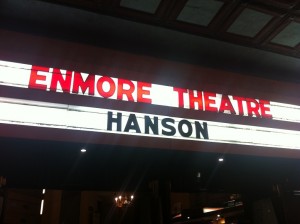 In summary: Say what you will about Hanson, but if you're prepared to dismiss them simply for being Hanson then that's fine, but you have just missed out on an amazing night of great songs, musicianship and harmonies.
Standing outside The Enmore Theatre in Sydney tonight and watching the crowd enter was fun for me, as the predominantly female audience gave me the 'are you in the right place?' look a number of times, but oh yes, what they may not know is that here at MTRBWY we are a Hanson friendly zone and we have no reason to not be. With 15 years of harmony laden pop rock that many other bands would be jealous of, we're well on board the Hanson train and tonight I was ready to 'Shout It Out'…
Opener Matt Wertz certainly got the crowd going with his charismatic presence, catchy and relatable songs which as a solo artist can be hard to present and hold an audience yet Matt was able to do so with humour, crowd participation, button undoing and blatant Hall & Oates rip offs (hey he said it himself) but he was really a joy to listen to. Check this guy out if you can and if I have it my way he'll feature as one of our Best Things You've Never Heard very soon…
Deafening screams filled the Enmore, and I seriously mean deafening as Taylor, Isaac and Zac Hanson hit the stage on this their second Sydney show as part of their return to Australia for the first time in seven years. Seriously, I just get the feeling that these guys could sing the phone book tonight and the crowd would go berserk. Working the crowd within seconds with the opener and the aptly titled 'Waiting For This' with the majorly attractive crowd lapping up every second of it, I can tell this is going to be a great night. Breaking in to 'Where's The Love' which drew out the old school fans nicely and this was great to hear in a live environment as it's obvious that this song has matured as has the band, majorly. Vocally these three brothers know exactly how to work it, the harmonies are second to none but tonight it was at times more like 1,600 part harmonies as they were often helped by the entire crowd and for me it's one of those things that just makes you smile.
'Thinking 'Bout Somethin' from their newest album, and I say newest but it's two years old now, 'Shout It Out' hit us next and looking around was the obvious 'oh wait, this is from this the new album so I'll go get a beer' song, which for those people was their loss as this was a perfectly played song and this is to me what Hanson are all about, this is rock and soul and it's awesome to witness. 'And I Waited' allows the brothers to share the vocals and thanks to my friend now has me singing 'Holding out for a Hero' which pretty much runs the same melody… Thanks Morgan… But seriously, looking around, everyone is just so happy; it's great, as this is an appreciative crowd that have waited a long time. The diversity of the set tonight gives us a mix of Hanson's 20 year career taking tracks from all of their albums and as Taylor stated, they're 'making up for lost time' and trust me,  they're doing it well as they continue to blast through a set that is lapped up. 'Runaway Run', yeah, I love this one and I'm not scared to admit that I was singing along as were many others so I was safe. I have to take a side note here to say that sharp dressed Isaac Hanson is a demon on the guitar, just needed to state that for the record. 'Crazy Beautiful' was met with plenty of love as the crowd were urged to clap faster thus setting the beat for the song which allowed some brilliant musicianship by the band to keep up.
Acoustic set time… The brothers returned to the stage to give us a killer rendition of 'Penny & Me' which is such a well written and arranged track and hearing it this way was more than pleasurable.  This acoustic environment truly showcases the talent vocally of the guys, 'Madeline' is a prime example, Zac sings one part and the crowd goes nuts… it's too funny, ooh and here come the deafening screams again… Zac gets a solo, not on drums, but he picks up a guitar and the mobile phones get raised to capture him singing 'Go' which I have to say was something pretty special and a great version of one a stand out track taken from 'The Walk.' OK, now Taylor gets a song, what he gives us is a fan club track called 'Be My Own' which is liked by some but confused by others, although when done the small smattering of claps from the audience were from the die-hard fans that sound like they've wanted to hear this specifically tonight, and as a fan of many bands, I wish that kind of rare material would come out more often.
The band returns and the volume returns with them as 'With You in Your Dreams', a song that built and built and gave us 'good times' indeed, what a great rendition that was. We are now treated to a cover of The Beatles 'Oh! Darling' that is well received and like I said at the start, they could've sang the phonebook tonight and it would've been loved, so a song that not many in the room knew didn't faze them at all. This old school rock track suits the band perfectly and I know I loved it as did many as I looked around. 'Can't Stop' rocked the set back up and as it finished I realised we were drawing towards the end of the night and you can tell too as here come the crowd favourites… 'Thinking of You' it is and I'm now watching the crowd fist pump to beats and it's classic. 'This Time Around' is next and feel free to keep 'em coming boys… I was waiting for this one actually as in my opinion this is as close as Hanson get to epic, so to hear this song in a live environment is nothing short of awesome. They got me singing along again… Newest single 'Give a Little' was next and was received well which to me means that many more people than just the 'Fansons' as they're affectionately referred to, have their newest work 'Shout It Out' but what I love about this song is the simplicity of it. Oh and it has a key change so it's an instant win, that's a 'you had me at hello' kind of moment for me, give me a key change I'll give you my number.
Oh. It's time for that song. Let me set the scene for you… A sea of mobile phones, a room full of singers and a very, very matured version of 'MMMBop', that's what we got. It's kinda hard to dislike this song tonight, not that I do at all, in fact it's probably been one of the songs that have been stuck in my head for the last 15 years but tonight this song that still defines Hanson lifted the roof off the Enmore and it was pretty awesome to be a part of.
'Lost Without Each Other' was fun but 'If Only' was better and if you ask both of us at MTRBWY, this song is in our opinion up there with the best pop rock songs of the last 20 years, at one point I was worried when the crowd were jumping in unison with the band as the last time I felt the floor at the Enmore shake like that was when Linkin Park played and the floor broke, so forgive me for my worry, but we were safe and the guys headed off, only to return for an encore and one more song. 'Rock & Roll Razorblade' ended the night to a musical onslaught complete with perfectly choreographed jump from the drum riser by all three brothers to end the show as they laid on the stage lapping up the kudos they deserved before taking a well-deserved bow.
If there's one thing I love about this band it's the interaction they have with their fans. They love what they do, they take every opportunity to get the crowd to sing, to clap and I have to say, they got me… Say what you will about Hanson, but if you're prepared to dismiss them simply for being Hanson then that's fine, but you have just missed out on an amazing night of great songs, musicianship and harmonies. Those here loved every second of it so let's hope it's not another seven years before they return.  I want to go again…
Check out our photos from Hanson's Melbourne show on September 14 here…
Check out our awesome chat with Taylor Hanson here…
Essential Information
Venue: The Enmore Theatre – Sydney
Date: September 16 2012
Supports: Matt Wertz
Website: www.hanson.net
Set List:
Waiting For This
Minute Without You
Thinking 'Bout Somethin'
And I Waited
Where's The Love
Been There Before
Runaway Run
Crazy Beautiful
Penny & Me
Madeline
Go – Zac solo
Be My Own – Taylor solo
With You In Your Dreams
Oh! Darling (Beatles cover)
Can't Stop
Thinking of You
This Time Around
Give a Little
MMMBop
Lost Without Each Other
If Only
Rock & Roll Razorblade