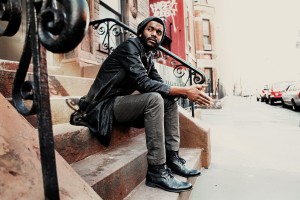 GARY CLARK JR. TO RELEASE EAGERLY AWAITED DEBUT FULL-LENGTH ALBUM
Blak and Blu available October 19
Australian tour dates sold-out
 Singer, songwriter, and guitarist extraordinaire Gary Clark Jr. has revealed the title and track-listing for his long-anticipated full-length debut album for Warner Bros. Records: Blak and Blu, which will be released on October 19. The album was produced by Mike Elizondo (Dr. Dre, Mastodon, Fiona Apple), Rob Cavallo (Green Day, My Chemical Romance) and Gary Clark Jr.  Apart from Clark Jr. on guitar, vocals & trumpet, Blak and Blu features performances from drummer J.J. Johnson, keyboardist Zac Rae, and Elizondo on bass on many of the tracks. Please see below for the full album track-listing. The album will be available for pre-order September 24.
In addition to 12 of Clark's original compositions, Blak and Blu also features a 13th song – a blistering cover of Little Johnny Taylor's (popularized by Albert Collins), If You Love Me Like You Say / Third Stone From The Sun (Jimi Hendrix) is actually a complete reworking of the song utilizing the Hendrix riff reinterpreted by Clark.  The result is an extraordinary hybrid of the two ideas that breathes new fire to an old favorite.
Clark has been slipping songs from Blak and Blu into his sets while performing at all of this year's major music festivals, including Bonnaroo, Coachella, Osheaga Festival, Sasquatch!, Lollapalooza, and the NOLA Jazz & Heritage Festival. He was also the only artist invited to play both nights of Jay Z's Made in America Festival over Labour Day weekend. Clark's upcoming US festival performances include Bridge School Benefit with label-mates Neil Young & Crazy Horse and Flaming Lips, Austin City Limits andVoodoo Fest in New Orleans.
With an unpredictable and musically diverse live set that varies based on Clark's mood and the audience vibe on any given night, the Austin native has received tremendous critical praise, with The New York Times opining that he "may be the next Hendrix."Rolling Stone USA observed, "Owing as much to Kurt Cobain and the Ramones as Buddy Guy and John Lee Hooker, indebted to hip-hop and psychedelia, his shape-shifting calling card EP is grounded in tradition while standing on the brink of change." "Gary Clark Jr. cuts through a stunning blend of rock and soul. Clark can sing some sweet R&B, but at heart, he's a blistering blues-rock guitarist who's about to blow up big," said NPR.  Make no mistake about it; Gary Clark Jr. is not just a "blues man." This is a modern amalgam of rock & soul, informed by the blues and everything in-between aimed at a new generation of music fans who want it all. Dig the new breed!
Clark will venture to Australia for the first time in late September to perform sold-out shows in Melbourne and Sydney before he returns in January to take the stage at the Big Day Out.
GARY CLARK JR.
PRESENTED BY LOVE POLICE TOURING, WARNER MUSIC AUSTRALIA and RRR
Wednesday 26 September – Cherry Bar, Melbourne, VIC – SOLD OUT
Thursday 27 September – The Tote, Melbourne, VIC – SOLD OUT
Friday 28th September – The Annandale Hotel, Sydney, NSW – SOLD OUT
BIG DAY OUT 2013 EVENT DATES & VENUES
Friday 18 January – Sydney – Showground
Sunday 20 January – Gold Coast – Parklands
Friday 25 January – Adelaide – Showground
Saturday 26 January – Melbourne – Flemington Racecourse
Monday 28 January – Perth – Claremont Showgrounds
BLAK AND BLU TRACKLISTING
Ain't Messin 'Round
When My Train Pulls In
Blak and Blu
Bright Lights
Travis County
The Life
Glitter Ain't Gold (Jumpin' For Nothin')
Numb
Please Come Home
Things Are Changin'
Third Stone From The Sun/If You Love Me Like You Say
You Saved Me
Next Door Neighbor Blues