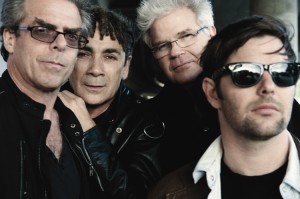 1976 Sunday night, 6pm …anywhere and everywhere in Australia: Countdown on TV.
A giant appears on screen, black kohl eyeliner, flashy earrings, multi coloured hair, gap between two front teeth…'Gonna sit down and talk to myself', he sings…camera pans out…two more very tall men, one willowy with long curly hair, the other rocking a steady bass rhythm nodding his bushy head of curls, a cunning likeness to the singer, a dashing and debonair keyboard player and a brief glimpse of a drummer hammering away down the back.   They are from New Zealand, and with this their first Australian television performance, Dragon announce their arrival. And with that introduction to 'This Time' they made it clear that we were to go along for the ride. And since that very first time, we have.
New Zealand is a land renowned for its love of mythology. Be it of Maori origin or based on famous tales from the Northern Hemisphere, its' visual geographic nature is in popular demand as an idyllic place to escape. It has also inspired – and boasts – a wealth of music talent that has made many successful crossings of the ditch (The Tasman Sea) as well as further afield.
Dragon was one such notable talent. Formed in New Zealand in 1972 with a mythical name as cast by the i-ching and a massive and very real presence on stage.
So in effect they have been going strong now for 40 years, having recorded and released two albums and then making the decision to relocate to Australia in 1975.
Dragon were rock n roll warriors of the late 70?s/early 80?s touring scene and emperors of excess. Their live shows were unsurpassed and their notorious rock 'n' roll lifestyle well documented. The Hewson penned 'Shooting Stars Never Last' became a sad reality along the way. Battles were fought and lost with authorities, drugs and disease ending with the demise of Neil Storey (1976), Paul Hewson (1985) and then Marc Hunter (1998).
But ever since 'This Time', Dragon have infused the hearts and consciousness of generations of New Zealanders and Australian's with their raft of infectious hit songs such as 'April Sun in Cuba'; 'Are You Old Enough?', 'Still in Love With You', 'Rain', 'Young Years' 'Cry' and 'Dreams of Ordinary Men'.
In 1977 they won 'Best New Group' and in 1978 won the Outstanding Local Achievement awards for the then Australian music awards 'TV Week King Of Pop Awards'.
In 2006, Todd Hunter reformed Dragon with Mark Williams on vocals, Bruce Reid on guitar and Pete Drummond on drums, vocals and keyboard. To date, this most recent incarnation of Dragon have performed 450 shows and are about to embark on national tours of New Zealand and Australia.
In July 2008 Dragon were again recognised by their adoptive country and were inducted into the Australian ARIA Rock & Roll Hall Of Fame.
And now to coincide with the 40th Anniversary Tour, founding member Todd Hunter and Liberation Music have put together a very special limited 2CD release celebrating this landmark occasion.
'The Dragon Years – 40th Anniversary Collection' 2CD will be released on September 28th in Australia and October 5th in New Zealand. The album features a 40 track full career retrospective covering all the original hits with legendary Kiwi front man Marc Hunter on vocals on Disc One and Collective Works recorded since reforming in 2006 with the current line up featuring fellow Kiwi vocalist Mark Williams on 19 of the 20 tracks on Disc Two.
In the words of Todd Hunter: "When a band has been around for 40 years it's just not possible to thank everyone who should be acknowledged within the confines of a cramped CD cover. From the 40 musicians who have been through the band in the last 4 decades to all those who have been through the Dragon crews in different eras we salute you."
To all the record companies we have plagued and all managers who had to manage the unmanageable in the early days, cheers.
We must acknowledge the songwriters for their memorable songs that are a joy to play and have such longevity that the 20 year olds are googling the lyrics on their phones and singing along at the shows now.
CD1 in this collection is for our fallen brothers who live on in their music when thousands of people sing their songs at the shows.  CD2 is made up almost entirely of new songs recorded since the band re-formed in 2006".
DISC ONE 
1. April Sun In Cuba 2. Young Years 3. Rain 4. Are You Old Enough? 5. Dreams Of  Ordinary Men 6. Get That Jive 7. Magic 8. Konkaroo 9. Still In Love With You 10. Gold In The River 11. This Time 12. Western Girls 13. River 14. Sunshine 15. Body And The Beat 16. Summer 17. Book Of Love 18. Speak No Evil 19. O Zambezi  20. Celebration
DISC TWO
1. Rainy Day 2. Rain (US Dance Mix) 3. New Blue Moon 4. 21 (Heart Of Gold) 5. Chase The Sun 6. Don't I Look Like Jim 7. Call Out 8. Find My Way Home 9. Great Divide 10. Goodbye Babylon 11. Radio Song 12. On The Road 13. God Of Small Things 14. When I Was Young 15. Mad World 16. Words 17. Happy I Am 18. Kumera Dreaming 19. Take Me To The End 20. Who I Am
More info on this recording and Dragon's Tour/Ticket information available  at: dragononline.com.au | facebook.com/dragonmusic
THE DRAGON YEARS FORTIETH ANNIVERSARY COLLECTION OUT 28 SEPTEMBER 2012 THROUGH LIBERATION MUSIC
www.liberation.com.au
THE DRAGON YEARS
FORTIETH ANNIVERSARY AUSTRALIAN TOUR DATES:
Fri Oct 5th       LONG WAY TO THE TOP 10TH ANNIVERSARY TOUR featuring Dragon
Rod Laver Arena – Melbourne    Ticketek 132 849
Sat Oct 6th        LONG WAY TO THE TOP 10TH ANNIVERSARY TOUR featuring Dragon
Sydney Entertainment Centre          Ticketmaster 136 100
Tues Oct 9th   LONG WAY TO THE TOP 10TH ANNIVERSARY TOUR featuring Dragon
Newcastle Entertainment Centre Ticketek 132 849
Fri Oct 12th     LONG WAY TO THE TOP 10TH ANNIVERSARY TOUR featuring Dragon
Brisbane Entertainment Centre   Ticketek 132 849
Tue Oct 16th – Fri Nov 2nd NEW ZEALAND NATIONAL TOUR