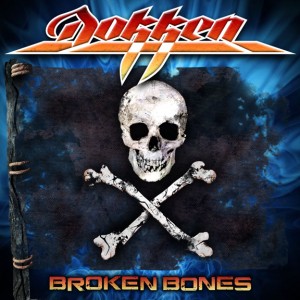 When you are talking hard rock bands of the 80's, Dokken are right up there in the highest echelon with songs such as Dream Warriors, Lightning Strikes Again, Just Got Lucky, The Hunter, Unchain The Night undeniable classic anthems.  But that was then and 2012 is now with the Don Dokken led version releasing Dokken's 11th studio album Broken Bones.  Whilst original members George Lynch and Jeff Pilson have been long gone, "Wild" Mick Brown remains, joined now by Jon Levin on guitar and Sean McNabb on bass.
2009 release Lightning Strikes Again was a very solid album, which nicely blended the more modern elements of the Dokken sound, with bristling trademark Dokken intensity.  The first taste from Broken Bones for many would have been Empire, which is an intense, blazing and moody rocker that is unmistakably Dokken.  Title track Broken Bones is all about the chorus melody and some tasty guitar work from Levin, whilst Best Of Me is one of the albums best tracks, great stuff!  Blind however for it's crushing riffs, doesn't quite deliver with a chorus to match.  Waterfall, followed by Victim Of The Crime starts a passage of four songs on the album which you would more likely hear from The Cult or even Led Zeppelin for that matter – Eastern influences, more complex arrangements, rather plodding in style.  These are songs that definitely take a good deal of listening to try and comprehend – I'm personally still working on them, I'll get back to you….
The last three tracks however finish the album in a strong way, similar to the way it begun, so the message for those checking out the album is to persevere through the middle part for some Dokken goodness on the ride home.   Whilst this is not one of Dokken's finest moments, there are some fine songs and the production is great.  There's just one too many songs that fail to really light my fires to strongly recommend this album beyond existing Dokken fans.
Essential Information
From: Los Angeles, USA
For fans of: Dokken
Release date: 21 September 2012
Record label: Frontier Records
Website: www.dokkencentral.com
Track listing:
Empire
Broken Bones
Best Of Me
Blind
Waterfall
Victim Of The Crime
Burning Tears
Today
For the Last Time
Fade Away
Tonight