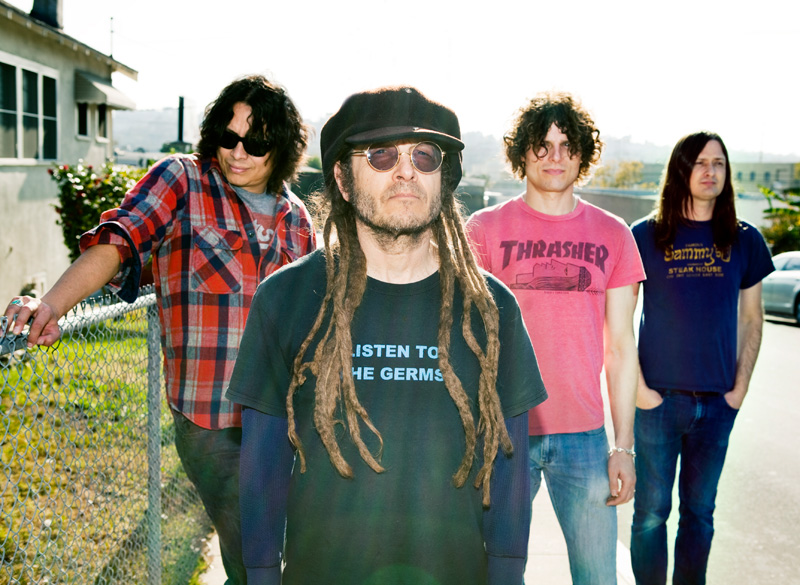 "Everything about this band screams underdog, I mean who could have predicted this crazy little accident could turn out to be so important to people who are fans of this racket."
The existence of OFF! may have been accidental – Keith Morris (Black Flag, Circle Jerks) Dimitri Coats (Burning Brides frontman), Steven McDonald (Redd Kross) and Mario Rubalcaba (Rocket From the Crypt) is certainly an interesting colliding of musical worlds, but it's an accidental collision that has produced 4 EP's and now their first full length album.  Track after track on OFF! is delivered at seriously breakneck speed, 16 songs in just as many minutes!
For those who didn't catch OFF! in Australia the last time around, they will be heading back to OZ early next year for the Big Day Out and hopefully shall also play some of their own headline shows.
We recently chatted to the always-effervescent Dimitri Coats, check it out…
So your new album was released here a few weeks ago in Australia, but I think it's been out and about in other parts for a little while now.  What has been the reaction to it so far from what you've seen and heard?
You know what, it debuted at #86 on the Billboard charts, the regular charts.  I couldn't believe it.  Everything about this band screams underdog, I mean who could have predicted this crazy little accident could turn out to be so important to people who are fans of this racket.
But I guess whilst the origins of OFF! may have been accidental, the band has now become anything but accidental hasn't it, with what 4 EP releases and now your new album?
We just need to capitalise on all the momentum and opportunities that come our way and keep juggling all the balls in the air.  For me anyway, I'm looking at when ideally a new record should come out.  I don't want to look back and say what would have happened if the record had of come out when the label really wanted it to.  So I'm looking way in the future, I already know the new album will come out in Fall 2013 and Keith and I need to start writing in December and continue writing into early next year, then hand in the record around June.  If we don't have deadlines we just don't do anything!  We have families, we are older guys and we get distracted (laughs).
So I take it then that this album was also strongly deadline driven?
Absolutely, yes it was.  I manage the band, I produce the albums and I write the songs with Keith, we write the material together, songwriting partners.  I just like to push the guy as much as I can and try and get away with as much as I can.  It's all stuff he brought up in the first place, it's his own damn fault, with the urgency and intensity, which is what we are after.
Intensity is something that the band has by the bucket load, when it comes to recording in the studio, how do you guys go about capturing that intensity onto recorded format?
I think it's definitely from not knowing the material that well and throwing yourself in the moment.  We definitely record everything live, all 4 guys at once and I'll add a second guitar afterwards, but that's about it.  We literally give ourselves two days tops to record all the fucking songs.  So we will go in and on the first day we will set up the sound and I'll be like "that sounds like a pretty fucked up guitar sound" and Keith will be like "it sounds like a fucking guitar, let's go!!" and I'll be like, "you know what he's right, why are we even worrying about this shit."  Back in the day, in the Circle Jerks or Black Flag they would have friends who might run a shitty studio or maybe not even a studio, just a voice over studio and they would call up and say "so and so has cancelled, do you want up come and do some recording for a couple of hours".  So they would go in and record the whole damn record in that time, talk about fast!
With your past musical background which was the Burning Brides, I'm sure it may have taken you a little while to adjust to the different approach of OFF!, but it sure sounds like you are well and truly in the zone now?
It really gets me going every day when I wake up, I've got 60,000 people I can talk to on Facebook every day and there's something to be said about that, we have fans you know, we don't want to fuck this thing up.  We're going to challenge ourselves to stay bold and be as badass as we can be.  Because we've been around the block before, chances are we're not going to fuck this up to much!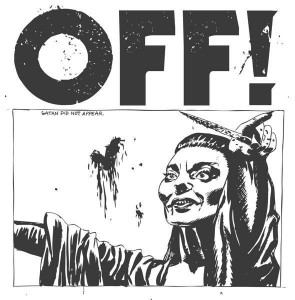 I'll throw a song at you – Wiped Out, what can you tell me about how that track was written and recorded?
Well let's see, the first song Wiped Out…well this is how funny the whole thing is.  We knew we needed 17 songs, 16 for the album and an extra one for iTunes.   So we probably had about 15 songs and there were literally 5 or 6 days left before we had to go into the studio to record the album and this whole time we are teaching the songs to the rhythm section and moving through what we had written, as we were still writing new songs and getting ready to go record.  Mario pulled me aside after one of the rehearsals and was like "are there going to be any party songs on this album" and I was like "what the fuck are you talking about man?, the whole records full of party stuff" and he's like "no man, where's the Upside Down of this record, the Nervous Breakdown" and I was like ok I get what you mean.  So the next day I went into Keith's living room and I told him what Mario said and he goes ok, I get it, party….  So he goes over to his giant shelves where all his records are and starts pulling down like live Blue Oyster Cult and we start pounding coffee and having a tailgate party in his living room and Keith's telling me how many joints he smoked before going into The Forum to see Blue Oyster Cult and Black Sabbath and stuff like that and I just got really excited and picked up the guitar and started playing a riff.  Much like Upside Down was written, Wiped Out was finished in like 2 hours.  We took it into the studio the next time and go "hey Mario, here's your fucking party song".  He's like "now that's what I'm fucking talking about dude…"
You have a USA tour coming up that looks like it will take up the best part of the remainder of 2012…
Yeah, you know 3 of us in the van are dads so we've got to break it up a bit and we can't just head off in the van for 2 months at a time. We're going to start going through the South and bring out with us Negative Approach and Double Negative and another band called Powertrip who will do some of it when Double Negative can't be on the bill.  We will fly home for a bit as I said, to spend some time with our families and then fly back and start in New York and we will have The Spits supporting us.  We will then motor our way through the US and end up at a really cool festival called Fun Fun Fun in Austin.  We will have to do the West Coast as another time as by then it's time to nearly head over to Australia, so we will do the West Coast USA in February.  That will then pretty much be the end of the album cycle and by then I'm sure Keith and I will have already started writing the new album.
Next year as you mentioned just then you are headed back to Australia for the Big Day Out, which also has the Red Hot Chilli Peppers playing, a band you guys just recently played with?
Australia is a real highlight for any rock band, so it's great to be coming back.  Playing with the Red Hot Chilli Peppers last time was a lot of fun, we got to play The Staples Centre in our hometown of Los Angeles that was a real trip!
Are you aware whether you will play your own headline shows whilst you are out here?
I'm not at liberty to say whether we are playing sideshows or not!  Let's just say there would be a lot of fans who would be disappointed if we didn't, as those punk rockers they don't really like spending a whole bunch of money on a festival just to see us you know.  So we will do everything we can to make everyone happy…and that's about all I can talk about on that (laughs).
Check out our review of OFF! right here…
Essential Information
From: Los Angeles, USA
Band members:
Keith Morris – vocals (Circle Jerks/Black Flag/Midget Handjob/Buglamp)
Dimitri Coats – guitar (Burning Brides)
Steven McDonald – bass (Redd Kross/Tourists/Tater Totz/Sparks/Beck)
Mario Rubalcaba – drums (Earthless/RFTC/Hot Snakes/Clikitat Ikatowi & a few others)
Latest Release: OFF! (27 July 2012, We Are Unified)
Website:
www.offofficial.com
www.facebook.com/offband
www.weareunified.com
Big Day Out Dates
Friday 18 January – SYDNEY – Showgrounds
Sunday 20 January – GOLD COAST – Parklands
Friday 25 January – ADELAIDE – Showground
Saturday 26 January – MELBOURNE – Flemington Racecourse
Monday 28 January – PERTH – Claremont