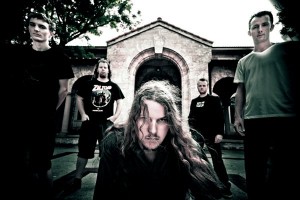 From Official Bio:  In 2012, Perth's Chaos Divine are without peer in Australian metal. Their intricate and melodic brand is pregnant with a progressive ambition that challenges both fans and band members alike. Now, with a world of possibility before them, Chaos Divine in 2011 delivered The Human Connection – the band's most accomplished album to date.
While the driven five-piece have constructed the most inimitable musical statement of their career, it's the live realm in which these new sonic formulas will be proven. Having graced stages with giants such as Slayer, Mastodon and Trivium, Chaos Divine have carved a reputation as one of Australia's most devastating live acts – a reputation that precedes them at home and abroad.
Of course we're a sucker for any 80's track and when we heard Chaos Divine's cover of the classic Toto hit 'Africa' and how good it was, they were instantly deemed one of our Best Things You've Never Heard. We got guitarist Ryan to answer some questions for us…
Let's start with the basics first – for those that aren't aware of the band, give us a quick rundown on what brought you all together and what is the inspiration behind the band name Chaos Divine?
I (Ryan) came up with name Chaos Divine initially after we were all chatting about it and that just sort of stuck with us. The band was formed from members of an older band called 'Devoid' back in about 2005.
Can you please introduce yourself and each member of the band and give us a rock 'n' roll fact or myth about each of them?
David Anderton(vocals)  –Likes to sing Manowar in the shower and isn't ashamed to admit it.
Simon Mitchell (guitars) – Just waiting for the call to join the band 'ArnoCorps', a metal band themed around the Terminator who quite rightfully dub themselves 'The greatest band of all time'.
Ryan Felton (guitars) – Wears his guitar strap high. 'Steve Urkel' high.
Michael Kruit (bass)  – When he comes to your house, the fish stop swimmin'. You know what I mean.
Ben Mazzarol (drums) – NASA plans to use his double-kicking to power the next mission to mars.
You've just released an absolute ball tearer of a cover of 'Africa' by Toto, I have to ask, why was it this song specifically that you chose to record for release?
We all love Toto (as any self-respecting human should), and especially the 'Toto IV' album.  Africa is a song we had wanted to cover for a few years but having the time to properly record and release it hadn't come up until recently.
In terms of your song writing, what do you consider to be the most important ingredients that make up a Chaos Divine song?
It's basically about not finishing a song until we know it's got everything it needs. We spend months crafting each song and we aren't one of those bands that can go into the studio with 30 tracks and take our pick – we need to know we have mastered a song before we are done with it. It's also about brining a wide range of styles into the mix, which is what we feel gives us our unique sound
Both lyrically and musically, who or what would you say inspires/influences your music the most?
All five of us have very different influences ranging from as far back as 60's music right up to what is current today – both heavy and non-heavy. The main inspiration would be bands like Porcupine Tree, Pink Floyd, Tool, Katatonia, Deftones, Opeth and many, many more.
Hailing from Perth, it seems there are a number of rock and metal bands emerging from the West.  Is there something in the water over there helping to create this talent?
I think West Aussies all just have a huge desire to get out of WA and see the rest of the world! Being in a touring band is a great vehicle to make that happen. WA also places a large amount of importance on developing local bands in our state which is why so many talented bands get the opportunity to emerge out of their bedrooms and onto the world stage.
You released your second album last year, aside from the current single, are you currently working on material for your third album, if so when do you think we could we expect to hear something?
It's early days at this stage, as we in the middle of writing songs for our next album and our singer is studying over in Germany until early next year. I would expect mid-next year we would be in a position to really focus on putting our next album down on record.
What are the chances of an album full of covers of 80's classics rocked up by you to hit the shelves in the future?  We'd buy it ha ha.
Great idea! Long live the cheesy 80's ballads!
How is the international market for Chaos Divine? Is this an avenue you will continue to explore?
It's something we have always had in the back of our minds to enter but at the same time it is difficult for us to really take that leap just yet. In 2009, we went over to play Progpower Europe which we really saw as great experience but it was difficult for us to get the recognition being such an unknown band. I think we first need to really become more broadly known in Australia before we attempt another tour to Europe, and hopefully try to release our music over there. The UK or US markets at this stage looks like they may be a better fit for us.
No stranger to live shows, in only five words, how would you describe a Chaos Divine show to someone who may not have seen you before?
Big sound, epic, tight & intense!
Already sharing the stage with bands such as Slayer, Mastodon and Trivium, who stands out for you as the best you've seen in terms of inspiration for your live shows?
I suppose live show inspiration for us more comes from seeing bands more on our level, such as other Australian heavy bands, that really do something unique on stage and out of the norm. We don't try to be bigger than we are on stage by putting on big stadium sized productions, we focus on how to use smaller stages more effectively to get a big huge sound and give the audience a really clear and tight performance. But we are always impressed at how other local bands put on amazing live stage-shows. For instance, we really loved recently watching the band Mushroom Giant on stage when we played at Progfest in Melbourne at the Espy and how they used moving projected visuals on stage to compliment their sound and songs – fantastic live band!
So, let's say hypothetically that you get to share the stage with any band / artist living or dead, who would it be and why?
We would love to play another show with Mastodon, only going by how friendly those guys were when we supported them last time with Slayer. Porcupine tree would be another great band to support.
Lastly, here's a chance to gaze into your crystal ball.  In the next year, Chaos Divine will have:
1.  A new record underway in the studio.
2.  Looking to do a single and video clip release
3.  Looking to do a full Australian tour covering all major cities
Essential Information
From: Perth WA, Australia
Sounds like: Progressive Heavy Rock
Band members:  Simon Mitchell – Guitars, David Anderton – Vocals, Ryan Felton – Guitars, Ben Mazzarol – Drums, Michael Kruit – Bass
Website: http://www.chaosdivine.net