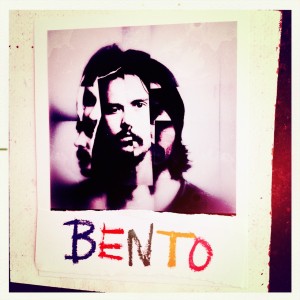 These are and this is DIAMOND DAYS, the sparkling debut album by Bento – the new musical creation from Ben Gillies, drummer and co-founder of Silverchair.
DIAMOND DAYS is twelve new bristling and glistening rock & roll songs, with Ben up front, singing his heart out, singing his own songs, and opening up like you've never heard him before.
"It's an album of self-discovery, of finding myself," says Ben. "I've always written songs and over the years I've kept a log of every idea. It's exciting to finally see some of these ideas fully realised."
Adds the former APRA Songwriter of the Year: "Being part of something as awesome and mammoth as Silverchair required so much of myself and at times there was very little energy left for other things. Now I feel as if I'm freed up and can satisfy my own creative output and get about doing what makes sense for me at this point. It's been a while in the making and I'm excited to finally share it."
Honest, uncluttered, open-hearted, Bento is Ben's baby, but it sounds like a full band that has been playing together forever. Pulled together from a thousand ideas Ben has collected over the years, there's a distinctive sheen to the twelve tracks that make up DIAMOND DAYS, a unique cohesiveness and melodious energy.
Prepare yourself – Bento sounds nothing like Silverchair. And if you happened to have heard Ben's short-lived Tambalane project from a few years back, well, Bento sounds absolutely nothing like that either.
The immediacy of the lead track, the title track Diamond Days, will give you a fair indication of what Bento is all about. But there are a dozen different moods and views present on the album.
Co-produced by Ben Gillies and Eric J Dubowsky (Faker, Art Vs. Science), and featuring an array of Ben's muso mates throughout, including Papa Vs Pretty's gifted frontman and guitarist Thomas Rawle as a lead player, this is Bento, and this is … these are … DIAMOND DAYS. Enjoy!
The first single from the album, Diamond Days, goes to radio on Monday, 17 September and will be available to purchase (from all good online retailers/iTunes) on the same day and the video is available to view now:
The Diamond Days album is scheduled for release on Friday, 26 October, 2012.