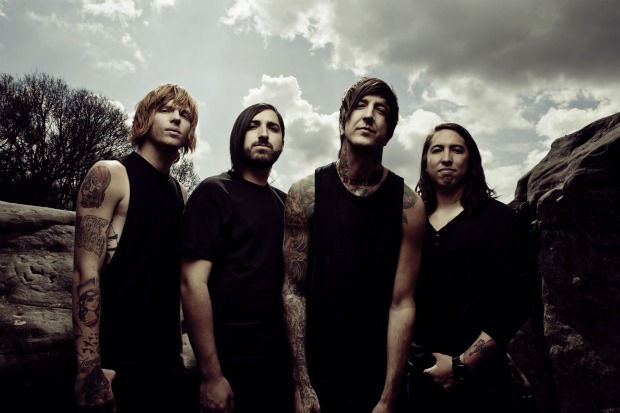 "If you don't like it, listen to one song, give it a chance, if you don't like it, throw a bottle at me and go and watch another band ha ha, but at least give me three minutes of your time and hopefully you'll be in to it."
From Official Bio:  Whether they're headlining, supporting or leading sing-alongs at festivals around the world, Of Mice & Men continuously dominates the stage. The group's ampersand ("&") symbol is as ubiquitous as it is synonymous with the group's charismatic passion, unique creativity and pulsating energy. The band's screamo / metalcore-redefining self-titled debut laid the foundation for the album that was to follow, The Flood.  Of Mice & Men's obsessive attention to detail — which encompasses everything from the artwork to the band's constant interaction with their fans through social media is precisely why the group has built such a strong connection with the audience. Their authenticity is palpable and their shared struggles relatable.
Out on a walk through Reno, we chatted to super excited Of Mice & Men vocalist Austin Carlile about touring, changes within the band and Australia, in particular their forthcoming appearance at Soundwave…
You're of course headed to Australia to play the completely sold out Soundwave festival, what can we expect when Of Mice & Men hit the stage?
Oh man, I'm sitting here smiling, I'm super excited to be coming over and I'm super excited to be on tour with all of these just legendary bands that are on the tour.  For our show, we go hard, we have so much fun on stage and I want people that are watching us to have at least as much fun as I am, anybody even if they've never heard of us, if they like any kind of heavier music or anything of that sort, if you watch Of Mice & Men live, you can't really say you don't like it because you can just see the energy and the passion of us and that I'm really proud of.  If you don't like it, listen to one song, give it a chance, if you don't like it, throw a bottle at me and go and watch another band ha ha, but at least give me three minutes of your time and hopefully you'll be in to it.
If you could think of five words that people will utter as they walk away from watching your set, what would they be?
Damn, mental, holy shit and intense.  That would be my five.  Or rubbish ha ha, not that one, but maybe the first ones.
Now you did mention sharing the Soundwave bill with legendary artists, are there any personally that you're pumped to see?
Yeah, I'm really excited to see Linkin Park, Slayer, Stone Sour and A Perfect Circle.  I grew up listening to those bands, to those artists and I'm super excited just not only to be on tour with them, but to be able to watch them every night and be there as a fan of music in general and being able to appreciate that and be in that moment, I'm really looking forward to it.  I can't wait to be sitting there singing along with the rest of the thousands of people.
You have been to Australia before, in 2011, what are some memories of that last tour?
Yeah we've been there once with I Killed The Prom Queen and The Amity Affliction.  We had a blast on that tour, we were opening up, it was so cool to walk on to the stage 15 minutes after doors and we were playing giant amphitheatres, big venues, 6,000, 7,000, 5,000 capped rooms and venues and we're playing soon after doors and people would come in the first 200, 300, 400 people come in, in 'Of Mice & Men' shirts and knew every word, it was so sick.  People would trickle in and by the time we were done you could see the people in the back and the people who obviously had no idea who we were just banging their heads and moving and jumping around, it was cool for me to know that we can go to a completely other continent and just have people appreciate our music and really get in to it and really try to become a fan of a band they've never heard of previously.  We had a lot of fun with Amity Affliction guys, you know, after the show and doing DJ club things and going out and meeting people, the bars and the clubs, that whole thing was so much fun.  I'm in love with Australia and I've been craving to get back and to play for you guys.
Is there any chance of some sideshows down here to play the 'Flood' album in its entirety?
Yes, Australia can definitely expect to hear our re-release from start to finish, we're super proud of the new songs, we're only playing two of them right now, we're saving the third one for next year, they're just so intense and hard and fast, we just want those to be the sound that people take away when they see 'Of Mice & Men'.
In only a few years together, it seems like the band has been through more drama and members than most bands would in 20 years, if ever!  Is everything in a good place now?
Everything's great.  Our group now, we even have the same crew and we're like a tight knit little family and we couldn't be happier.  It sucks, like that statement, the drama thing, lots of bands go through the same things before they're signed, lots of bands go through the same changes two or three years before their career and then they come in to the limelight, then they release the first album that gets them noticed.  For us, I wrote one song all by myself, put it on MySpace, got signed the next day and then I had to go 'Oh, I live in Ohio, I better drive to California and find a band.'  So from day one were in the spotlight, from day one we were signed without even playing a show, so every little thing that we did and every little change we had to go through to get the band to where it is, it happens,  but with us it was just in the limelight ha ha so every mistake we made, everyone knew about it.  So that's why I'm finally glad we finally get to it to how it is now.
How hard was it for the band to adapt to being a 4 piece after Shayley's departure?
It was a lot easier than we thought. We had a tour right after that, it was actually a UK headlining tour where I actually did all the vocals, so the screaming, and I was singing as well, it was a lot of fun man, I enjoyed it, the fans enjoyed it, half the time I didn't even have to sing, I put the mic to the crowd and you could just hear everyone singing the parts.  It was a realisation for the band after that tour that things are going to be just fine and things are so much more positive and we have a strong fan base, we have some of the greatest fans ever man, they're supportive of what we do, they just want to hear our music and see our shows and experience that, I mean it's a really good to know that we can pull that off.  During the Vans Warped Tour this Summer we had Aaron Pauley come out and he sang and played bass, that way I could go a lot more crazy and not have to worry so much about getting tired that I could just do my thing, and that turned out great, he sounds great and the fans really accepted him and things are just on a snowball roll for us right now and I'm really excited in the direction of which 'Of Mice & Men' is headed.
I've read a bit about your vocal techniques and you're praised for them, what is it that you do with your 'instrument' that makes you stand out?
I couldn't tell you ha ha, I don't know, the only thing I really take pride in with my vocals is I try to sound like me, and I don't want to sound like anybody else and I don't want to follow in the footsteps of anyone else.  When you hear these bands that are massive bands they're massive because they sound like them, they have their sound, Slayer, Slipknot, Linkin Park, you hear any one of those songs you go that's Slipknot that's Corey, or that's Korn, that's Jon, that's Linkin Park, that's Chester.  You hear those bands and you think that sounds like them, and that's what I want to do, I want to sound like 'Of Mice & Men' as soon as people hear an 'Of Mice & Men' song, as soon as they hear the song they know exactly who it is and they don't have to guess, oh is it this band, is it this other band, I can't really tell.  I want it to sound like me.
You got to be on the cover of Kerrang, pretty big deal man, how was that for you?
Huge ha ha, Kerrang have been really awesome to us, they had this Top 50 Rock stars that are alive thing and they put me as number 23, behind Brian Johnson of AC/DC and M Shadows of Avenged Sevenfold, my manager sent that to me and I was like 'Is this a joke?' So that was great, the UK is like a second home for me, they love us over there and going over there is like the greatest experience ever.  We actually just got word tonight, that our headlining tour coming up there in two weeks, the last show just sold out, so we're talking a full sold out headlining tour over there, I couldn't be more excited, I love the United Kingdom, it's amazing.
You mentioned that you just reissued you album 'The Flood' as a double disc with some new tracks, what was the idea of reissuing an album rather than releasing a new album?
We had those three songs and we really wanted to put them out but we didn't want to have an entire album based around that, we just kind of wanted to be angry for a bit, but we didn't want to the whole sound of 'Of Mice & Men' to change that drastically, because 'Of Mice & Men' is melodic choruses, and soaring parts and slow parts and sing a long parts and we didn't want to steer away from that completely, so we just took a step away from it for a while.  With our third album we're going to have a total accumulation of everything we ever started, everything we've never released and we're going to record it and put it out, it's a huge list and it's something people will really be proud of as it's been so long and it's such a collection of everything from 'Of Mice & Men'.
When do you think we could see a release of the third album?
Next year for sure, we're taking November and December to write and we're going to be writing and writing and we're expecting by the end of 2012 to have at least 80% of the record just cranked out. It's cool that we actually get to take time on this record as we never have in the past, we wrote the first one in a month, the second one me and Alan wrote five of the songs by ourselves, Alan met the band, two days later after meeting the band he was in a recording studio recording those songs. So it's cool to have this group and together over the past year as we've been writing together and continued writing together and taking time to marinade it and sit on this album and work on it and actually be able to do it how normal artists are supposed to, instead of being rushed like we always have been.
Is there any chance of some unreleased songs being played when you're here for Soundwave?
Oh man I hope, in a perfect world we'll have a new song come out before Soundwave and we'll be able to play it every day, I would absolutely love for that to happen, but as of now, I honestly have no idea, but it's four months away, it doesn't seem that long but in my side of things it seems like forever.
Do you have a message for your Australian fans?
Come out, come to Soundwave, if we have sideshows or any of that, come watch us, and like I said, give us one song, stay for half a set, if you don't like it, throw something at us, walk away and go watch another band, but give us one song.  We love your country, and we're more than excited to just give you a hell of a show.  I genuinely love coming to Australia, I have nothing but good things to say about it.  Last time we went we were shown so much love and we made so many new fans out of people that have never heard of us, I'm so stoked to be back and to just know people's faces and show them what 'Of Mice & Men' is really about.
Essential Information
From: Southern California, USA
Band members:  Austin Carlile – Vocals, Valentino Arteaga – Drums, Phil Manansala – Guitar, Alan Ashby – Guitar
Website: Official Facebook Page
Latest release: Flood Re-Issue deluxe edition
SOUNDWAVE FESTIVAL – FEBRUARY/MARCH 2013
SOUNDWAVE FESTIVAL VENUES AND DATES
SATURDAY 23 – BRISBANE, RNA SHOWGROUNDS – SOLD OUT!
SUNDAY 24 – SYDNEY, OLYMPIC PARK – SOLD OUT!
FRIDAY 1 – MELBOURNE, FLEMINGTON RACECOURSE – SOLD OUT!
SATURDAY 2 – ADELAIDE, BONYTHON PARK – SOLD OUT!
MONDAY 4 – PERTH, CLAREMONT SHOWGROUNDS – SOLD OUT!
Strictly limited tickets still available for Sydney, Adelaide & Perth
*All shows are licensed and all ages / *Venue and lineup subject to change
For more information head to www.soundwavefestival.com