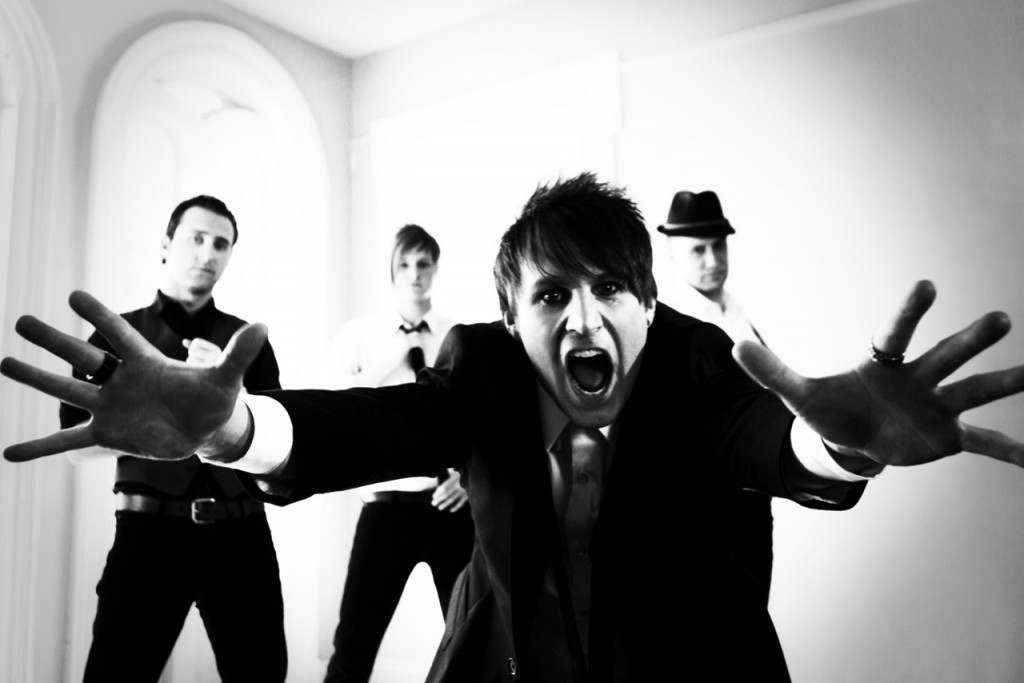 From Official Bio: "3 Pill Morning isn't just another rock band, and they'll leave you with anything but a musical hangover.
Forged in the hard rock proving grounds of Minneapolis, MN in late 2004, 3 Pill Morning could be described as trial by fire.  Simply put, music was never a question for lead vocalist Jeff Stebbins, and failure was never an option. While other musicians were moving from project to project, and band to band, Stebbins took a different path, consistently growing and evolving 3 Pill Morning from an angst ridden rap-rap-core act, into an anthemic rock band no one can deny.
It took the better part of 5 years, over 500 shows, and a hand full of member changes to finally click. Nothing would stop the evolution of 3 Pill Morning. Early on, Stebbins found a natural chemistry with guitarist Ryan Walch and he quickly became a key member of the band's core. As the pieces fell into place, the final line up came into focus with the addition of bassist Charlie McCoy and drummer Trent Laugerman. The band forged on, hitting the road, solidifying their sound, and cementing their spot as a national touring act sharing the stage with the likes of Sevendust, Framing Hanley and NonPoint. Through 3 Pill Morning's consistent mile grinding and road warrior focus, the band has built an inspiring fan base with die hard supporters nationwide.
After a chance introduction in a city better known for honky-tonks and banjos than gut-wrenching riffs, the band found a creative match with Nashville based producer Jon King (Augustana, Throwing Gravity, Future Leaders of the World) . They quickly went to work writing, recording, and re-vamping songs and ideas to take that next sonic step. In 2012 the band signed a recording contract with King's Page 2 Music and New York based A2Z Entertainment. "We were really intentional with everything this time around" comments Stebbins, "as a band we had a specific vision for what we wanted to do, and that really set the tone for everything from the writing process down to the artwork and suits we wear live".
Two months and weeks of all night recording sessions later, the band emerged from the studio with a renewed vigour and a slick concoction of fist pumping riffs, infectious melodies, and an energy that can only be described as relentless. 3 Pill Morning's label debut Black Tie Love Affair pegs all the dials and pulls no punches. The band's lead single 'Rain' immediately raced into the top 100 Active Rock songs and their sleek video capturing the underdog story 'Skin' has lit up YouTube viewers world wide. All signs are positive that this band's determination and fan-centric demeanor will keep them on the radar for years to come."
Interview questions below were kindly answered by vocalist Jeff Stebbins…
Let's start with the basics first, how would you describe what 3 Pill Morning aims to deliver in a musical sense and what's the story behind the band name..assuming of course you want to reveal 🙂
The band name is definitely one that a lot of people have questions about.  We were in the process of putting together names and the fact that everyone is medicated in some way seemed to make sense and the magic number just happened to be three.  We liked it, went with it, and people seem to dig it, so it's a cool band name as the pills vary for everyone, but everyone's poppin' something
Can you introduce the band members…including yourself of course and give us a rock 'n' roll fact or myth about each?
Jeff Stebbins – Vocals – Rock-n-roll Fact:  I'm the only lead singer without an ego, and that's why I'm so fuckin' awesome!
Ryan Walch – Guitar – Rock-n-Roll Myth:  He is not Matthew McConaughey's younger, better looking twin.
Trent Laugerman – Drums – Rock-n-Roll Fact:  Party as hard as you can, you're at 20% Trent.
Charlie McCoy – Bass – Rock-n-Roll Myth:  He's not the world's tallest bass player, it's all an illusion (Charlie is 6'8")
You just recently released your new album 'Black Tie Love Affair'. Here's as much advertising space as you need to tell our readers why this album could very well be the best thing they've never heard?
It rocks Top to Bottom!  If you like hard rock with big ol' sing along choruses and music that makes girls shake their money makers 'Black Tie Love Affair' is where it's at.  On a serious side, the album is definitely an album that has shown a lot of maturity for us as songwriters both musically and lyrically.  We're super stoked about it and it's definitely worth a listen!
You recorded the album in Nashville, when you think back to the recording sessions for the album, what 3 things/memories most immediately come to mind?
1.  Public Grocery store visits (band's gotta eat)
2.  Ripping every song apart with an acoustic guitar and a voice
3.  Honky Tonk party nights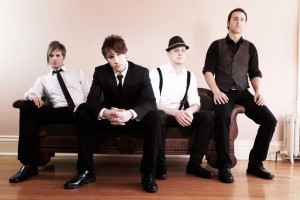 We've picked out 3 of our favourite tracks from the album and would love you to share your own thoughts/comments/background on each:
Nothing's Real –>  This song is one of the only semi-positive relationship songs that we've written.  It's that fear of finally caring about someone enough to think you might actually drop the 'L-Bomb'.  It's heavy, it's kind of dark, it turned out awesome.
I Want That For You –>  We set out to write a song that had some bounce and energy to it and after two all night writing sessions, we had it mostly buttoned up.  It went fast and really pushed the vocals and lyrics.
Daddy's Little Girl –>  The songs got a few different feels in it and hopefully sets the tone for what the song is about: lost, lonely, and forgotten girls who were spoon fed for years only to be quickly left behind.
'Skin' is a song and video that's been getting a huge response for the band, can you give us a bit of an insight into the concept behind the video clip for the song?
This video was a blast to make and we wanted to put a bit of a comedic spin to the underdog getting the girl story.  Being the hired lowly help for a bunch of rich hipsters and in the end taking their girls…that's rockstar!
In terms of your songwriting, what do you consider to be the most important ingredients that need to feature in a 3 Pill Morning song?
Good heavy grooves to move your head to, lyrics to make you think for a little bit, and melody & hooks to make you want to sing along even if you don't know the words.  If we do that, it's usually a pretty good song.
In both a musical and lyrical sense, who and what are some of the greatest influences on the music of 3 Pill Morning?
From a lyrical standpoint it's just drawing from real life situations.  Whether personally living through them or watching them happen.  There's a story to tell every day and fortunately we can write about it and share those feelings.  From a musical side, we all listen to a ton of music and are always trying to add more tricks to our bag.  There's so much music and it's so easy to access now, we're being influenced by something new daily.
If you were a person in the crowd at one of your gigs, what five words would you walk away using to describe the performance you just witnessed?
WoW! Energy! Connection! Kick-Ass! Fun!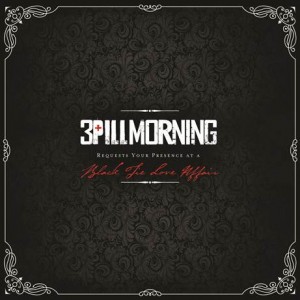 You have toured and shared the stage with a bunch of our own personal favourite bands such as Sevendust, Buckcherry, Hinder, Papa Roach, Default…what have been some of the biggest learning experiences that you feel you have gained playing with bands such as these, who have rocked stages all over the world?
Just the way they conduct themselves every day.  From soundcheck to crowd interaction.  The best performers have so much to watch and listen to and we hope we can have the same kind of impact that they have on us some day.
For the benefit of those reading this in galaxies far, far, away, how would you describe the current music scene over there in USA and 3 Pill Morning's journey to find a place within it?
It's a battle every day.  Everyone is fighting for the spot, but we believe the band that's gonna get there is the band that tours and gets to shake the hand of every person that comes to see them live.  It takes a lot for people to come out to a show these days and when they do, we want it to be something that made it worth their while and they'll want to come and party with us again.
Here's a chance to gaze into your crystal ball, over the next 12 months, 3 Pill Morning will have:
1.  Toured from coast to coast multiple times.
2.  Seen their fanbase continue to grow and the success of 'Black Tie Love Affair' continue to rise.
3.  Started writing new material for the next chapter
4.  Eaten record amounts of Pizza.
Essential Information
From: Minneapolis, USA
Sounds like: Modern rock
Band members: Jeff Stebbins – Vocals, Ryan Walch – Guitar / Keys, Charlie McCoy – Bass /Vocals, Trent Laugerman – Drums
Website: www.3pillmorning.com
Latest release: Black Tie Love Affair (2012, A2Z/Page 2 Music/eOne)