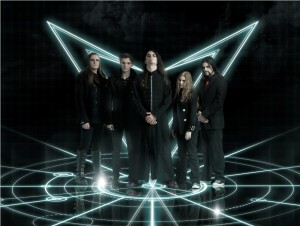 The incredible upward spiral of Perth Prog Metal masters VOYAGER continues as the band announces their "MEANING OF I" east coast tour of Australia in November, venturing into familiar popular territories, some new ones & two festival appearances! In support of their latest outstanding release 'The Meaning Of I', VOYAGER are riding high on the crest of the wave that ceases to lose momentum. With outstanding crowd reactions and rave review after rave review, you could not possibly see VOYAGER at a better time than right now! 'The Meaning Of I' is a culmination of the VOYAGER sound: polished yet organic, heavy yet melodic, dark yet playful.
If you are yet to hear it, you should!
Recently returning from an extensive North America tour supporting Rhapsody Of Fire, VOYAGER captivated larger than expected audiences at every show, winning over a multitude of new fans. Sold out shows in Canada reached a new pinnacle in the VOYAGER career with fans, old and new, chanting for more after the exhilarating performances given.
The 'MEANING OF I' tour for VOYAGER's has been scheduled for:
Nov 1st – Newcastle @ Hamilton Station Bar
Nov 2nd – Sydney @ Steel Assasins Festival, Sandringham Hotel
Nov 3rd  – Wollongong @ The Patch
Nov 4th – Sydney (West) @ St Mary's (Lic/AA)
Nov 8th – Warnambool – TBC
Nov 9th – Melbourne @ The Workers Club
Nov 10th:- Canberra @ BastardFest, The Basement
Be part of the VOYAGE!