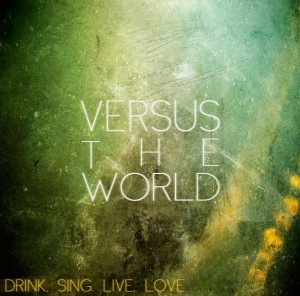 In 25 words or less: "When you find that album that connects on first listen well then I think you've got something pretty special."
Versus The World have just released their new album, seven years after their debut, which has gotta be some record somewhere ha ha.  The good thing is, this is new band to me, I dig that I can discover a band on their second album and instantly want to go back and check out the debut.  That's how good I think this album is.  When you have a mix of players (all coming from well-known punk / rock bands) including Mike Davenport ex 'The Ataris', Chris Flippin from 'Lagwagon' and Donald Spence and Bryan Charlson from 'Crooks and Liars', then you'd think they'd have a pretty good idea on how to put a record together.  Well, let me tell you this, they do.
From the opener 'She Sings The Blues' and surely their show opener, I was instantly hooked, up tempo punk rock crunchy guitars along with a kick ass melody, if this is what the rest of the album sounds like then sign me up.  It was a great way to start and it just keeps giving from there, 'Mason Grace' has music in our blood but first single 'A Fond Farewell' is a better song than a band like Fall Out Boy ever did, this should, and could, and should get the attention of people with its catchy groove and hum along capabilities it's Gold for Versus The World (sorry, been watching too much of The Olympics) that was a perfect example of pop punk rock.  Check out the video below to see if you agree.
'The Kids Are Fucked' not only gives us the best song title of 2012, but also a perfect lyrical song about the youth of today, for a full insight in to the song, check out our interview with Mike Davenport below, and it'll make a whole lot more sense.  It's another belter and it made me feel like that cranky old man shaking his fist at kids, see, it did its job perfectly.  'Lullabye' hits you in the face with its riff and punchy 2:30 running time it is hardly to be used to put you to sleep, but this one balances out along with some stellar playing from Chris Flippin who really shines on this album, I suppose twenty plus years in the business you'd want to be good at what you do.  That's another Gold medal for you Chris.  'A Love Song For Amsterdam' is a great concept lyrically and hits one hell of a groove, the progression musically in the chorus is on the money and this is actually my stand out on the album as of right now.
A song named after the band that the singer and drummer are in, but the other band, not this one?  Awesome.  'Crooks and Liars' is actually a great track, using that same driving guitar and bass line under the verses to give the band somewhat of a familiar sound across the board, I love what they've done with this song and all the songs in general. 'Oh Brother, Where art Thou' kicks it along a little further with another rocker and leads nicely in to 'Fear of Finale' which I can see being belted out on stage with everything they have, fast paced, intense and rockin'.  'Donner Pass' is as punk as you'll get on the album, which is a little different to the rest of the album, but still suited perfectly where it is in the mix.  Production wise this album is so well done, not only the tracks but the entire layout, case and point, we've just come out of punk madness to a single guitar and vocal kicking off 'Angry February' a complete contrast to its predecessor, that is until around two minutes in where it explodes into a massive rocker, I didn't see that coming, but it sure as hell worked.
To close out the album we have 'We Were Alive' and bonus track 'Short Music For Tall People', so on 'We Were Alive' this is close to one of the best on the album in my opinion, once again showcasing the melody and musicianship that has worked so well throughout this album, an epic and I don't really like using that word, but I did, so there, but as I was typing, the epic ending to this track was a perfect way to end 'Drink, Sing, Live, Love' and I enjoyed a lot.  The bonus track is just that, a bonus, it doesn't really for mine fit with the rest of the album, but a rockin' guitar solo almost changed my mind, yet I'll just pretend the album finished with 'We Were Alive.'
The entire album is helped by this style of music being just so easy to enjoy and hard to fault, it's upbeat, it's melodic and full of hooks.  Sure this 'genre' isn't for everyone as it gets labelled or dumped on, but seriously, get over it and just grab a great release of new music!  I'm always dubious when you have no idea what to expect of a band you don't know and or an album you've never heard, but when you find that album that connects on first listen well then I think you've got something pretty special.  Let's just hope it's not another seven years between albums…
Check out our interview with Mike Davenport here…
Essential Information
From: Santa Barbara, CA, USA
For fans of: Pop Punk Rock
Release date: 3 August 2012
Record label: 3 Wise Records
Producer: Thom Flowers
Website: http://www.versustheworld.com
Track listing:
She Sang The Blues
Mason Grace
A Fond Farewell
The Kids Are Fucked
Lullabye
These Bones
A Love Song for Amsterdam
Crooks and Liars
Oh Brother, Where art Thou
In Fear of Finale
Donner Pass
Angry February
We Were Alive
Short Music for Tall People (Bonus Track)