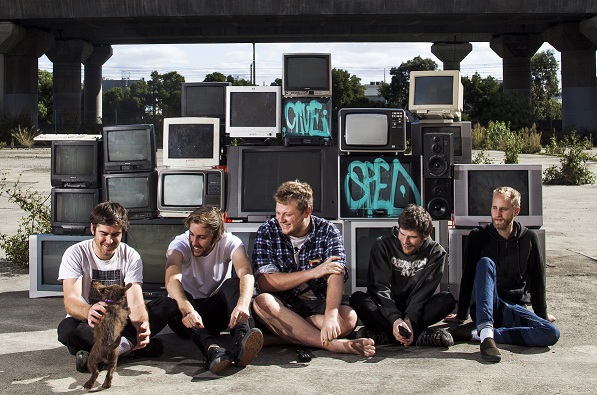 Official press release:  "Poison City Records is delighted to reveal that burgeoning buzz band The Smith Street Band will release their second album Sunshine And Technology on August 24, 2012. To celebrate its release the band will tour extensively, playing headlining shows in capital cities Australia-wide.
The much loved Melbourne band's debut album, 2011's No One Gets Lost Anymore, was the sound of a band that had found their feet. Greeted with accolades, Beat Magazine wrote "happily one of the best Aussie albums in recent memory" and Triple J's Stu Harvey added, "The Smith Street band need to be heard". Website Bombshellzine took it even further, voting it THE best album of the year.
The band's incessant gigging following their debut album's release hints at The Smith Street Band's desire to reach as many people as possible. A feat not entirely impossible given the immediate accessibility of their memorable folk/punk/rock sound. Their debut album was toured extensively, from Launceston, Tasmania to Bunbury, Western Australia and just about everywhere else in between, along the way, collecting a legion of like-minded friends and colleagues.
There was also an ever-growing list of international support slots the band were handpicked for: some through musical admiration, others through lyrical – many through both. Already this year The Smith Street Band has shared the stage with the pensive Frank Turner (ENG) provocative Fucked Up (CAN) and poetic La Dispute (USA), never once out of place.
The Smith Street Band will reconnect with these newfound friends and peers once more when they travel abroad for the first time this spring, stopping over in China, before touring the United States and playing the famous Fest in Gainesville, Florida.
The future is indeed radiant for The Smith Street Band as they take their music to unexplored destinations both literally and figuratively.  Recorded by Sam Johnson at Melbourne's Three Phase Studios and mixed by Matt Voigt (Midnight Oil, Paul Kelly, The Nation Blue) at Sing Sing Studios, Sunshine And Technology's lyrical and musical progressions suggest The Smith Street Band is incapable of standing still, and perhaps, of growing up. Both endearing qualities in inspired punk rock upstarts."
Wil Wagner, guitarist and vocalist reveals all, quite literally, about The Smith Street Band in our interview below…
Let's start with the basics first, how would you describe what The Smith Street Band aims to deliver in a musical sense?
I don't think we really aim to do anything! We try and make music we are proud of and we enjoy playing and then try and play as many shows as possible! Everything else is very much a happy accident!
Can you introduce yourself and your fellow band members and give a rock 'n' roll fact or myth about each!
I'm Wil Wagner, I play guitar and sing and keep getting kicked off Centerlink for some reason. Also I'm only 16.
Then we have Chris 'Dad' Cowburn, who plays drums in the band BUT ALSO IS WELL ORGANISED AND HAS HIS SHIT TOGETHER.  That's a very rare thing indeed and we'd be fucked without him.
Tom Lawson plays guitar and sings, and hasn't had a shower since the band started.
Fitzy Fitgerald plays the bass guitar and was born without a first name.  Or at least not one we know.
And lucky last is Lethal Lee Hartney, purveyor of sweet babes, guitar enthusiast, booker at the Reverence, barista, bar tender, labourer and all round busiest, loveliest dude ever.  No myths about him, he's just straight up awesome.
Your second album 'Sunshine & Technology' drops on August 24, firstly, do you care to share the meaning behind the album title?
The album is named after the first track and when we were looking for a title in the lyrics Sunshine & Technology just made sense.  I'm a bit obsessed with the battle between the modern world and nature and it pops up a few times in lyrics to the album.  I guess it sums us up as people pretty well, we sort of pride ourselves on playing 'organic' (for lack of a less incredibly pretentious phrase) music and just generally being the anti dub step because shit like that is just so terrible.  And whereas none of that music would have been possible without the advances in technology, all the stuff we've been able to achieve has been because of the internet creating such an easy way of getting our music to people and recording technology being so much cheaper and easier to use now that we can put out stuff a lot.
For those familiar with your debut album, what do you feel are some of the key differences they will notice in the new album?
I think the main differences are that we had twice as much time to record this album than the first one so it sounds bigger and a bit more polished.  It still sounds like us but having time to work out guitar tones and which snare drum to use and all the stuff you think doesn't matter but actually matters ALOT was super handy.  I guess the other difference is that I wrote the songs when I was in the Smith Street Band, rather than the first album which was a collection of solo songs that the band worked on, these where written with the other guys in mind so there is a lot more of their influence on this album.  But basically, same dudes being angry about the same stuff and in love with the same people so is never going to be drastically different!
You recorded the album at Three Phase Studios in Melbourne, when you think back to the recording sessions, what 3 things/memories most immediately come to mind?
1- Sam Johnson just being the best fucking guy. I had met him a few times before we started recording and really got on well with him and as soon as we started tracking, his calming presence and complete expertise took a lot of the nerves away and let us focus on getting the parts on the album right.  Having someone who is technically awesome and also just such an easy person to be around was so good that we've stolen him to tour with us now!
2- Nuding up in the tiny vocal booth at Three Phase to record vocals was pretty fun.  I'm normally super self-conscious when I record vocals because, frankly, I'm not a very good singer!  But being able to jump into this little pitch black room for a few hours every day and get weird and belt out songs was so fun and as a result I'm happy with my vocals on this recording, something I've never experienced before.
3- The night we finished I ended up getting wasted with one of Three Phase's owners and watching Melbourne beat Essendon (I go for Collingwood, but Essendon losing is as good as the Pies winning for me) and then sitting back and cranking the album from start to finish and being so proud of everyone and full of drunk football happiness was something I'll remember (or in all fairness half remember) for the rest of my life.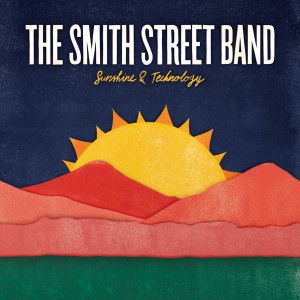 In terms of your song writing, what do you consider to be the most important ingredients that need to feature in a The Smith Street Band song?
The songs are all pretty lyrics based.  I tend to write lyrics a lot and then sit down with a guitar and work out what, if anything is good and will work for the band or as a solo song.  With this album I tried to make the early versions of songs as stripped back as possible, I'd write the chords and the words and maybe a riff or melody that runs through the song but everything else is worked out and built up by the rest of the band.  I think a lot of the new album is pretty drums driven as well, not only because Chris is a really good drummer but because his style is pretty unique to him and he drums along to the lyrics as well as the melodies and keeps the songs driving and stops them from all being long, boring rants (which if you've made it this far into the interview you know now I have a habit of doing)!
In both a musical and lyrical sense, who and what are some of the greatest influences on the The Smith Street Band?
Music wise I'm influenced by bigger, epic bands.  Bands like Titus Andronicus, Fucked Up, Prawn, Modest Mouse, At The Drive-In etc.  I love the massive builds and the way songs flow into one another or have a few parts to them, the songs as much driven by dynamics, as they are anything else.  Lyrically I'm influenced by singer songwritery types – Billy Bragg, Bruce Springsteen, John K Samson, Lincoln Le Fevre, Jamie Hay, etc. and weird hip hop stuff like Astronautalis, P.O.S, Aesop Rock, Death Grips, etc.  I think good hip hop is the most impressive style of music for me because it's all primarily lyrics driven.  I also get a lot of influence for my lyrics by reading books, watching people and Hobart.
For you personally, can you remember the defining sight, sound, touch and/or smell whilst growing up that made you think being a musician was the path you wanted to tread?
When I was I think 14 I performed by myself for the first time in a music class at school.  I had planned to do an acoustic version of Anywhere I Lay My Head by Tom Waits but was so nervous for the first half of the song that my hands were shaking so much I couldn't play guitar!  But half way through I started playing the chords and finished the song and got my first round of applause from the class and it was a pretty amazing feeling.  From that moment on I decided I wasn't going to be center half forward for Collingwood, I was going to play music.
If you were a person in the crowd at one of your gigs, what five words would you walk away using to describe the performance you just witnessed?
Sweaty, loose, smelly, party and how did they manage to break every single piece of equipment on stage?
For the benefit of those reading this in galaxies far, far, away, how would you describe the current music scene over here in Australia and The Smith Street Band's journey to find a place within it?
We never really took any notice of the scene or music politics or any of that bullshit, if anything we've tried to stay away from it.  I remember going to an all ages ska show when I was about 16 in a Nirvana shirt and being told numerous times that I was wrong for wearing a Nirvana shirt to a ska show.  From that moment on I realised clicky bullshit was stupid and just like the high school nonsense I was trying to avoid.  I think the best thing to do if you are in a band is just to play every show possible with all kinds of different bands and just be a nice person.  Half the bands we play with now sound totally different from us, but we play with them because they are good people and passionate about what they are doing, which I think is something more and more bands are relating to now.  I think Australia has its little cool kid crews and whatever just like anywhere else, but if you don't buy into that nonsense and just play shows and love what you're doing it doesn't matter at all where you are playing or who you are playing with.  We also have an incredibly beautiful country to tour in!
Here's a chance to gaze into your crystal ball, over the next 12 months, The Smith Street Band will have:
1. Toured overseas in China and America and hopefully Europe as well.
2. Put out another album.
3. Had an incredible amount of fun!
Essential Information
From: Melbourne, Australia
Band members: Wil Wagner, Christopher Cowburn, Tom Lawson, Lee Hartney, Michael Fitzgerald
Sounds like: Australian folk, punk, rock
Website: http://thesmithstreetband.bandcamp.com
Latest release: Sunshine & Technology (August 24th, 2012, Poison City Records)
Tour Dates
The Smith Street Band Sunshine & Technology Tour ** w/ RESTORATIONS (USA)
SAT AUG 25th @ THE TOTE, Melbourne
Tickets from Poison City Records (www.poisoncityrecords.com/estore) & The Tote (www.thetotehotel.com) 67-71 Johnston St, Collingwood
SUN AUG 26th @ The Reverence Hotel
Tickets on the door. 28 Napier St, Footscray 3pm 18+
THU AUG 30th @ ENIGMA BAR, Adelaide
Tickets On The Door. 173 Hindley Street, Adelaide
FRI AUG 31st @ ROSEMOUNT, Perth
Tickets On The Door. 459 Fitzgerald St, North Perth
THU SEP 6th @ X & Y BAR, Brisbane **
Tickets On The Door. 648 Ann Street, Fortitude Valley/ Brisbane
FRI SEP 7th @ GREAT NORTHERN, Newcastle **
Tickets On The Door. 89 Scott Street, Newcastle
SAT SEP 8th @ ANNANDALE HOTEL, Sydney **
Tickets from www.annandalehotel.com 17 Parramatta Road, Annandale
SUN SEP 9th @ PHOENIX LOUNGE, Canberra **
Tickets On The Door. 21 East Row, Canberra
SUN SEP 16th @ POISON CITY WEEKENDER  *Sold Out!