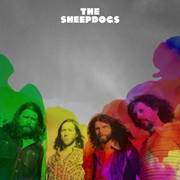 THE SHEEPDOGS TO RELEASE SELF-TITLED MAJOR LABEL DEBUT ON SEPTEMBER 7, 2012
Canadian rock'n'rollers The Sheepdogs will be releasing their self-titled Atlantic Records debut -produced in Nashville by Patrick Carney of The Black Keys and Austin Scaggs -on September 7.The band is fronted by Australian born singer-guitarist Ewan Currie, who was born in Sydney and lived in Adelaide until his family headed north when he was 10. Ewan first showed off the band here at BIGSOUND 2011, then returned earlier in 2012 to tour nationally with John Fogerty and to play the West Coast Blues & Roots Festival, where they went down a storm.
The Sheepdogs built their name on hard work and determination. Having funded their first three albums and early years of touring on their own, this rock and roll band's momentum began to build exponentially with the release of the 2010 album, Learn & Burn. The band would go on to win three 2012 JUNO Awards (the Canadian equivalent of a Grammy): New Group of the Year, Single of the Year and Rock Album of the Year. With a list of accolades this impressive the band is on the brink of engaging fans on a wider scale.
Hailing from the small Canadian town of Saskatoon, SK, The Sheepdogs won an international competition in 2011 securing them the cover of Rolling Stone, making the group the first unsigned band to appear on its front page. The win, decided by 1.5 million public votes, also scored them a record deal with Atlantic, which offered up a new EP from the band, Five Easy Pieces, in August 2011.
After the band was introduced to Carney at Petty Fest in New York last year, he immediately began offering ideas for The Sheepdogs next album ("He seemed strangely passionate about it," Currie notes). The hope was that Carney could actually produce the album. In January, Carney invited the band to the studio, where they culled together old material and quickly began laying down new ideas. Although the band had only spent those two and a half weeks with Carney, Scaggs and studio engineer Roger Moutenot in Nashville's Haptown Studios, the sessions proved fruitful.
After touring steadily since 2006 and spending the last year entirely on the road with bands like Kings of Leon, John Fogerty and Robert Randolph & the Family Band, The Sheepdogs hoped tocreate songs that would lend themselves to their impassioned performances. The band, which has also performed at numerous festivals, including Coachella, Bonnaroo and SXSW, enlisted a keyboard player as the new album features a heavy dose of Hammond organ and Rhodes piano.
In the end it all ties back to the group's goals, which essentially involve making really good rock songs, and you don't need a crazy origin story to do that.
The Sheepdogs is out September 7 2012 on Atlantic/WMA.
https://twitter.com/TheSheepdogs