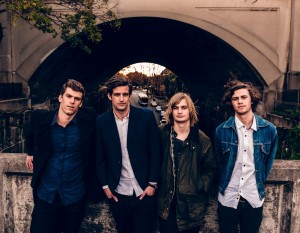 THE RUBENS – NEW SINGLE 'MY GUN' + NATIONAL ALBUM TOUR
MY GUN is the brand new single from Menangle wunderkinds THE RUBENS. Recorded in NYC with Grammy Award winning producer David Kahne, MY GUN is a shining example of why The Rubens have managed so effortlessly to connect with audiences around the nation. A blend of frontman Sam Margin's soul-drenched vocals with steadfast blues swagger, MY GUN has already proven to be a favourite with fans, being a highlight at the band's recent sold out live shows.
MY GUN follows on from radio favourite DON'T EVER WANT TO BE FOUND and is another tasty morsel off the band's forthcoming debut, self-titled album out 14 September.
THE RUBENS have had a dream run since forming in early 2011. After their home recorded demo of LAY IT DOWN found its way to #57 on the triple j Hottest 100 poll for 2011, the band went on to sell out their debut national headline tour (including 4 x Northcote Social Club shows & 3 x Good God shows) and sell out their DON'T EVER WANT TO BE FOUND shows in July (2 x Oxford Art Factory shows & 2 x Corner Hotel). The band also proved to be a highlight at this year's Splendour In The Grass Festival, packing the GW McLennan stage to the brim, despite their earlier time slot.
With no signs of slowing up, THE RUBENS are pleased to announce they will be touring the nation in celebration of their debut album this September/October. If you haven't already seen THE RUBENS live, it's time to see why they're being touted as one of the most exciting bands to come out of our fair nation in quite some time.
THE RUBENS NATIONAL TOUR
w/ SPECIAL GUEST BERTIE BLACKMAN
THU 13 SEPTEMBER – The Loft, Warnambool
Tickets $15 +BF from www.oztix.com.au
FRI 14 SEPTEMBER – Bended Elbow, Geelong
Tickets $15 +BF from www.oztix.com.au
SAT 15 SEPTEMBER – Forum Theatre, Melbourne
Tickets $30 +BF from www.ticketmaster.com.au
THU 20 SEPTEMBER – Uni Bar, Wollongong
Tickets $15 +BF from www.bigtix.com.au & www.oztix.com.au
FRI 21 SEPTEMBER – Metro Theatre, Sydney
Tickets $25 +BF from www.ticketek.com.au & www.metrotheatre.com.au
THU 27 SEPTEMBER – Republic Bar, Hobart
Tickets $20 +BF from www.moshtix.com.au
FRI 28 SEPTEMBER – Hotel New York, Launceston
Tickets $20 +BF from www.oztix.com.au
SAT 29 SEPTEMBER – The Gov, Adelaide
Tickets $20 +BF from www.moshtix.com.au
FRI 5 OCTOBER – Capitol Theatre, Perth*
Tickets $20 +BF from www.oztix.com.au
SAT 6 OCTOBER – Prince of Wales, Bunbury*
Tickets $15 +BF from www.oztix.com.au
SUN 7 OCTOBER – Newport Hotel, Fremantle*
Tickets $15 +BF from www.moshtix.com.au
WED 10 OCTOBER – Hoey Moey, Coffs Harbour
Tickets $15 +BF from www.oztix.com.au
THU 11 OCTOBER – Coolangatta Hotel, Gold Coast
Tickets $15 +BF from www.oztix.com.au
FRI 12 OCTOBER – Hi-Fi, Brisbane
Tickets $25 +BF from www.thehifi.com.au & www.moshtix.com.au
SAT 13 OCTOBER – Great Northern, Byron Bay
Tickets $12 +BF from www.oztix.com.au
*Bertie Blackman will not be performing
'My Gun' single out now
The Rubens self titled debut album out 14 September 2012