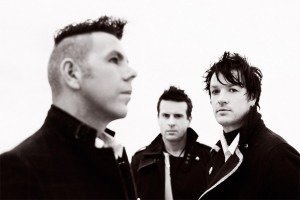 The city of Melbourne has well and truly shown its love and loyalty for hometown heroesTHE LIVING END. Tickets to the band's RETROSPECTIVE TOUR shows at The Corner Hotel in December have now all completely SOLD OUT smashing the venue's previous record of five sold out shows, which was held by both Megan Washington and Matt Corby. THE LIVING END will now play a record of NINE SOLD OUT SHOWS in just 12 days at the iconic Melbourne venue.
RETROSPECTIVE TOUR
 tickets went on sale just over three weeks ago, with die-hard TLE fans having the first bite of the cherry during the exclusive fan pre-sale, quickly snapping up 60% of the total tour tickets. When tickets finally went on sale to the general public it was hometown Melbourne that showed their love for the band first with several shows selling out within minutes of going on sale.Due to the unprecedented demand for tickets to the performance of the band's debut self titled album 
TWO ADDITIONAL SHOWS 
were added for Friday 21st & Saturday 22nd of December, however the hunger to see the boys perform this album live meant that these show too 
SOLD OUT
 within hours of being put on sale.
It's not only Melbourne where tickets for The Retrospective Tour are scarce. Brisbane has already completely SOLD OUT two shows with only extremely limited tickets available to the remaining retrospective tour dates. Perth too has already put up theSOLD OUT sign on their first show with only limited tickets remaining in Western Australia as well.
Retrospective Tour mania has not only gripped Australia it has also taken the world by storm with TLE fans traveling from as far away as The Ukraine, France, Russia, the UK and USA just to be able to experience what will truly be, a once in a life time gig! One French fan even took to Facebook saying "Had to buy separate tickets for each night in Sydney as couldn't get a Big Red…And flight from France…And a hotel…And had to stay up until 3am local time to sort it all out… BEST €8000 (and counting) I EVER SPENT!"
**Limited tickets for The Retrospective Tour are ON SALE NOW! Full tour dates and ticketing information can be found below**
THE LIVING END THE RETROSPECTIVE TOUR
Seven shows in a row / One album in full per night
TICKETS ON SALE NOW!
THE ROSEMOUNT HOTEL – PERTH WA
?Tickets via: Oztix – thelivingend.oztix.com.au / 1300 762 545 / Oztix Outlets
Thu Nov 01 – State of Emergency
Fri Nov 02 – Modern Artillery –LIMITED TICKETS AVAILABLE
Sat Nov 03 – The Ending is Just the Beginning Repeating
Sun Nov 04 – Roll On – LIMITED TICKETS AVAILABLE
Mon Nov 05 – The Living End – SOLD OUT
Tue Nov 06 – The Living End
Wed Nov 07 – White Noise
THE GOV – ADELAIDE SA
Tickets via: Oztix – thelivingend.oztix.com.au / 1300 762 545 / Oztix Outlets
Moshtix – moshtix.com.au / 1300 GET TIX / Moshtix Outlets
Venuetix – venuetix.com.au / 08 8225 8888
Sun Nov 11 – Roll On
Mon Nov 12 – The Living End – LIMITED TICKETS AVAILABLE
Tue Nov 13 – The Living End
Wed Nov 14 – White Noise
Thu Nov 15 – State of Emergency
Fri Nov 16 – Modern Artillery – LIMITED TICKETS AVAILABLE
Sat Nov 17 – The Ending is Just the Beginning Repeating
THE HI FI – SYDNEY NSW
Tickets via: Oztix – thelivingend.oztix.com.au / 1300 762 545 / Oztix Outlets
The HIFI Box Office / thehifi.com.au / 1300 843 443
Wed Nov 21 – White Noise
Thu Nov 22 – State of Emergency
Fri Nov 23 – Modern Artillery – LIMITED TICKETS AVAILABLE
Sat Nov 24 – The Ending is Just the Beginning Repeating
Sun Nov 25 – Roll On
Mon Nov 26 – The Living End – LIMITED TICKETS AVAILABLE
Tue Nov 27 – The Living End – LIMITED TICKETS AVAILABLE
THE ZOO – BRISBANE QLD
Tickets via: Oztix – thelivingend.oztix.com.au / 1300 762 545 / Oztix Outlets
Sat Dec 01 – The Ending is Just the Beginning Repeating
Sun Dec 02 – Roll On – LIMITED TICKETS AVAILABLE
Mon Dec 03 – The Living End – SOLD OUT
Tue Dec 04 – The Living End – SOLD OUT
Wed Dec 05 – White Noise
Thu Dec 06 – State of Emergency
Fri Dec 07 – Modern Artillery
THE CORNER HOTEL, MELBOURNE VIC
Tickets via: Oztix – thelivingend.oztix.com.au / 1300 762 545 /
Oztix Outlets?The Corner Box Office / cornerhotel.com / 03 9427 9198
Tue Dec 11 – The Living End – SOLD OUT
Wed Dec 12 – White Noise – SOLD OUT
Thu Dec 13 – State of Emergency – SOLD OUT
Fri Dec 14 – Modern Artillery –SOLD OUT
Sat Dec 15 – The Ending is Just the Beginning Repeating – SOLD OUT
Sun Dec 16 – Roll On – SOLD OUT
Mon Dec 17 – The Living End – SOLD OUT