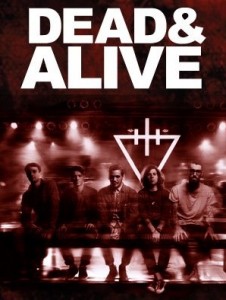 METALCORE HEROES THE DEVIL WEARS PRADA SET TO RELEASE DEAD & ALIVE, LIVE CD/DVD ON OCTOBER 12
The Devil Wears Prada have announced the upcoming release of their first live CD/DVD, entitled DEAD&ALIVE, due for release on October 12 through Roadrunner Records.  The track "Vengeance" had its world première on FEARnet here:http://bit.ly/MuY789
Following a tour of Latin America, the band has spent its summer as one of the direct support acts traveling the US with the all-star Rockstar Energy Drink Mayhem Festival Tour, featuring Slipknot, Slayer, Motorhead and Anthrax.
On returning to the UK vocalist Mike Hranica commented, "We have set our sights on the upcoming European tour with August Burns Red and Whitechapel, and the band is excited to be coming back across the Atlantic for more shows. We recently finished the amazing Mayhem Tour with Slipknot and Slayer, and now find ourselves ready to continue pushing DEAD THRONE and introduce our new live CD/DVD, DEAD&ALIVE, to all of our European fans."
DEAD THRONE made a spectacular chart debut upon its September 2011 release, entering Billboard's "Top Independent Albums" ranking at #1 while also hitting the top 10 on the overall Billboard 200.   The album – The Devil Wears Prada's fourth full-length release – received universal critical applause, with Kerrang! hailing its "dramatic dynamic shifts and a defter blend of melody and muscle, making this by far the best album the Ohio outfit have yet produced."  Rock Sound called it "accomplished, deft and unbelievably powerful from start to finish" and in it's 8/10 review Metal Hammer called it "stunning".   
The Devil Wears Prada next unleashed Zombie Slay, a first-person, multi-level action game available for iPhone, iPad, iPod Touch, and Android mobile devices.  The game – which is currently on sale for $.99 and available for download via the iTunes Store and Google Play – followed upon the band's acclaimed 2010 "ZOMBIE" EP and its accompanying limited-edition comic book, Zombie, The Comic!  For complete information, please see www.zombieslay.com.
The Devil Wears Prada is: Mike Hranica – vocals * Chris Rubey – lead guitar * Jeremy DePoyster – rhythm guitar, vocals * Andy Trick – bass * Daniel Williams – drums.
DEAD & ALIVE is out October 12 through Roadrunner Records
http://au.roadrunnerrecords.com/
http://www.facebook.com/roadrunneraustralia