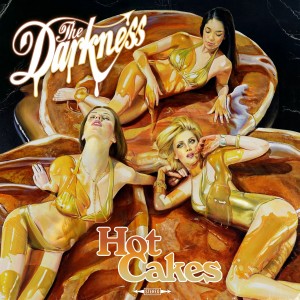 In Summary: It's like The Darkness set out to make an 'all killer no filler' type album with 'Hot Cakes' and they've done exactly that in my opinion.
The Darkness are back. Were they missed? I think totally. The void that they left of that fun throwback retro rock sound and image was missing for far too long, but now with the original line up back in full swing they have delivered their newest album entitled 'Hot Cakes' so; let's see what we're in for.
The always tongue planted firmly in cheek attitude of the band is heard instantly with album opener 'Every Inch Of You' that in the vein of 'Get Your Hands Off My Woman' is lyrically no holds barred and just that quintessential Darkness sound that not many around these days if any at all can reproduce. 'Nothin's Gonna Stop Us' was our reintroduction to the reunited line-up of The Darkness and what a great reintroduction that was. Showcasing Justin Hawkins' falsetto nicely it's a rocker that makes you fall in love with the band all over again, with a message to maybe their critics and fans and a welcome back indeed. 'With a Woman' is so good, this is what rock should sound like. Harmony guitars, driving riffs and great melodies. If this is what we have in store for the rest of the album then I for one cannot wait. 'Keep Me Hangin' On' has a very 70's feel to it, but with a modern take on that, which I think can be put down mostly due to the driving drums throughout the song, but this is just a foot tapping piece of awesomeness. I'm in love with this song.
'Living Each Day Blind' slows it down a little in an almost power ballad-esque vibe, great hooky chorus and musically such a great groove throughout the chorus, you can just tell that having the original line-up back together has had such an influence on the sound and feel of the album. For that I am thankful. 'Everybody Have a Good Time' is so English rock sounding that it's not even funny, and it does in fact rock, big time. This is the newest single to be lifted from the album and a perfect choice, it's a mainstream rocker that is well produced and as simple as you'd like. There's no huge complexity to it and that's what works. Check out the video below to see just why we need The Darkness to be back and to stay around, it's so good. Everybody have a good time indeed…
'She's Just a Girl, Eddie' and its bitchin' riff throughout the chorus is an absolute stand out, not to mention the guitar solo once again which is needed and just perfectly suited.  'Forbidden Love' follows the formulaic rock sound but takes it one better with lyrics like "Forbidden love you shouldn't have forbade it." This in fact is probably my favourite on the album so far. I loved the vibe of that one so much, well played. 'Concrete' is all falsetto to lead it off and not many in this era can get away with that, so it's refreshing to hear it done well. Once again, a rocker, that's what I'm loving about this album, it's all rock, aside from 'Living Each Day Blind' which even then only slowed it down slightly, we've got a balls out rocker of an album on our hands here. 'Street Spirit (Fade Out)' leads us off with an almost Iron Maiden style riff, what are we in for here? I didn't expect something this heavy so late in the piece, loving it very much, then to find out it's a Radiohead cover, well, I was not expecting that, at all, needless to say this is my now favourite Radiohead song, but only this version!  With one track left in 'Love Is Not The Answer', we get a perfecting ending to a bloody good album, feel good groove, and perfect message of 'Love will make you stupid' ain't that the truth.
To me it just shows that The Darkness set out to make an 'all killer no filler' type album and they've done exactly that in my opinion. I couldn't fault this for what it was which is a welcome return to a band that were before, no wait, after their time. You get what I mean? The sound of The Darkness is so now, yet decades old and only they can really pull it off. Kudos to you guys. Now don't get me wrong, I liked 'One Way Ticket…' but that had nothing on 'Permission To Land' and now with 'Hot Cakes' I feel they've once again found their strides and will hopefully be able to go on and make music of this stellar calibre for many years to come. Put this on and enjoy the hell out of it, and back!
Check out our interview with Frankie Poullain of The Darkness from earlier this year here…
Essential Information
From: UK
For fans of: Rock
Release date: 17 August 2012
Record label: Liberator Music – Australia
Producer: Justin Hawkins, Dan Hawkins, Nick Brine
Website: http://www.theactualdarkness.com
Track listing:
Every Inch of You
Nothin's Gonna Stop Us
With a Woman
Keep Me Hangin' On
Living Each Day Blind
Everybody Have A Good Time
She's Just a Girl, Eddie
Forbidden Love
Concrete
Street Spirit (Fade Out)
Love Is Not The Answer