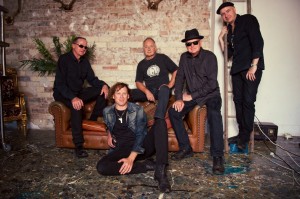 THE ANGELS – NEW ALBUM 'TAKE IT TO THE STREETS' OUT 31 AUGUST FEATURING NEW SINGLE 'WAITING FOR THE SUN' OUT AUGUST 13
What do we do now?
That was the hard question Rick and John Brewster of The Angels had been chewing over in early 2011. Their singer Doc Neeson had set off to pursue a solo career a few months earlier. Along with bassist Chris Bailey, Rick and John Brewster decided they had to find a new singer. They'd been itching to record a new The Angels album for years, they had songs and they had the hunger, and in April 2011 they found their new singer.
Dave Gleeson, who had spent two decades fronting The Screaming Jets, made a last minute decision to go and catch a show by Rick and John Brewster at a pub in Adelaide. The Screaming Jets had opened for The Angels on a national tour back in 1991, but it'd been years since they'd crossed paths. At the pub, Dave Gleeson had edged his way to the stage until John Brewster spotted him and invited him to jump up and sing a few Angels classics. He didn't need to be asked twice.
"John and I looked at each other," says Rick Brewster, "and we knew when we heard Dave's voice on Marseilles and I Ain't The One….We just knew right there, that night, it could work."
A few weeks later, Dave Gleeson found himself walking into Sydney's legendary Alberts Studios at noon to record new songs with The Angels, the band that had soundtracked his teenage years and inspired him to take up rock n roll as a career.
Less than half an hour later, Rick, John, Chris Bailey, Dave Gleeson and recently recruited drummer Nick Norton, were listening back to the first new song from The Angels in more than a decade. A cheer went up in the studio, smiles all round. It worked.
"We knew right then, we had a band," says John Brewster, who founded The Angels with Rick and Doc in 1974, and produced the new album with Rick. "We knew it could work onstage with Dave, but it had to work in the studio. Dave sang this new song (Waiting For The Sun) three times, bam, bam, bam, we used the second take."
By the end of the day, they'd finished another song. The next day, The Angels recorded two more. By the third day, they had a new EP and two shows were booked to debut this new lineup of The Angels. Would people come? They got their answer when they walked onstage at Sydney's Annandale Hotel to find the infamous rock room crammed solid, from the front row to the back wall. There were no intros. They stormed into the first song and didn't pull back for two hours.
From August through to December, 2011, while taking the Waiting For The Sun tour around Australia, The Angels returned to Alberts Studios 3 times and, over 9 days in total, recorded 14 songs. There was no record deal in place, they were starting again, grabbing studio time when it was available, or when they could afford it, and not wasting a moment when they were there.
"We felt like we had a real opportunity to show what we could do," says Chris Bailey. "It was an open canvas. There were no expectations. We didn't have to deliver for anybody but ourselves. We all wanted to be there, we all wanted to play, we all wanted to make a new Angels album. A great album. And that's what we did."
The new album kicks off with To The Streets, a jangling, bracing burst of acoustic and electric guitars, a splash of tambourine and soaring, melodic organ.
This is The Angels?
Yes, this is The Angels.
And Take It To The Streets is their new album.
You'll hear the punk-crash slam of Getting Free, the rumbling grooves of Some Kind Of Hell In Here and Life Gets Better;  melodic, atmosphere-soaked ballads like The More You Know, There Comes A Time and the haunting Telephone;; a guitar-drenched version of Elvis Costello's Pump It Up; wall-rattling redos of Angels fan favourites Small Price and When The Time Comes and a live in the studio midnight jam slathered with blues guitar and snappy jazz beats.
"This is a dream come true for me," says Dave Gleeson, "it doesn't get much better than to record an album with The Angels. And it's the right time to make a rock record like this. There's too much machine music out there, and rock got too soft. This album is what rock is all about."
THE ANGELS 'TAKE IT TO THE STREETS' new album will be initially packaged as a LIMITED 2CD edition.  The bonus 'live' disc features 14 songs (including classic Angels and some of the brand new tracks).  These tracks were recorded at QPAC in Brisbane and feature Dave Gleeson on lead vocals.
The Bonus live disc features the following tracks:
1. Ivory Stairs     
2. After The Rain    
3. Wounded Healer    
4. No Secrets     
5. Marseilles     
6. Outcast     
7. I Ain't The One    
8. Mr Damage    
9. Face The Day    
10. Take A Long Line    
11. When The Time Comes   
12. Shadowboxer  
13. Am I Ever Gonna See Your Face Again   
14. Waiting For The Sun 
THIS IS THE ANGELS 2012
Brewster ~ Gleeson ~ Brewster ~ Bailey ~ Norton
New singer, new drummer, new songs, but undeniably The Angels
THE ANGELS  – 'TAKE IT TO THE STREETS'TOUR
Wed Sep 19                The Norwood Hotel/Norwood SA
 Tickets on sale now: 08 8431 1822  www.thenorwood.com.au
Thu Sept 20               Corner Hotel, Richmond, VIC
Tickets on sale now: 03 9427 9198 www.cornerhotel.com.au
Fri Sept 21                 The Bridge Hotel, Rozelle, NSW
Tickets on sale now: 1300 GET TIX www.moshtix.com.au  Or phone 132 849 www.ticketek.com.au
Sat Sept 22                The Bridge Hotel, Rozelle, NSW
Tickets on sale now: 1300 GET TIX www.moshtix.com.au  Or phone 132 849 www.ticketek.com.au      
A DAY ON THE GREEN
HOODOO GURUS/THE ANGELS/ BABY ANIMALS/  JAMES REYNE / BOOM CRASH OPERA
SUNDAY NOVEMBER 4                  SIRROMET WINES, MT COTTON QLD
SATURDAY NOVEMBER 10           BIMBADGEN WINERY, HUNTER VALLEY NSW
SATURDAY NOVEMBER 24           ROCHFORD WINES, YARRA VALLEY VIC
SATURDAY DECEMBER 1             PETER LEHMANN WINES, BAROSSA VALLEY SA
SATURDAY DECEMBER 8             JOSEF CHROMY WINES, LAUNCESTON TAS
THE ANGELS/ BABY ANIMALS/IAN MOSS/ JAMES REYNE / BOOM CRASH OPERA
SATURDAY NOVEMBER 17               KINGS PARK, PERTH WA
Tickets for all A DAY ON THE GREEN shows on sale Friday August 17TH, 2012.
Event information: www.adayonthegreen.com.au
THE ANGELS 'TAKE IT TO THE STREETS' ALBUM – OUT FRIDAY AUGUST 31ST THROUGH LIBERATION
NEW SINGLE: 'WAITING FOR THE SUN' @ RADIO & ON MONDAY AUGUST 13TH
theangels.com.au  Twitter.com/@_theangels
facebook.com/theangelsofficialpage   youtube.com/thisistheangels