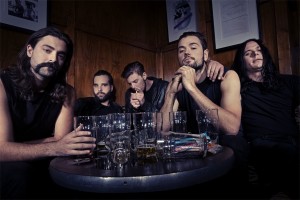 Strangers release their debut LP Persona Non Grata on Permanent Records through Shock on October the 12th, 2012. 
Recorded and produced by Tom Larkin (Shihad, The Getaway Plan, Calling All Cars), Persona Non Grata delivers on the promise that has made Strangers such an interesting prospect. Capturing the band's heavy swing and dual guitar, high octane rock 'n roll attack, the album is an impressive opening salvo from one of this nation's most exciting new bands.
Hailing from the southern beaches of Sydney, Strangers have risen rapidly since their inception in 2010. Featuring Ben Britton (vox) Mark Barnes (lead gtr) Benny K (gtr) Tristian Griffiths (bass) and Timmy Hansen (drums), the quintet immediately captured attention across the nation via killer Triple J powered singles Red Brick and Bred For Breeding. With a live ethic that is matched only by the intensity of their music, Stangers are destined to offer salvation for rock starved punters across the country.
Strangers will launch their debut album Persona Non Grata with residencies in both Sydney and Melbourne during September and October along with an appearance at the Big Sound music conference in Brisbane. 
The video for Persona Non Grata, the lead single and title track from the album was produced and directed by Natalie Van Den Dungen most recently known for her work directing The Persecution Blues: The Battle For The Tote, along with clips for the likes of Children Collide, Wagons and Seeker Lover Keep amongst others.
Check out the video for Persona Non Grata here: 
Strangers Persona Non Grata Launch Dates
Wed 5th September – Cherry Bar, Melbourne
(supporting King of the North)
Wed 12th September – BigSound, The Tempo Hotel, Brisbane
Wed 19th September – Cherry Bar, Melbourne
(supporting King of the North)
Wed 26th September – Cherry Bar, Melbourne
(supporting King of the North)
Wed 3rd October – Cherry Bar, Melbourne
Thu 4th October – Vultures @ Lansdowne, Sydney
(with guests King of the North)
Wed 10th October – Cherry Bar, Melbourne
Thu 11th October – Vultures @ Lansdowne, Sydney
(with guests: King of the North)
Wed 17th October – Cherry Bar, Melbourne
Thu 18th October – Vultures @ Lansdowne, Sydney
(with guests: King of the North)
Wed 24th October – Cherry Bar, Melbourne
Thu 25th October – Vultures @ Lansdowne, Sydney
(with guests: King of the North)
Strangers – Persona Non Grata is out on Permanent Records/Shock Oct 12th 2012
http://www.facebook.com/strangersau