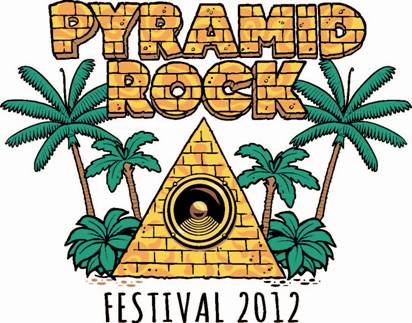 PYRAMID ROCK FESTIVAL
Saturday 29 December 2012 to Tuesday 1 January 2013
 Calling all Kings and Queens of Pyramid! It's gonna be a loud and proud party this New Year's Eve at Pyramid Rock.
 Turning nine years old, Pyramid will see in the dawn of a new age in spectacular style! Set on the majestic cliff tops of Victoria's Phillip Island with the ocean providing the dream backdrop. Summer camping under the stars with mates, and a lineup of acts that are set to rock you hard well into 2013!
Pyramid Stars of 2012
A galaxy of suggestions later and the Pyramid punters have spoken! We are stoked to be on the same page and presenting a killer lineup, and proudly, one with majority Australian artist representation! A lineup that really excites
and is set to have the festival's state-of-the-art concert system humming like it should be.
 This is a line up harvested from the roots that Pyramid has grown from and signals The New Age!
 In alphabetical order – GET OFF the road Frodo…
360, ALL THE COLOURS, ANTI-FLAG, BLOOD RED SHOES, CHILDREN COLLIDE, CLOSURE IN MOSCOW, DANGEROUS!, DCUP, DEAD LETTER CIRCUS, DOCTOR WEREWOLF, DREAM ON DREAMER, FRIENDLY FIRES DJ SET, HANDS LIKE HOUSES, HOUSE VS HURRICANE, ILLY, KARNIVOOL, KINGSWOOD, LUKE MILLION, PHETSTA, STONEFIELD, SLOW MAGIC, UNKNOWN MORTAL ORCHESTRA, URTHBOY, XAVIER RUDD
….plus more bands and DJ's to be announced.
 Same amazing place for the ninth year and the same price for third consecutive year.
 2 DAY AND 3 DAY TICKETS ON SALE
9AM AEST TUESDAY 4 SEPTEMBER from www.thepyramidrockfestival.com
Proudly presented by Triple J
PYRAMID ROCK FESTIVAL
NEW YEAR'S EVE
DECEMBER 29 2012 – JANUARY 1 2013
www.thepyramidrockfestival.com