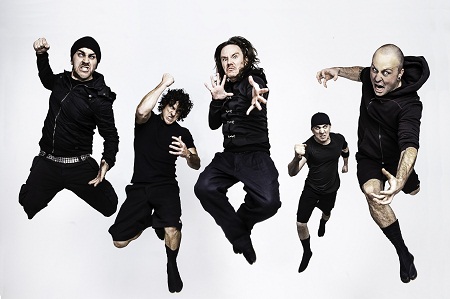 You'd be forgiven if you didn't see this one coming. In an abrupt strike, Twelve Foot Ninja have unleashed an epic 12-week assault in celebration of their debut album 'SILENT MACHINE'. And it all starts today.
Dubbing their campaign 'Project 12', Twelve Foot Ninja will release 1 digital track along with 1 digital comic every week for 12 weeks in the lead up to the official release of their debut album on November 2nd.
Engaging acclaimed comic artist Keith Draws (UK), Twelve Foot Ninja have produced 12 x world-class comics to accompany each of the 12 x tracks from their stellar debut album. Each comic is inspired by the song's lyrics and the original fable of Twelve Foot Ninja. Fans who pre-order the album from the band's website (twelvefootninja.com) will receive every digital track & comic each week until they also receive the physical album with full colour artwork and lyrics mailed out on Fri 2nd November. Better yet, the band is giving away the first track & comic for free.
With their debut album SILENT MACHINE, Twelve Foot Ninja have raised the bar once again – combining power, innovation, groove and ninja-like subtlety in just the right measures. The band is giving away the album title track 'Silent Machine' and comic in week 1 for free. Week 2 sees the release of brutal-come-reggae track 'Mother Sky' as the first official single & video, while the essence of Twelve Foot Ninja's dynamic live show shines through in the hard hitting grooves of 'Shuriken' (week 4) and 'Vanguard' (week 10), and the flick of the 'genre-switch' will never be more welcomed than with the track 'Coming For You' (week 12). The depth of the story will become more apparent as this 12 week multi-media album project unfolds. Twelve Foot Ninja's guitarist Stevic MacKay says, "People who are into our band have come to expect the unexpected from Twelve Foot Ninja so we hope they are happy with the fruits of our labour and how we are releasing it."
With the band's EP's NEW DAWN (2008) and SMOKE BOMB (2010), the Melbourne 'genre-hoppers' established an unrivalled sound, challenging the boundaries of traditional heavy music by blending elements of alternative rock, dub, metal, latin, funk, world and electronic music reminiscent of an iPod shuffle throwing a tantrum.
Impressive festival appearances at Pyramid Rock and Come Together helped accumulate a swarm of dedicated fans and saw them rise through the ranks of Australia's heavy music scene. In 2011, they were selected to support progressive metal juggernauts Periphery(US) and Tesseract (UK) – and they heavily impressed, with Periphery posting online,"Twelve Foot Ninja are basically one of the best live bands I have seen in my life. Holy f@#k they are tight."
In early 2012, Twelve Foot Ninja embarked on a 20-date national tour with Dead Letter Circus (AUS) and Fair To Midland (US), road-testing new material for the upcoming album and in the process recruiting many more fans across the country.
Which leads us to now, as 'Project 12' is unleashed – the mission towards Twelve Foot Ninja's debut album SILENT MACHINE. Get the first track & comic FREE & pre-order the album & entire comic series from www.twelvefootninja.com
Twelve Foot Ninja's debut album SILENT MACHINE will be released on November 2, 2012.