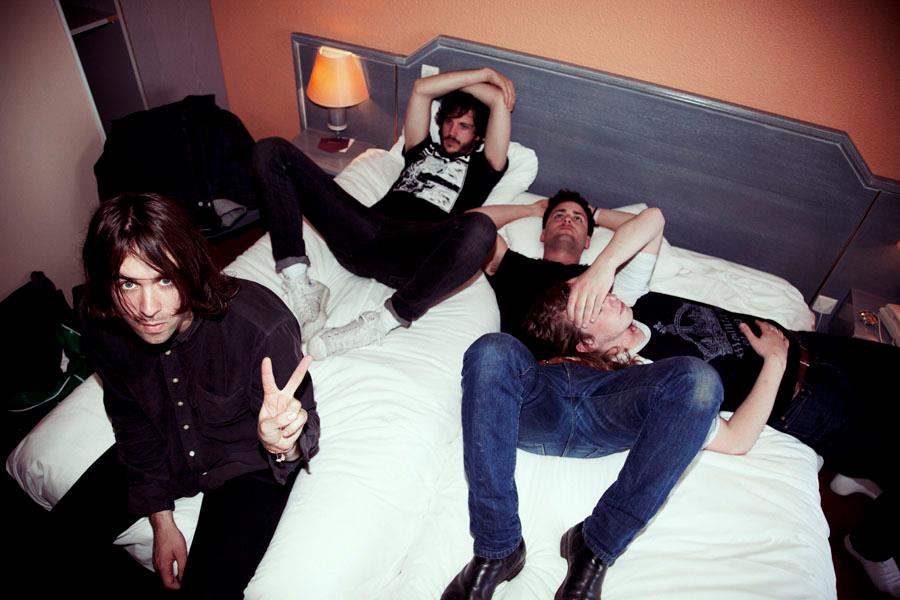 "I'd like to think it's because we've got good songs, we play hard and we work hard, but I think for me, the bands that connect the most with me are the ones where there's undeniable heart behind what they're doing, and we do play that way."
'The Vaccines' from London have only been a band for the best part of two years, but in that time they have released their debut album 'what Did You Expect From The Vaccines?' in 2011, toured the world including Australia twice, and now are releasing their second album 'Come Of Age' all within the space of those two years.  Not bad for a new band on the scene, and who know when it's going to stop.
We had the chance to speak to their drummer Pete Robertson about their new album 'Come Of Age' and it's quick release, as well as touring, Australia and of all things, ABBA…
Thanks for taking the time to talk to us Pete and congratulations on the album I'm digging it.
No worries man, awesome, thank you very much.
It's only been 18 months since the release of your debut album, in the whirlwind time supporting the debut with touring all over the world, how did you find time to make the second record so soon?
I don't really know ha ha, it was kind of, it wasn't really a calculated sort of decision really, we just write habitually rather than with any particular purpose, so when we were touring the first record we kind of found ourselves writing songs again quite quickly after we put the album out.  Here we were writing songs again and every sort of spar moment we had we would sort of jump in to a rehearsal space, or anywhere we could find with some drums and some amps and just carry on playing.  It was cool looking back on it that we were still into the creative and had the creative itch, and I guess we were just scratching it you know?  I think by Christmas or shortly after Christmas we found ourselves with enough songs or almost enough songs to put a record out, so we proposed that to our label and I think they would've rather we waited but we just wanted to put some new music out you know.
So essentially it's just a continuation of the first album?
Ha ha in that sense, yeah I guess the writing process takes you through the story of us over the last year, cause the songs were all written along that line.  In some ways it is, but by the time we got to recording, we were ready to try some new stuff out and try some different things, sounds and songs and things like that, so I think in a sense it is, but I think musically it's different.
Recording wise on this record did you do anything differently that you wanted to do last time that you couldn't do or wanted to do but couldn't get around to doing?
We actually tracked the whole thing live this time around, when we did our first album, first of all it's sort of a sign how things have changed and how corrupted the recoding process has become that we didn't realise that was actually an option as no one does it anymore, no one plays drums, guitars, bass and sings and records completely live without a metronome or auto tune or anything like that anymore making pop records, no one makes them like that anymore.  So this time around when we first met Ethan who produced the record for us, that's what he suggested, he'd seen us play before and he liked the way we interacted with each other and the way it had a stripped back intensity and we didn't need to rely on layering multi track after multi track.  So when he suggested that we were like 'well shit, why the hell didn't we do that the first time around?' the idea of it never crossed our mind and he was like that's the classic way of making records that's kind of gotten lost along the way somewhere.
Well when you've worked with the likes of Kings Of Leon, Ryan Adams you've probably got some pretty good tricks up your sleeve…
Absolutely, I mean he's got a very unique sound I think, and it does come straight from the traditions of classic rock and roll records you know?  That was definitely something  that we wanted to achieve, and I think he was another kinda key in getting a particular character or personality in our record that we wanted and we felt that Ethan's records are very personal, like when you listen to Laura Marling or those early Kings Of Leon records, you really feel like you're in Whisky Town, you feel like you're in the room with them or put the headphones on and you feel like you're in the studio just watching them have at it and we kind of liked that idea after our first record was super drenched in reverb and sonic textures, that in a way kind of obscured the personality and characters in the band a little.  We wanted this record to be a little different, to sort of let people in to our little world a bit rather than trying to hide it.
Is it true you recorded some of it down here in Australia?
Well, no, it's not ha ha.  What we did was there were a couple of the tracks off the record that we wrote and arranged in Australia, we did 'Weirdo' Justin wrote that one in Sydney and I remember very clearly arranging it and having it out with the guys in the studio in Melbourne.  To be honest that was one of the highlights of the whole process, it was kind of a surreal moment thinking this time last year where were we and now we're on the Big Day Out tour in Melbourne, just getting a cab down the road to find a place to start playing music, man, it was really surreal, so that was sort of the spiritual home of 'Weirdo'.  There's another tune on the deluxe version of the record called 'Misbehaviour' so yeah, Sydney and Melbourne are kind of the spiritual home of those two tunes.
You did mention you were in Australia for the Big Day Out earlier this year, how was that experience for you?
It was amazing, we were in Australia last year for Splendour In The Grass and we did a couple of sideshows as well, that was a really brief introduction, it was my first time in Australia, it was most of our first time in Australia and we loved it but we didn't get a chance to see it.  With Big Day Out, it's a really relaxed touring schedule with a lot of days off and we could go exploring and we had the time of our lives, we absolutely loved it and we're going back for Falls as well, so we're really looking forward to that as well.
Geez, you may as well just move here…
Ha Ha I know, well, we're kind of tempted…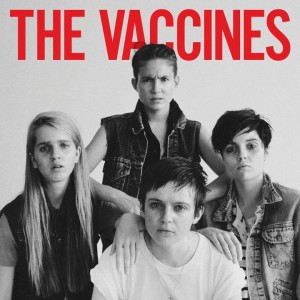 Now the first single off the album was 'No Hope' is there a meaning behind the track specifically?
Well I think the lyrical questions I'm not best placed to answer those things, that'd be Justin who could explain them to you a little better, but as far as I know in terms of when we were talking about it in the writing process and stuff, it is a coming of age record in a sense but it's like struggling with the idea of it, you know what I mean?  I guess being 24, young and bored is kind of the general notion about it, and going through the sort of emotions and raising a lot of questions now you're in your twenties and supposed to be a grown up, I guess maybe it comes from the sense of now we're an adult, we've achieved growing up, why do we feel the same as we did when we were sixteen?  I guess it's maybe reflected in a sense that you could look at a band and call us a success or that we'd made it or something, but we're still searching you know?  It's kind of an interesting juxtaposition really.
Well that was a good answer, you may as well have written it ha ha
Ha ha ha ha
It's been such a sudden rise for the band, only forming in 2010, what do you think it is about The Vaccines that connects with people?
I don't know, well I know what I'd like to think ha ha, I'd like to think it's because we've got good songs, we play hard and we work hard, but I think for me, the bands that connect the most with me are the ones where there's undeniable heart behind what they're doing, and we do play that way. We work really, really hard in trying to get our songs and recordings as perfect as possible, and then the shows we can't do anything but, we've put our heart and soul into every one of those songs so when you go up and play them in front of people you've got no choice but to do the same in that setting.  I'd like to think that's what people get from our live gigs and more generally I think we've got some good songs that people really seem to connect with.
The remainder of 2012 seems to be touring, touring and more touring, how long do you expect to be out in support of this new record and are you hitting any new territories you've never been to before?
Yeah well we've actually just done a tonne of new stuff, and if we're lucky and if anyone actually likes our new record ha ha I think we'd hope to get another year or eighteen months out of the record, touring and stuff.  There's plans to revisit a lot of places, but we've actually just done Russia and Eastern Europe for the first time, we were over there supporting the Red Hot Chili Peppers which was cool, we just did South Korea for the first time, I think we've got plans to do South America in the new year and South East Asia as well, I think there's some more plans to go and play over there.
Wow…
Ha ha yeah, there's a lot more of the world we want to see definitely…
And I'm sure you will with your third album out next week and the fourth the following after that…
ha ha ha ha ha
The Covers EP 'Please Do Not Disturb' that you're giving away on your website is such a departure from the rockin' album, what was the idea in doing these acoustic tracks and especially covering an ABBA song?
We love ABBA, I think if you've got an interest and a passion for great pop song writing, there's no way you can't admit taking on a bit of ABBA, the songs are undeniable you know?  I mean it's weird, I grew up as a kid with my parents playing ABBA records and I was like 'turn that shit off, really?' it's like the more you get in to it, you can start to analyse things musically and see where it fits in in the grand scheme of things from a cultural sort of perspective.  It's world class really, the writing.  I love it, we wanted to give something away, despite the album and with a lot of people thinking we didn't wait that long and it's coming quite quickly we're still like 'shit, we still haven't actually given any music away for a long time, maybe people have forgotten about us' and the others really like the idea of having a constant flow of music and that's why when this time last year we got a call from Albert Hammond Jr from The Strokes saying do you want to come and record a song with me, that sounds like a massive name drop, which it is ha ha ha ha but when that happened, we were like 'yeah, we'll stick it out, why not' and we did like a live EP a couple of months ago and we just like the idea of having a flow, just having some music for people to hear.
Essential Information
From: London, England
Band members: Arni Arnason – bass, Freddie Cowan – guitar / vocals, Pete Robertson – drums & Justin Young – vocals / guitar.
Website: http://www.thevaccines.co.uk
Latest release: Come Of Age (Sony Music Australia)