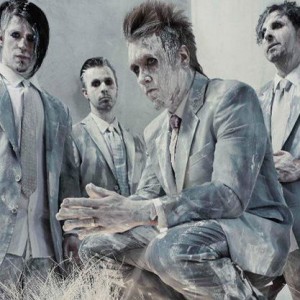 PAPA ROACH SUSPENDS TOUR, SINGER JACOBY SHADDIX TO UNDERGO SURGERY
NEW YORK, NY – Multi-platinum rockers Papa Roach have been forced to cancel the remainder of their scheduled dates on the Rockstar Energy Drink UPROAR Festival, which kicked off last week in Kansas City. Lead singer Jacoby Shaddix has been diagnosed with a nodule on his left vocal chord. At the advice of his physician, he will undergo corrective surgery to remove the nodule and prevent further damage.
"It's no secret that I've been having issues with my voice lately. I was hoping to be able to go out there and kill it on this tour by resting and doing vocal exercises, but my voice has just gone out on me. I hate to let our fans down, but unfortunately surgery is the only way to fix it," Shaddix said. "The last thing we want to do is give our fans less than 100% every night. We know they'll understand and we'll be back better than ever."
"It was amazing having Papa Roach on the road with us for the first few UPROAR shows. We're disappointed that they can't continue for the rest of the tour, but Jacoby's health is the priority and we wish him a speedy recovery," says Rockstar Energy Drink UPROAR Festival co-producer John Oakes.
The band apologizes for any inconvenience, but wants to assure fans that Shaddix is expected to make a complete recovery. Touring plans for this fall are not expected to be affected.
Earlier this summer, Papa Roach launched the first single, "STILL SWINGIN," from their hotly anticipated upcoming album, THE CONNECTION (October 2, Eleven Seven Music). The track is currently top 15 at Active Rock and has charted at Alternative radio formats merely weeks after impacting. The track is equal parts classic Papa Roach with big hooks and an anthemic chorus, coupled with modern electronic elements; a song that at one time captures the hard rock band's signature sound while exhibiting their contemporary edge.
Known for their electrifying and explosive live shows, Papa Roach have become the common denominator for some of the most successful rock tours in recent years and have critics worldwide hailing them as "the best live band." With their feet firmly planted in over 10 years of multi-format success, Papa Roach's Time For Annihilation…On the Record and On the Road (Eleven Seven Music, August 2010) debuted as the #1 Independent Rock, #23 Top 200, #4 Hard Rock and #5 Alternative Album on Billboard's charts. The album's singles, "Kick in the Teeth" and "Burn" both remained in the Top 5 at the active rock radio format for over 8 weeks straight, joining 8 additional Top10 hits throughout the band's career with songs such as "Last Resort" and "Scars."