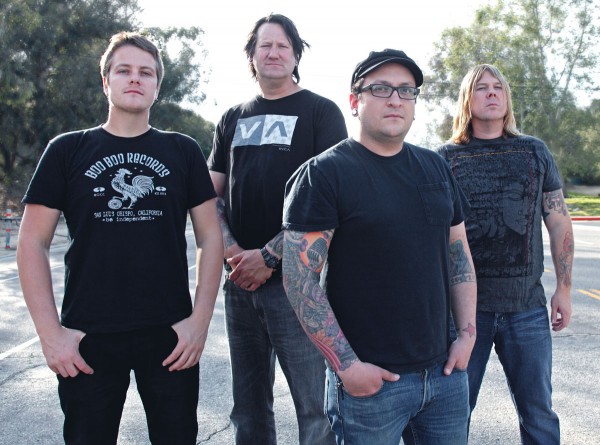 "It's crazy because we're seven years in between records and that's ridiculous, but it's not that long to us, because we toured for two years on the last record and then we took three years off, completely off, then we started writing this record three years ago.  Seven years when you put it on paper it just looks so crazy, but it doesn't feel that long to us."
Versus the World, now consisting of Mike Davenport (The Ataris), Chris Flippin (Lagwagon), Donald Spence and Bryan Charleson (Crooks and Liars), formed in the back of The Ataris owned record store, Down On Haley, in Santa Barbara and released their debut self-titled album in 2005. They spent the next few years touring in support of the release with bands like Suicide Machines, Bouncing Souls, The Lawrence Arms, Social Distortion, No Use For A Name, The Vandals, I Am The Avalanche and the Vans Warped Tour building up a worldwide fan base along the way. Versus The World reconvened in 2010 and began writing and recording their long awaited follow-up which they wrapped in early 2012 and have now just released.
After he told us how much he and the band loved the name of our website, we thought we'd chat to Mike Davenport about the return of Versus The World, how the band has evolved, their kick ass new album, and what we can expect for the future… oh and are they coming for Soundwave?  Read on…
May the Rock be with You Mike…
The album drops in Australia today, here's your chance to give us your mini review of 'Drink, Sing, Live, Love' and a reason why people should check out the album…
You know I think it's a perfect mix of rock, pop, and punk and I think it's a great mix and it's not too much of any of any of them, it's a perfect blend of all of them, and the lyrics are fabulous. The biggest reason I would check it out if it wasn't my album and I was reviewing it or telling someone about it is, Chris Flippin, my guitar player, he's a guitar god, he's been in Lagwagon for the past twenty years and he's one of the greatest guitarists in punk rock and he just is all over it, he shreds, so that's why you should check it out.  We worked really hard for like two and a half years on this album, so at first it started as an EP that we were going to put out, then as we started writing songs we recorded six songs and we were like 'we're just getting going' so we really took our time so we went back to writing and we'd go back to recording and go back to writing, so we really put everything we have in to this record.
So was it truly a case of taking your time to make the best album you could rather than rush out a release?
Yeah that was it at first, it's crazy because we're seven years in between records and that's ridiculous, but it's not that long to us, because we toured for two years on the last record and then we took three years off, completely off, then we started writing this record three years ago.  Seven years when you put it on paper it just looks so crazy, but it doesn't feel that long to us.  Our first album like most of the albums I did in The Ataris, you're constantly touring so you rush the album because somebody's waiting for it, so what happened is after we took the break and we reconvened with the new line up, at first we wanted to do what we knew and we had always done was 'Rush, let's rush a release out because it's been so long.'  Then as we got as I told you earlier, recording it, our mid set became why not take our time?  It's been so long anyway, but the time we really do it right it'll be great and really that strategy worked for us.  So the songs we wrote at the end of the recording were probably the best ones, so every time we were writing they were getting better.
Why do you think after seven years between releases it was the right time for Versus The World to release new material?
Well I think that what happened and because I was in The Ataris for ten years and then I did straight two years of touring with 'Versus' that after twelve years of touring, I was burnt man, I really didn't have my heart in to it and I know some people can just go for it forever, but I needed a break, so my break really rejuvenated me and then by a few years ago I was ready to put some stuff out, but I just wanted to make it right that's why it took so long.  It's more like five years, but that's still too long you know?  In my career and at this point in my career I just needed a break, I needed to not tour and not stress about writing a new record because I'd done that record after record for like seven records in a row.  So between that grind I just wanted to see how life was, I started a family, I've got a beautiful wife and a two year old daughter, and during that time I started establishing all those roots so, I really wanted to enjoy life, but just like the mafia, I can't resist, it sucked me back in, I was not complacent at all, I needed to start playing again and this is what happens.  Once you're in you never get out…
You mentioned before about Chris being the greatest guitar player in punk rock…
Right…
So what has the addition of Chris and Bryan brought to this incarnation of the band?
Well Bryan believe it or not has always been around.  Bryan filled in for us on Warped tour on the first incarnation of the band and he actually worked at the record store, Down On Haley, The Ataris record store where Donald and I started the band at the same time.  So he's always been around and always been part of it, then as soon as I took my break from music, Donald grabbed him and they started 'Crooks and Liars' so Bryan's always been around in there, he wasn't officially the first drummer, but he did a lot of drumming for us in the early days, so Bryan's always been there.
Now Chris and I have always been friends as Lagwagon is a Bay area band like The Ataris, so we always talked about playing together and we actually started a project during my break that was just to play some parties and some shows, we were called 'Cave Mummy.' It was another ex Atari, Marko, the guitar player for The Ataris and we did parties and rock and roll circuses, but we were never going to release anything and we were never going to take it too seriously, but that's how you get sucked back in, you play some good shows and then you think 'oh man, I miss this' or 'I could do this' so Donald was playing in 'Crooks and Liars' with Bryan, I'm playing in 'Cave Mummy' with Chris and so Donald came to a show and saw us play and said 'We've gotta do Versus like this.'  So we merged both bands and here we are again.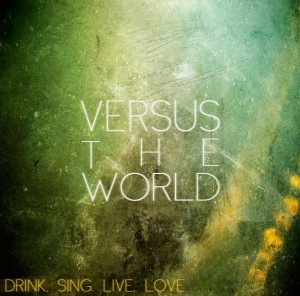 So, what was the idea behind the name 'Drink, Sing, Live, Love?'
Oh that one is Donald runs the rock club here in Santa Barbara, called the Velvet Jones, he's a bartender and the manager and Bryan is the front of house guy, he does all the sound, all the bands that are medium sized, Strung Out, Lagwagon's just played some shows there, it's about a 500 person rock club, it reminds me of the typical European rock club with just a stage and bar you know what I mean?  All the bands come through town and Donald not only takes care of all the bands because he's a musician himself, he's not the promoter but he runs the club, so they come, they see him, he usually puts these bands up at his house where we have our studio.  So what usually happens is all these musicians five nights a week are touring through and they all hang out at Donald's house, drink all night and start playing guitar and talking about girls.  So basically, it's just about how Donald's living his life the last five years, drink, sing, live, love is basically the life of running the club and being a musician around all these great musicians.  They don't get much sleep, I can tell you that though ha ha.
Song wise there was one that stood out for me on the album, can you tell us the idea behind the song 'The Kids Are Fucked'? Which PS is an amazing title…
You know it's crazy because that song is striking a nerve, we've had all good reviews so far which is so awesome, but everyone singles out that song so far, everybody has, and it's about an event that Donald questions… well Donald is 30 now, he's exactly 30 years old now and ten years ago at the height of punk rock and he was working at The Ataris record store, all the kids were so cool and in to helping each other and in to the scene.  As he's run this club he's seen all these kids… this song 'The Kids Are Fucked' is actually about an incident where a guy got stabbed at a punk show at his club, a friend of his and he just can't believe how the kids have no respect these days.  So, it's pretty true, he always starts the song off live by saying that kids tell him that house music is the next big thing, so that's how he knows the kids are fucked.
The album is just full of great pop punk rock tracks, was there a specific concept / idea / sound you had in mind going in to making this album?
No, you know, Flip, Chris Flippin definitely makes it heavier, he's the element that was missing on the first 'Versus' record, Donald's a great vocalist, great lyricist, that was there, my bass playing and Bryan and Trevor's drumming are very similar, but I think the difference maker on this record is Chris.  His guitar tones are just thick and crunchy and just brilliant, so I think it's like having two great singers in the band, Chris sings with his guitar and Donald sings the melodies with his voice and it's really taken the band to the next level.  Even farther I think musically than 'The Ataris', we might have been that little bit catchier, but we didn't have that dichotomy of the guitar and the vocals which I just find amazing, so as a musician I really dig being in that band, it's really cool
You've signed with 3 Wise records here in Australia, which will obviously help to get your music out to us Aussies, but are there any plans to come and see us anytime soon?
Well we're trying we have a couple of things that we're talking about, but for sure we'll be there for Soundwave, we're not supposed to technically be spouting that, but we're on 3 Wise's label, they run Soundwave and they want us down there, so I'm pretty sure well be there for Soundwave in the summertime.  I can't wait, I think the last tour for me down there was 2003, it's been a long time, it's been nine years, so I'm really excited, I think Chris too man, he's had some troubles getting in to Australia because of some stuff but he just got that squared away so I think he'll be down there with The 'Wagon' too…
What are your plans for the rest of the year?
We are headed out in a week we're doing the western US and we're doing that with our label mates 'Authority Zero' who are awesome, they do like a reggae punk, very 'NO FX' and they're super cool guys and we just did Europe with them.  We're label mates and we get along really well so we're doing Western US promoting the release of the album, the album comes out here in America the 31st of July, so the video we just did yesterday, then we've got another couple of tours coming up, Sum 41 in Canada and we're looking at 'Useless ID' in Japan, so it's looking good!
Essential Information
From: Santa Barbara, CA – USA
Band members: Donald Spence- Vocals & Guitar, Bryan Charlson- Drums, Mike Davenport- Bass, Chris Flippin- Guitar
Website:  http://www.VERSUSTHEWORLD.com
Latest release: Drink, Sing, Live, Love – (3 Wise Records)
Read our review of 'Drink, Sing, Live, Love' here…