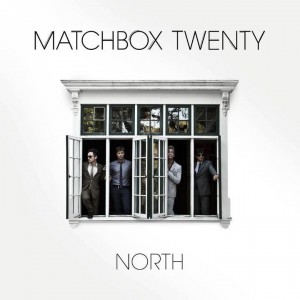 Back in 1996, before YouTube, before Facebook, before My Space and come to think of it, before the internet was what it is today, I stayed up for hours to hear a song on the radio, a song that half the time never got back announced, and all I knew was that the lyrics "Reach down your hand in your pocket, pull out some hope for me" resonated with me and from that day I was a Matchbox Twenty fan.  Watching them evolve over the years through albums has been a pleasure, I was concerned when Rob Thomas went solo and took on a little bit of a different direction that I was worried would come back to the Matchbox fold, thankfully with their new album, and first new material in five years, and actually their first full length album in ten years, 'North' it has not, well not completely.  This is still the Matchbox Twenty I know and love. Let me tell you about 'North'…
Lead track 'Parade' opens with simple a clean guitar, and instantly recognizable as Matchbox Twenty and a song that I can tell will become a 'classic' for the MB20 fans, a great rocker, well, as rock as Matchbox Twenty can be if you know what I mean?  The reintroduction to Matchbox Twenty this time around was with 'She's So Mean' a perfectly fun, rockin' track that you seriously can't help but like, it hooked me straight away and actually, funny story, I found myself humming it on the way to work this morning, so they've done well, not only with the track but also using it as choice for first single, a fitting welcome back, my only fear is that the rest of the album won't live up to it, so let's see. 'Overjoyed' slows it down a little and is a classy track but then 'Put Your Hands Up' brings the tempo back up and I actually had to check it hadn't skipped to a Maroon 5 track, here we get all trippy and keyboard friendly, I'm not sure how I feel about this one and I hope this hasn't set the scene for the later tracks.  Others may like this vibe, but it'll take a few more listens for me I think.
Oh no, more of it… no… 'Our Song' why, oh wait, it's not as bad as I thought, there are guitars, we're safe.  Catchy chorus, great feel but a little too produced for my liking on that one, although a good song I just felt there was a lot going on and there didn't need to be in my opinion.  Ahhh, here we go, a simple guitar and vocal… this is what works for me nicely.  'I Will' is lyrically so well written, and musically it's simple and effective as there are no bells, no whistles, and that makes it a winner.  A ballad that stands out in the midst of everything else going on here is something hard to do, but they did it well.  Nice work!  'English Town' brings in some strings as the song builds, suiting the vibe of the song and I love this one, it's a rocker and musically as it plays out is shades of Matchbox Twenty of old, I love it when they just get on a musical play and run with it.  OK, yes! 'How Long' has just given me my favourite part of a song on this album, the middle 8 here was great, that's what I want to hear from Matchbox Twenty, great production by throwing in that part and allowing it to become a great song because of it.
'Radio' sounds like it has come straight out of the 1950's in the verses and then into the DeLorean to give us a modern style chorus, so this is a Back To The Future song for me, I like the different vibes, the balance here is perfect and live this one will be a favourite, mark my words. 'The Way' throws us a curveball as guitarist Kyle Cook takes on lead vocals, and he does a bloody good job too, I knew it didn't sound like Rob as that was quite confusing on first listen, but it's a great song that's for sure and to me really shows the feel the band are going for song wise.  I mean to be honest there's no 'Push' or 'Unwell' on this album, well not so far, but this many years on I wouldn't expect that as the band grows, they can't be looking back and why should they?  A song such as 'Like Sugar', at times has somewhat of an industrial beat to it, with guitars over the top of keys but in saying that, they weren't overpowering enough to distract, you can tell it's a Matchbox Twenty song and a good one at that! 'Sleeping At The Wheel' is an absolute stand out, it's taken this long into the album for me to find a favourite and this is it.  This is the one that finishes the album (besides the deluxe tracks) and to me the one that feels the most like Matchbox Twenty of old.  This is a track that has heart, emotion and is perfectly written and that makes me a happy fan. "Everything that's perfect falls away…" Rob sings and it couldn't be truer, as always with Matchbox Twenty, I believe what they're singing and this was no exception.  This was a great way to end a really good record.  So for a bit of fun, let's see what the deluxe tracks are like…
First up we have 'I Believe In Everything' which could've been on the record itself, I would've loved hearing this up in the mix, a cool middle of the road rocker and thankfully able to be heard on the deluxe version, if you haven't got that version, scope this one out, it's just a cool sounding track that doesn't necessarily build to anything amazing, but it's just such a good song. 'Straight For This Life' gives us Rob, an acoustic guitar and some harmonies to deliver a sweet track, almost feels like a demo that could've been worked on to give us a killer track, yet works in this format, I like it a lot actually, but can't help but wonder what it could've been, if it was ever supposed to be… Lastly, we have 'Waiting On A Train' and man, seriously, why wasn't this on the album guys?!  What a cool track, it amazes me sometimes what ends up on the album and what's a bonus, this like 'I Believe In Everything' would've fit on the album and fit in well.  I guess we're lucky we get to hear them though, albeit it as a bonus track, but here it is and I dig it.
I guess in closing, bands always need to grow with the sounds and the times, yes what they've done here suits Matchbox Twenty, but liking it is a different thing and change from what you know and love can be a stretch sometimes.  As the sounds and the band need to grow, I need a few of these songs to grow on me and I know they will, maybe I was looking for that song that instantly captured me back in 1996 and here's hoping that even though it's not on this one, well, with 'North' they've proven they've still got plenty more left in the tank, so maybe next time, how about it guys?
Essential Information
From: USA
For fans of: Rock
Release date: 31 August 2012
Record label: Warner Music Australia
Producer: Matt Serletic
Website: http://www.matchboxtwenty.com
Track Listing
Parade
She's So Mean
Overjoyed
Put Your Hands Up
Our Song
I Will
English Town
How Long
Radio
The Way
Like Sugar
Sleeping At The Wheel
I Believe In Everything (deluxe edition)
Straight For This Life (deluxe edition)
Waiting On A Train (deluxe edition)
AUSTRALIAN TOUR DATES WITH INXS
SATURDAY OCTOBER 20 
MELBOURNE, ROD LAVER ARENA
SUNDAY OCTOBER 21 
MELBOURNE, ROD LAVER ARENA  (New date)
THURSDAY OCTOBER 25
CANBERRA, AIS ARENA
SATURDAY OCTOBER 27
BRISBANE ENTERTAINMENT CENTRE
TUESDAY OCTOBER 30
SYDNEY ENTERTAINMENT CENTRE
SATURDAY NOVEMBER 3
HUNTER VALLEY HOPE ESTATE
TUESDAY NOVEMBER 6
WOLLONGONG WIN ENTERTAINMENT CENTRE
THURSDAY NOVEMBER 8
ADELAIDE ENTERTAINMENT CENTRE
SUNDAY NOVEMBER 11
PERTH, PERTH ARENA