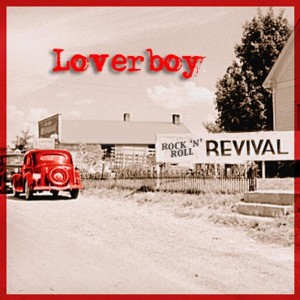 Loverboy – yes that's right, the Canadian rock legends Loverboy have just released on August 24th, a new album titled Rock N Roll Revival.  With Working For The Weekend and Turn Me Loose being a couple of classic 80's rock anthems, over their 30 plus years, the band has sold over 10 million albums worldwide.  Whilst the last 20 or so years have only produced two studio albums, 1997's VI and 2007's Just Getting Started, the legacy of Loverboy has well and truly remained strong thanks to regular touring action.  Hands up who has seen them throughout the USA this summer with Journey and Pat Benatar?  Not me unfortunately, I live in Australia…
So now, onto Rock N Roll Revival.  Well for those familiar with their 2007 studio release Just Getting Started, which was a pretty hefty dose of killer melodic rock. I have to break it to you straight up, on this new release there's only 3 new tracks.  Whilst I too was hoping for a brand new full length studio album, this release offers the new tracks combined with a bunch of newly done re-recordings and live versions of classic Loverboy tracks.  The new tracks see the band returning to work once again with famed producer and fellow Canadian Bob Rock and recording at Bryan Adams's studio, The Warehouse.  They are simply straight up Loverboy.  Rock N Roll Revival is an up-tempo anthem, the mid tempo No Tomorrow may take a listen or two for it's charms to win you over, whilst Heartbreak which has been doing the rounds now for a little while, stands out as the pick of the bunch and would slot in perfectly on the 2007 release Just Getting Started or any 80's Loverboy release for that matter.  For the remaining 9 tracks, we are treated to re-recordings of some Loverboy classics which are a combination of studio and live recordings.  Whilst this digital release the review is based upon doesn't specify which are the live tracks, the 9 tracks each have a live feel to them and some subtle differences to the studio originals.
For the super Loverboy fans out there, this will most likely end up being an album you can't resist purchasing, simply for the 3 new tracks alone and with the added bonus of some re-worked originals.  With the exposure that this release will hopefully obtain, combined with their recent touring action, if Rock N Roll Revival serves as a further way to continue the legacy of one of the great 80's rock bands, then I guess mission accomplished.  Review complete, now I'll go and get my fix of Just Getting Started, Loverboy and Get Lucky!
Essential Information
For fans of: Loverboy
Release date: August 24th 2012
Record label: Frontiers Records/Riot! Entertainment
Website: www.loverboyband.com
Track listing
Rock 'N' Roll Revival
No Tomorrow
Heartbreaker
Turn Me Loose
Working For The Weekend
Lovin' Every Minute of It
The Kid Is Hot Tonight
Lucky Ones
Always On My Mind
Queen Of The Broken Hearts
When It's Over
Hot Girls In Love