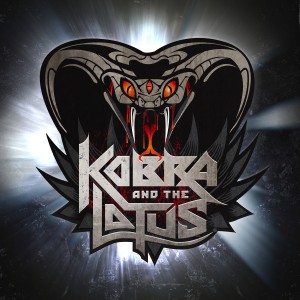 In 25 words or less: "If you are entranced by the vocals of Kobra Paige, then you have 41 minutes of aural pleasure awaiting you…"
In a metal world now dominated by virtually every sub-genre imaginable, on this, their self titled album, Canadian's Kobra and the Lotus deliver 11 tracks of straight up heavy metal, simple as that.  Signed to Simmons Records, the record label of Gene Simmons, the band have recently stormed their way through the UK and Europe, with appearances at the likes of Download, Sonisphere, Hellfest, Wacken & Bloodstock Festivals, and playing alongside Judas Priest and Saxon at the iconic Hammersmith Apollo.  Fronted by the powerhouse vocals of Kobra Paige and backed by a quartet of Kobra "charmers" for about the last 4 years, the band have been biding their time and perfecting their craft, waiting until for the right moment to unleash their self titled album.
With the blistering opening track 50 Shades Of Evil, the band waste no time in delivering a mighty slab of metal that most immediately planted me slap bang into the middle of a Doro Pesch or Warlock album, of course minus the German accent!  Welcome To My Funeral and Forever One which have so far featured as the first couple of video/single tracks slows down the power metal fury somewhat, but certainly escalate the drama and mystique, vocally, lyrically and musically.  Heaven's Veins hits you with a crushing slab of riffing and vocally sees Kobra Paige really start to unleash the vocal power that was initially classically trained, but ultimately shaped by the influence of studs, leather, and the masters Halford and Dickinson.
The band to me is at its best when they're at their most furious and fist pumping anthemic and Nayana is no exception, a standout track.  The piano led intro of Sanctuary adds a bit of a different dynamic to alleviate a creeping sense of familiarity amongst the tracks however don't let this songs lush beginning lull you into a false sense of security!  For some maybe the songs will offer too much vocal and not enough guitar, but that's really up to the ears of the beholder, for if you are entranced by the dramatic vocal stylings of Kobra Paige, then you have 41 minutes of aural pleasure awaiting you.
Kobra and The Lotus is an album well worth checking out if you simply just love heavy metal, especially of the classic variety originating over the years from the UK and Europe.
Check out our interview with Kobra Paige right here…
Essential Information
For fans of: Heavy metal
Record label: Spinefarm Records, Simmons Records
Release date: August 10th
Producer: Kevin Churko/Julius Butty
Website: www.kobraandthelotus.com
Track listing:
50 Shades Of Evil
Welcome To My Funeral
Forever One
Heaven's Veins
My Life
Nayana
Sanctuary
Lover Of The Beloved
No Rest For The Wicked
Aria Of Karmika
The YouTube ID of SXmZQyGHe1k  is invalid.