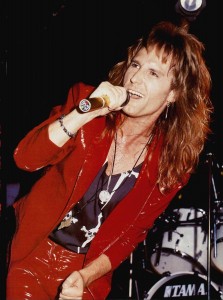 English singer/songwriter and famed front-man for super-groups The Babys and Bad English, John Waite heads to Australia for the first time ever for his national Greatest-Hits Tour, performing a collection of his hits that span a career of almost four decades.
The Lancaster (England) born singer is instantly recognisable and is cherished by a wide range of audiences. His unique and pristine voice is just as at home tearing through powerful rock-anthems, as it is eloquently and movingly delivering a ballad.
First coming to attention with leading British rock-group The Babys, John Waite first had chart success globally with "Isn't It Time" which spent two weeks at #1 on the Australian charts in (1977) and the single "Every Time I Think Of You" peaking at number six in (1979).  After five albums, The Babys separated in 1981 with Waite subsequently launching his solo career with his 1982 debut album "Ignition".  It wasn't until his following album "No Brakes" that Waite garnered international attention with the release of lead single "Missing You" (1984) which was a top-twenty hit globally & #1 in the US.  So popular was the track that it was later re-recorded and released by the likes of Rod Stewart, Tina Turner and Brooks & Dunn.
In 1989, Waite joined several former Babys band-mates to form super-group Bad English, which critics described as a characteristic Arena rock band. The first self-titled album of Bad English was certified platinum status within Australia and with "When I See You Smile", John Waite had his second #1 hit single in the U.S.A. The bands second album, "Backlash", produced two big hits: "Straight To Your Heart" and "Time Stood Still".
John Waite returned to solo work and since 1995 has produced a further five solo albums including his latest album "Rough And Tumble" (available now from iTunes) featuring songs co-written by Kyle Cook of Matchbox Twenty. Waite continues to actively tour, including in 2003 as a vocalist for Ringo Starr & his All-Star Band, alongside Colin Hay of Men At Work.
Legendary multi-talented and multi-faceted American hard-rock guitarist Keri Kelli will be joining Waite on stage for this Greatest Hits tour. Until recently, Keri spent in excess of 5 years crafting riffs, performing and co-writing tracks for Rock N Roll hall-of-fame legend & "King of shock" Alice Cooper, after forming part of the 2000-2002 line-up for American rock super group Slash's Snakepit, formed by then Guns N' Roses guitarist Slash in 1993.
JOHN WAITE GREATEST HITS TOUR 2012
With Special Guests
NOVEMBER 2012 | TICKETS ON SALE WEDNESDAY SEPTEMBER 5
Thursday November 1: The Palace Theatre, Melbourne VIC (18+)
Tickets from www.ticketmaster.com.au, & www.oztix.com.au or Retail Outlets 
Friday November 2: Waves, Wollongong NSW (18+)
Tickets from www.moshtix.com.au or 1300 438 849
Sunday November 4: Enmore Theatre, Enmore NSW (18+)
Tickets from www.ticketek.com.au or 132 849
Wednesday November 7: Newcastle Panthers, Newcastle NSW (18+)
Tickets from www.moshtix.com.au or 1300 438 849
Friday November 9: Metro City, Perth WA (18+)
Tickets from www.oztix.com.au or 1300 762 545
Sunday November 11: Canberra Southern Cross Club, Canberra ACT (18+)
Tickets from www.cscc.com.au or (02) 6283 7288 & www.foxtix.com.au
Wednesday November 14: C.ex Coffs, Coffs Harbour NSW (18+)
Tickets from www.cex.com.au or (02) 6652 3888
 Friday November 16: Eatons Hill Hotel, Brisbane QLD (18+)
Tickets from www.eatonshillhotel.com.au, www.oztix.com.au or OzTix Retail Outlets
Saturday November 17: Twin Towns Services Club, Gold Coast QLD (All Ages)
Tickets from www.twintowns.com.au or 1800 014 014
Sunday November 18: Caloundra RSL, Sunshine Coast QLD (18+)
Tickets from www.caloundrarsl.com.au or (07) 5438 5800
Wednesday November 21: The Northern Hotel, Byron Bay NSW (18+)
Tickets from www.oztix.com.au or 1300 762 545
 Thursday November 22: Panthers, Port Macquarie NSW (18+)
Tickets from www.ticketek.com.au or 132 849 & www.oztix.com.au or 1300 762 545
Saturday November 24: Wrest Point Entertainment Centre, Hobart TAS (18+)
Tickets from www.tixtas.com.au or 1300 795 257
Sunday November 25: The Governor Hindmarsh, Adelaide SA (18+)
Tickets from www.venuetix.com.au or (08) 8225 8888, www.moshtix.com.au or 1300 438 849, & www.ticketek.com.au or 132 849