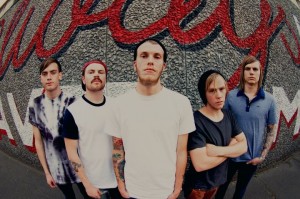 From Bio:  For explosive Melbourne rockers House VS Hurricane, second album Crooked Teeth represents a sonic rebirth.
Having made a name for themselves in Australia with steadily sold out shows and support slots with acts as diverse as Bullet For My Valentine, Enter Shikari and The Amity Affliction House Vs Hurricane cemented their reputation as the band to watch very early on. The band were only just hitting their stride after headlining run across Europe, when lead singer Chris Dicker announced his departure from the band. House Vs Hurricane retreated quietly from the public eye to reassess. Little did their fans know, they were entering a key transformative process.
Now House Vs Hurricane emerge from hibernation sporting a re-energised lineup. Sans keyboards and boasting a new frontman in former Nazarite Vow vocalist Dan Casey,  House Vs Hurricane have not only reformed, they've created what will be regarded as one of 2012's best heavy releases.
Crooked Teeth merges the band's ability to pen soaring choruses with off-kilter technical passages. It combines ambient beauty and crushing breakdown to devastating effect. Under the masterful watch of New Jersey's Machine (Bullet For My Valentine, Enter Shikari and The Amity Affliction), House Vs Hurricane successfully sidestepped the pitfalls and creative cul-de-sacs so many of their peers find themselves confronted by.
Crooked Teeth runs the full gamut of rock. Pummeling heavy metal and braggadocio collide head-on in savage opener "40 Deep" which is masterfully contrasted by skillful melodic interplay in the arena-ready anthem of "Lost World". Crooked Teeth sways effortlessly between punk rock aggression and delicate rock numbers without skipping a beat.
Crooked Teeth is a bold statement. It is House VS Hurricane's line in the sand.  Which side are you on?
We give you House vs Hurricane as one of our Best Things You've Never Heard.
Now, you have been around for a little while, but for those that aren't aware of you guys, can you please give us the House Vs Hurricane story in a tweet (that's 140 characters for those playing at home)
#wewereawesome #thenwesucked #nowweareawesomeagain
Can you please introduce each member of your band and give us a rock 'n' roll fact or myth about each of them?
Ryan – guitar/vox – loves hair
Dan – vox – push the bush.
Chris2 – STAND UP POODZ
Sam – drums – from the tribe of Kumar
Dylan –  bass – crip.
Your new album 'Crooked Teeth' is a truly great sounding rock hardcore release; with this being your second album, what if anything did you do differently in making the album this time around compared to your debut?
With the member changes and the growth of us as individuals as well as a band, we went in prepared and rejuvenated. Learning from our experiences whilst recording perspectives, we took more time writing and crafting the songs so we would all be happy with the finished product.
If you had to give us your best door to door salesman pitch to convince someone to listen to 'Crooked Teeth' before they slam the door in your face, what do you say to them without resorting to threats or violence?
Hopefully the music and the message speaks for itself, we aren't really into selling ourselves as a product.
With no longer using keyboards and with a new front man, in Dan Casey, what has dynamic has this brought to the band that you felt was missing previously?
Dan brings a new energy and enthusiasm we needed to keep going and bring us all together again. After the last cycle we weren't sure if we were going to continue but once Dan said yes we all got a renewed energy, somewhat of a new beginning.
In terms of your song writing, what do you consider to be the most important ingredients that make up a House vs Hurricane song?
We focused a lot more on direction during the writing process, really putting in a conscious effort to write the type of songs we wanted to write. We wanted this album to be as memorable as possible so we did everything we could to make that a reality.
Both lyrically and musically, what or who inspires/influences your music the most?
Fish Sticks
Touring wise, you're out on the road at the moment, what can people expect if they come to one of your shows?
About 38-45 minutes worth of music, 4 tuning breaks, a few shout outs and possibly an encore, oh and a whole heap of fun.
You've also been added to the Big Day Out line-up, what will you take to the festival stage that you wouldn't normally do on a smaller scale?
Legionnaires hats and sunscreen, honestly though, we will take the same energy that we try to take into every show and just have fun.
You've previously supported bands like Bullet For My Valentine, Enter Shikari and The Amity Affliction, what do you take away from an experience like that?
There is always something to learn when playing with bigger bands, whether it be a degree of professionalism or just a few sneaky tips, it all helps along the way.
You have an iPhone app, which is pretty cool, for those that haven't downloaded it, what can they expect if they do so?
If you want to keep up to date on everything going on in the Hurricane camp it's the best way to do it, we also throw out merch discounts and some bonus features via the app now and again
Now, for a bit of fun and it will soon be all the rage, we saw Tupac appear as a hologram at Coachella, if you could have any artist no longer with us perform on stage with you as a hologram, who would it be and why?
Sir Donald Bradman riding Phar Lap. Why? … Are you kidding me?
Lastly, here's a chance to gaze into your magic mirror.  In the next year, House vs Hurricane will have:
1. Played BDO
2. Toured overseas
3. Will have fallen over at least 200 times on stage
Essential Information
From: Melbourne, Australia
Sounds like: Progressive/Post Hardcore/Ambient
Band members: Dan Casey- Vocals, Ryan McLerie – Vocals/Guitar, Chris Shaw – Guitar, Dylan Stark – Bass, Sam Osborne – Drums
Website: http://www.housevshurricane.com