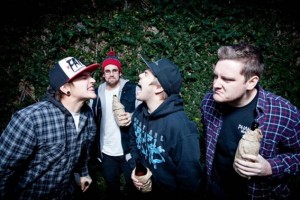 HEROES FOR HIRE announce No Apologies, their 3rd full-length album out September 28 through Halfcut/Shock/MTV Australia/New Zealand Local Produce Feature Artist for August 2012
Brand new video for title track and first single 'No Apologies' online now
 HEROES FOR HIRE and Halfcut Records are psyched to announce details of their forthcoming third LP No Apologies out through Halfcut/Shock on September 28, 2012.  From the sweatiest clubs to the biggest festival stages, Sydney's HEROES FOR HIRE have spent the last two years impressing audiences with their high energy pop punk anthems.
Earlier this year, the band bunkered down to write and record No Apologies, which they enlisted Steve Klein of US pop-punk kings New Found Glory to produce. Duane Hazell, HEROES FOR HIRE guitarist and songwriter, stated the record's moniker "is our way of saying we aren't sorry for the music we make, the way we act and who we are as people."
 Since unleashing their second studio album Take One For The Team in 2011, HEROES FOR HIRE have been all over commercial radio and TV networks with singles such as 'Bright Lights In Paradise', 'Secrets, Lies and Sins' and 'All Messed Up'. They are slaves to their relentless touring schedule which boasts a hugely successful stint on the Soundwave Festival 2012, headline tours across Japan, China, Australia and Thailand, as well as a forthcoming east-coast tour with California'sYellowcard this September and a showcase at this year's Big Sound conference in Brisbane.
 As the first local act signed to Shock Records' new heavy music imprint Halfcut, label head Stu Harvey said, "I'm thrilled that HEROES FOR HIRE are the first Australian addition to Halfcut. Their drive and work ethic fits perfectly with the label and the other acts inked to the label.  Everyone at Halfcut/Shock is excited about how well the new album No Apologies has turned out and we are proud to share it with everyone."
The video for 'No Apologies', the first single and title track, was premiered online last night (watch it here!) – It shows the boys playing in locations around Western Sydney which they all have a personal connection to – The drain where Lee almost lost a friend and where Brad used to go skating as a teenager, the skate park where Potter broke his face in a skating accident, the shed where Duane used to frequent to write songs.
HEROES FOR HIRE have been announced as MTV Australia and New Zealand's Local Produce feature artist for August.  From today onwards, HEROES FOR HIRE fans can head to MTV's on-air and online platforms for exclusive live performances, behind the scenes access and interviews with the band. The 'No Apologies' video is being featured on MTV Australia pay-tv channel, so be sure to keep an eye out!
HEROES FOR HIRE – No Apologies
September 28, 2012 (Halfcut/Shock)
www.facebook.com/HalfcutRecords