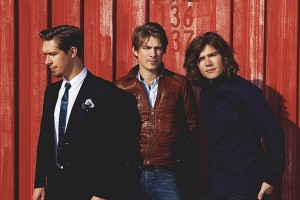 Ahead of their almost sold out Australian tour HANSON have announced their 5th studio album Shout It Out will be released digitally in Australia on the 7th of September 2012, preceded by the first single "Give A Little", which will be released to Radio and TV on the 20th of August 2012.
Isaac, Taylor and Zac Hanson are household names in Australia and it's no surprise – in 1997 one in ten Australian households owned a copy of the band's smash album Middle Of Nowhere and the nation's airwaves, hearts and minds resonated to the infectious sound of the band's smash hit MMMBop. Now, after a 7-year absence, HANSON are back with a brand new album and tour that is sure to capture the attention and imagination of a nation that has always embraced the band as their own.
Native sons of Tulsa, Oklahoma, HANSON have been making music together for nearly two decades. Thirteen years ago, their out-of-the-blue, soul-inspired brand of American pop-rock 'n' roll was introduced to the world. Unaffected by charts or fads, they've spent more than a decade building a community of fans connected to one another and fuelled by the energy and craftsmanship of three brothers and their music. On their fifth studio album, Shout It Out, released digitally in Australia on the 7th of August on the band's 3CG Records label, they deliver a powerful group of soulful, melodic tunes that will leave you with a contagious sense of optimism for the future and welcomed reminiscence for American rock 'n' roll.
 Shout It Out is a collection of finely crafted, R&B-flavored pop-rock, a homage to the music that inspired HANSON when they started out. The album produced and written exclusively by the band is augmented with special guests: Funk Brothers bassist Bob Babbitt, who played on some of Motown's greatest hits, and horn arranger Jerry Hey, who worked with Michael Jackson, Quincy Jones, Earth, Wind and Fire and many more.
"The anatomy of our band is similar to a '70s rock band – white guys from the Midwest who grew up listening to '50s and '60s soul, who are mixing guitars, with vintage keys and melodic songs," Taylor Hanson says. Adds Isaac, "We'll always be a bit rootsy 'cause it's in the Oklahoma soil (the state is also home to artists like Bob Wills, Woody Guthrie and the versatile Leon Russell), but what we've never stopped aspiring to is the great songwriters and performers who struck a chord with us first, that early rock 'n' rock roll and soul music from Chuck Berry to Otis Redding. We've rediscovered that aspiration on this record. There's a little more swing and a little more air."
While Shout It Out looks back in time musically, it also represents forward movement for HANSON. "We love playing classic songs," says Zac Hanson. "But we never sat down and wrote our version of what that sounds like until now."
They've sold millions of records and reached a level of adoration that few bands experience, and have also faced career obstacles that would have broken many artist's resolve. They waded through four years of struggle with a new corporate label made up of inherited executives in discord with the band, which eventually lead the band to leave the label (chronicled in the documentary film Strong Enough To Break) and launch their own independent record company, 3CG Records, in 2003. Amidst a crumbling industry, they built their own infrastructure around a DIY attitude and their commitment to their music and their fans.
Shout It Out showcases not only the music of HANSON, but the many aspects that have allowed the band to survive and stay relevant. "The album is about being alive, and the contrasts we are faced with," Taylor says. "We've come from a generation leaving the analogue world and moving into an interconnected culture at risk of forgetting where it came from. This album tries to put together those pieces, but with a bit of melody to back it up."
HANSON's Shout It Out is available digitally on September 7th, 2012 on 3GC Records
San Dimas Social Club and Tone Deaf Present:
Shout It Out Australian Tour 2012
Tuesday 11 September Hifi, Brisbane (Final tickets still available!)
with special guest Matt Wertz
www.moshtix.com.au
Thursday 13 September HQ, Adelaide (Sold Out!!!)
with special guest Matt Wertz
Friday 14 September Palace Theatre, Melbourne (Sold Out!!!)
with special guest Matt Wertz
Saturday 15 September HiFi, Sydney (Sold Out!!!)
with special guest Matt Wertz
Sunday 16 September Enmore (All Ages Show) Sydney (Final tickets still available!)
with special guest Matt Wertz
www.enmoretheatre.com.au / www.ticketek.com.au
Tuesday 18 September Palace Theatre, Melbourne (Sold Out!!!)
with special guest Matt Wertz
Thursday 20 September HiFi, Brisbane (Sold Out !!!)
with special guest Matt Wertz
Friday 21 September Coolangatta Hotel, Gold Coast (Sold Out!!!)
with special guest Matt Wertz
Saturday  22 September Metropolis, Fremantle (Sold Out!!!)
with special guest Matt Wertz