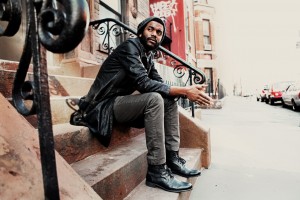 GARY CLARK JR ANNOUNCES AUSTRALIAN TOUR
Texan Blues Singer-Songwriter & Guitarist to perform for the first time in  Sydney & Melbourne this September 2012]
"Owing as much to Kurt Cobain and the Ramones as Buddy Guy and John Lee Hooker, indebted to hip-hop and psychedelia…. [Clark] is grounded in tradition while standing on the brink of change."  – Rolling Stone
"New favourite young purveyor of southern blues rock." –  Bernard Zuel – Sydney Morning Herald
"[Clark] is sultry and bluesy to the max….  but also delivers it with a serving of raw, emotional rock 'n' roll." triple j magazine
Do you ever get Texan country singer Guy Clark and American folk icon Gene Clark from The Byrds mixed up? If so, it sure sucks to be you, because now we're adding fellow Texan blues dynamo Gary Clark Jr into the mix, and this budding young legend is going to knock your freaking socks off on his inaugural Australian tour in September, 2012.
His tour-de-force debut Bright Lights EP and even his jaw-dropping concerts are only starting points for where he's headed. His Warner Bros. Records debut album is scheduled for release in October 2012.  Produced Mike Elizondo (whose credits are fittingly eclectic, running from Dr. Dre to Fiona Apple to Mastodon to Eric Hutchinson) the new album is harnessing the talents and ambitions of Clark Jr, without limiting the vast possibilities.
To coincide with his Australian tour, Warner Music Australia is set to the release The Bright Lights – Australian Tour Edition EP on September 7, 2012, which contains over 20 minutes of additional live music.
So just how talented is Gary Clark Jr? Only talented enough to have the mayor of music mecca Austin, Texas announce May 3, 2001 to be Gary Clark Jr Day – when the guitarist was only 17-years-old! He's been following the lead of former Austin guitar legends such as Stevie Ray Vaughan and Jimmie Vaughan in the way that he fuses the blues and rock'n'roll to take them both to a whole new level, and has been proclaimed by many in the know to be the hottest guitar player on the planet since the one-and-only Hendrix.
Earlier this year, he performed at the White House for Barack Obama in a band featuring Mick Jagger, Jeff Beck and BB King. When he played at Eric Clapton's Crossroads Guitar Festival a couple of years back he ended up onstage with Clapton, Buddy Guy and Ronnie Wood. He's collaborated with the who's who of hip hop from Nas to Alicia Keys and The Roots.  This American summer, Clark Jr has played every major festival from Bonnaroo to Sasquatch, New Orleans Essence Festival to Lollapalooza. He will return to Australia in early 2013 to take part in the new look Big Day Out that is sure to give those kids a whole new bluesy outlook on the festival experience.
So if you like your music innovative, classic-sounding and loud get along and find out just why the whole world is falling for the virtuosic six-string skills of Clark Jr – underground guitarists don't come more skilled or better credentialed than this prodigiously talented young axe-slinger.  Get into him here before the masses at two intimate shows in rock and roll breeding ground venues in Melbourne and Sydney this September.
GARY CLARK JR
PRESENTED BY LOVE POLICE TOURING, WARNER MUSIC AUSTRALIA and RRR
Thursday 27 September –  The Tote, Melbourne, VIC
With Jackson Firebird and Murlocs
Tickets at: lovepolice.com.au/tours  thetotehotel.oztix.com.au
Friday 28th September – The Annandale Hotel, Sydney, NSW
With Jackson Firebird and Doc Holliday Takes The Shotgun
Tickets at: lovepolice.com.au/tours  www.annandalehotel.com
BIG DAY OUT 2013 EVENT DATES & VENUES
Friday 18 January – Sydney – Showground
Sunday 20 January – Gold Coast – Parklands
Friday 25 January – Adelaide – Showground
Saturday 26 January – Melbourne – Flemington Racecourse
Monday 28 January – Perth – Claremont Showgrounds
GARY CLARK JR BRIGHT LIGHTS EP – AUSTRALIAN TOUR EDITION – AVAILABLE SEPTEMBER 7, 2012
TRACKLISTING:
Bright Lights
Don't Owe You A Thang
Things Are Changin' – (Live/Solo Acoustic)
When My Train Pulls In – (Live/Solo Acoustic)
Third Stone From the Sun / If You Love Me Like You Say – (Live In Charlottesville, VA)
Bright Lights (Live In London, England) 
www.garyclarkjr.com
www.facebook.com/GaryClarkJr
www.twitter.com/GaryClarkJr
www.warnermusic.com.au