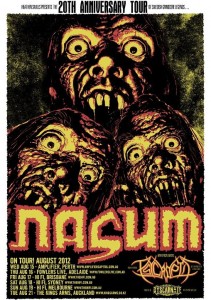 FOR THE FIRST TIME IN AUSTRALIA…
NASUM – 20th ANNIVERSARY TOUR with special guests: PSYCROPTIC (Tasmania) & DYSCARNATE (UK)
Legendary Swedish grindcore band NASUM head to our shores for the first – and only – time this August as part of their world tour to celebrate their 20th Anniversary and final farewell. This is it…never to happen again.
Nasum terrorized the underground with their unique and unmistakable blend of brutal musical madness from their inception in 1992. With 4 full length albums, countless 7"s, MCDs and a plethora of compilation appearances, Nasum were unstoppable and the undisputed kings of the grind scene until their untimely and tragic end.Nasum parted ways after their vocalist Mieszko Talarczyk tragically passed away in Thailand during the tsunami of 2004. After long deliberation and scrutiny they decided to reunite and do a handful of shows around the world in 2012 to celebrate their 20th anniversary and say a final goodbye to the fans and Mieszko. No cheesy reunion, no new albums, no epitaph for Mieszko – just unruly celebrations.
To handle vocal duties on the upcoming shows they have asked Keijo Niinimaa, vocalist in Finnish grind favourites Rotten Sound. They were always close friends of Nasum, and while Keijo's plagued screams won't replace Mieszko, they will add a crippling viciousness to the shows.
Joining Nasum around the country as special guests are the Tasmanian extreme metal horde PSYCROPTIC on their first Australian tour since the release of their critically acclaimed new album "The Inherited Repression".
Take note people: if you ever wanted to see Nasum blast shit to bits, this is your last and only chance. Ever. Psycroptic on the bill will only sweeten the deal. These shows are unmissable!
TOUR DATES: August, 2012
Wednesday 15th Aug – Amplifier, Perth
www.amplifiercapitol.com.au
w/ Dyscarnate (UK) + special guests
Thursday 16th Aug – Fowlers Live, Adelaide
www.fowlerslive.com.au
w/ Psycroptic & Dyscarnate (UK)
Friday 17th Aug – Hi Fi, Brisbane
www.thehifi.com.au
w/ Psycroptic & Dyscarnate (UK), Captain Cleanoff
Saturday 18th Aug – Hi Fi, Sydney
www.thehifi.com.au
w/ Psycroptic & Dyscarnate (UK), Captain Clean Off
Sunday 19th Aug – Hi Fi, Melbourne
www.thehifi.com.au
w/ Psycroptic & Dyscarnate (UK), Captain Clean Off
Tuesday 21st Aug – The Kings Arms, Auckland
www.kingsarms.co.nz
w/ Ulcerate & Odiusembowel