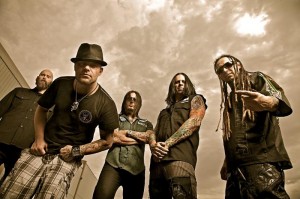 FIVE FINGER DEATH PUNCH HITS #1 WITH "COMING DOWN"
Marks Tenth Straight Top Ten Track at Active Rock
THE METAL HAMMER PRESENTED TRESPASS AMERICA FESTIVAL CONTINUES TO RECEIVE RAVES FROM MEDIA AND FANS ALIKE 
Five Finger Death Punch has hit #1 with the band's current single "Coming Down."  The track is the tenth consecutive Top 10 hit at the Active Rock format, cementing the act's position as one of the most relevant at the format.  Going back to "The Bleeding" in the spring of 2008.  Five Finger Death Punch is one of the most heavily played bands at rock radio, as "Never Enough," "Stranger Than Fiction," "Hard To See," "Walk Away," "Bad Company," "Far From Home," "Under And Over It," and most recently "Remember Everything," each has become an anthem in its own right.  The band's current album, American Capitalist, continues to sell extremely well with 436,254 copies sold since its debut at #3 on the Billboard charts October 11th.  The imminent certification of the band's third record to hit RIAA-Certified Gold status over the last two years, and  cumulative track downloads exceeding one million sold, displays that there are few acts more successful than Five Finger Death Punch.
Singer Ivan Moody shares, "radio stations across the U.S., and basically the whole World, have been very supportive of the band.  We are grateful and remain indebted to them for stepping behind us, and as our fan base continues to grow year after year, it is clear that rock radio is far from dead. People are listening.  With 'Coming Down,' there is obviously a deep message of hope this song lyrically offers.  To have success on the radio with a track that is so meaningful to me personally, and many others,  is an amazing feeling."
The Metal Hammer presented Trespass America Festival featuring headliner Five Finger Death Punch kicked off in Broomfield, CO on July 13th.  The tour has travelled west to east, and now begins to snake its way towards Los Angeles where it wraps on August 28 at the Hollywood Palladium.  Guitarist Zoltan Bathory recently shared, "It's exhilarating to produce shows this magnitude, especially taking it from the drawing board all the way to giant stages nationwide… The only thing that's even more exciting than watching our vision materialize is seeing the fans' reaction."  The 31-date tour, headlined by Five Finger Death Punch, also features Killswitch Engage, Trivium, Pop Evil, Emmure, God Forbid, and Battlecross.  Images from the tour opener can be found here: https://10thst.box.com/s/4b98505baf689a6e509f.  The itinerary of remaining dates follows below.
The Metal Hammer Trespass America Festival has pledged $1.00 for every ticket sold this summer to the National Suicide Prevention Lifeline's network of crisis call centers. In cooperation with the Lifeline, Five Finger Death Punch filmed a public service announcement that can be screened here:  http://youtu.be/IUY6rohaBBY.  Guitarist Zoltan Bathory recently shared, "Through support and awareness, suicide can be prevented.  Five Finger Death Punch  is promoting the National Suicide Prevention Lifeline to build awareness that there is support out there for those in need through the Lifeline's service, and others.  This is an important initiative we have taken on to place it on the consciousness of the public that you are not alone when in need." The National Suicide Prevention Lifeline is administered by Link2Health Solutions Inc., awholly owned affiliate of the Mental Health Association of New York City.
The full METAL HAMMER TRESPASS AMERICA FESTIVAL itinerary includes upcoming appearances in:
8/14       Pittsburgh, PA                                              Stage AE
8/15       Hartford, CT                                                Comcast Theatre
8/17       Boston, MA                                                  House of Blues
8/18       Newark, NJ                                                  Prudential Center
8/19       Philadelphia, PA                                            Penn's Landing – Festival Pier
8/21       Charlotte, NC                                               Time Warner Amph
8/22       Knoxville, TN                                               Knoxville Civic Coliseum
8/24       Oklahoma City, OK                                        Zoo Amph
8/25       Rio Rancho, NM                                            Santa Ana Star Center
8/26       Phoenix, AZ                                                 Comercia Theatre
8/28       Los Angeles, CA                                            Hollywood Palladium
More information at www.trespassamerica.com.
Official Site: www.fivefingerdeathpunch.com
Facebook: facebook.com/fivefingerdeathpunch
Twitter: twitter.com/5FDP_official