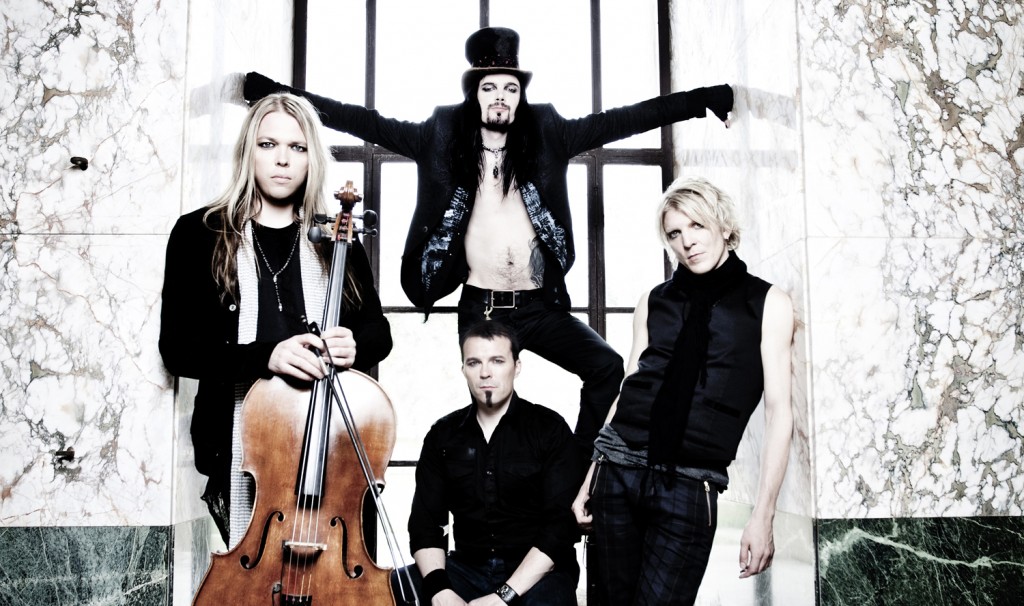 "It's a high energy intense kick ass heavy metal show with a lot of fun, with a lot of very entertaining stuff, we are not too serious you know, we are serious but there will be so many moments where we are not serious at all which is why it is so entertaining."
From Bio: Since they formed in 1993, Finnish orchestral rock band Apocalyptica has released seven studio albums featuring numerous cello-based instrumentals along with some vocal-based songs. Whatever styles they've explored – from atmospheric interludes to fast, battering rhythms — their music has been gripping, dynamic and full of melody. But it was on their seventh album, 7th Symphony that the band has composed an album that not just symphonic, it's practically a symphony.
Heading to Australia for the first time in their twenty year career, we spoke to Eicca from Apocalyptica about their upcoming tour of Australia, cover versions and just what the near future holds for these cellorockers!
You are coming to Australia for the first time, can you talk us through an Apocalyptica show and what it entails for those that haven't seen your show before?
Wow, that's hard to describe ha ha.  At the moment, the shows, we play all the stuff from all the albums, of course we have the drummer in the shows that we have had in the band for years and years already.  We are bringing a singer with us and I think it's a full blast metal show; it's very entertaining, it's a lot of fun, we have a lot of classical elements there, even acoustic moments, so it's very exciting and I guarantee its super fun to watch.  It's kind of a big show.  It's a high energy intense kick ass heavy metal show with a lot of fun, with a lot of very entertaining stuff, we are not too serious you know, we are serious but there will be so many moments where we are not serious at all which is why it is so entertaining.  The program is a combination from all the albums basically, there are some classical elements involved, metal and some really hard core metal, so it's exciting and it's something that we've seen our audience is a big mixture of all ages of people, from different social background, we have classical audience, we have hard core metal fans and we have everything in between, and I think the show offers a lot, a unique experience for people that are not in to metal at all, you don't need to be in to metal to like an Apocalyptica show.
You mention you're bringing a vocalist with you, is it anyone we may know?
No, he's a Finnish guy, he's called Tipe Johnson, he used to be in the band 'Leningrad Cowboys', not sure if they're known in Australia, so he's used to being in that band before, but he's been touring with us for now I think four years.  We use him for mainly the singles, the latest singles, he's not singing the Metallica songs, because that's the spot for the audience, but we play the Metallica, but it's minor in the show, as we have seven albums and a lot of stuff to play from there.
It wasn't until 2007 when the world really took notice with 'Worlds Collide' what do you think it was specifically that resonated with people on that album?
I think a very big reason is of course the singles that we finally had songs that were played on radio, on that album of course that spread the word and gave more awareness for the band and I think it was also, loads of people knew us kind of from the first albums, but since then a lot of people love to track what's going on with Apocalyptica, they didn't know that we still exist.  When we suddenly came up with some singles they say 'I know this band, they did the Metallica thing in '96' so it connected, it was our sort of comeback album in that sense ha ha.
'7th Symphony', was funnily enough your seventh album, did you do anything differently recording wise to differ from previous releases?
Yeah, all the time we work with different producers and I think '7th Symphony' was kind of a follow up from 'World's Collide' because 'World's Collide' was the first album we had loads of guests, three or four?  I can't remember even ha ha, because many times around an album you work with so many people and you never know which songs are finally ending up to the album and which collaborations end up in the studio and on the proper recording.  That's why I can't remember, I think its three vocal tracks on that album, so we wanted to do a follow up for that record, but, what we wanted to change this time even more we wrote the songs to be vocal tracks and then the other songs to be instrumental tracks.  So we were not worried about how the instrumental and vocal music fits together, we wanted to get them away from each other, to write more vocal tracks and then more progressive, more crazy, more different instrumental stuff, that was something that we wanted to change on the song writing front for '7th Symphony'.
When writing the songs that will end up with vocals, do you already have a voice in mind when writing and then approach the artist in the hope they'll sing on it?
Um… it's a little bit different at different times.  Sometimes we write together with the singers, with the vocalists, but then sometimes we write the vocal tracks and when we have the song existing we start to think, ok, who would be the right person to sing this song and then we start to approach the people we like.  Every time it's a little different approach.
Over the years you've worked with a number of guest vocalists on your music, who stands out as the most amazing both in stature for you and sheer performance skills?
Ha ha that's kind of impossible to say because there have been so many outstanding performances, like Till Lindemann is one of the greatest, Corey Taylor is amazing, Adam Gontier is amazing, but maybe one of the most exciting persons to work with is Nina Hagen, because when we were shooting a video and we did two days and we did some TV performances in Germany and I did some TV interviews with her and that was something different I must say ha ha.  She's an amazing person, but I think she's maybe the strangest person I worked with ha ha.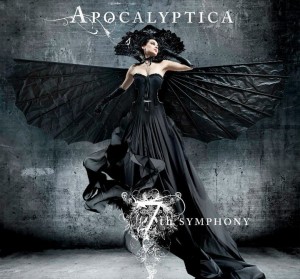 '7th Symphony' is two years old now, are you currently writing for a new album?
No, actually, after the Australian dates we are going to have a long break, like one year off from the band, because we've been doing now sixteen years with no breaks, no proper breaks, all the time touring or song writing or preproduction or recording.  At the moment, the band is in its best shape ever and the mood is great in the band, so now is the right time to have some time out. Also we have some different ideas for different possibilities for the future and we're out of the record deal at the moment, so we want to get some distance to what we've done so far and get some free space for some new fresh ideas we want to, for Apocalyptica, for us, it's always been important to develop the band and to do something new next step.  We had two albums with this concept, having the special guests so we want to see what the feeling for the next step.  In the last two years we've added more classical and acoustic elements to the live show and also to the side projects we've done now.  We have a lot of exciting things we want to try with good time and experience and therefore we have no plan for the next album.  There will be a next album that's for sure, but what kind of concept it will be, nobody knows.
Looking back at the covers you once recorded, which was your favourite to play?
My favourite to play is 'Inquisition Symphony' by Sepultura, that's a song that I think there's been a single Apocalyptica show in our whole history where we have not played it.  I think that's the only since we've played since '93 ha ha ha and there's no way to play a concert without that song.  That's kind of ultimate brutality, it's so fast and it's so furious and it's so crazy and we don't even feel it's a Sepultura song, we feel it's our song because our version has been living its own life, but its most fast and most furious and most crazy song in the whole set, that's why it's my favourite.
When you do these covers, do you ever worry that they may not like it and may not let you do it?
Ha ha no, not really, I think all the versions we've done we do with full respect to the original, even though we change some things, we do it by our heart. Therefore I think that's the reason why all the people whose songs we've been covering they really like what we do and what we've done and that's why Metallica was really supportive from the first time they heard the first album they were like 'This kicks ass' and they usually don't like the cover versions too much of their music, but for Apocalyptica versions they are always going for it and they were very supportive for us and we've opened for tonnes of times for them over the years, and it felt always great.  Of course the one song unfortunately was not released for one German band, but you know sometimes when you don't know the people and you have no idea and all you hear is these people are very difficult with permissions for the versions, then you think OK I hope they like it.  So far everybody else liked our versions.
Doing this now for almost twenty years, what do you think it is that keeps you going?
I don't know, we just love to do music and of course it's been hard in between with such a long period, but I don't know, we found a way to how we respect each other as musicians and as persons, and we see the development all the time and for me personally that's very important thing I feel the thing is developing, it's going somewhere, there is a direction, it's not just standing somewhere, stuck somewhere, that's why it's not getting boring.  Every show is new and fresh and that's why we want to have the break, because now we have the great spirit in the band, it's definitely now if we have a break, we have a powerful kick ass feeling when we come back and, I don't know, it's so inspiring to work together, that's the reason.
Catch Apocalyptica on tour in Australia at the following dates:
Thu 30th August – Brisbane Hi-Fi 18+
with AWAKEN SOLACE 
Tickets from thehifi.com.au or 1300 The HIFI & Moshtix outlets
including Kill The Music, Butterbeats CBD & Valley and Atlantis Music Southport
Fri 31st August- Sydney Hi-Fi 18+
with RISE OF AVERNUS
Tickets from thehifi.com.au or 1300 The HIFI & Moshtix outlets
including Resist Records, Utopia Records & Red Eye Records
Sat 1st September- Melbourne Hi-Fi 18+
with BE'LAKOR
Tickets from thehifi.com.au or 1300 THE HIFI & Moshtix outlets
including Fist2Face, Polyester Records & Greville St Records
Essential Information
From: Helsinki, Finland
Band members: Eicca Toppinen, Perttu Kivilaakso, Paavo Lotjonen, Mikko Siren
Website: http://www.apocalyptica.com
Latest release: 7th Symphony (2010)