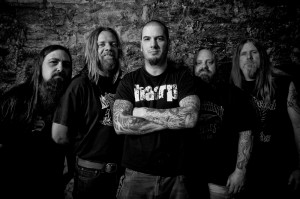 Metal forerunners DOWN will release Down IV Part I – The Purple EP, their first body of new material in five years, on September 14, 2012 via Roadrunner Records.  First single from Down IV Part I – The Purple EP is Witchtripper, with Rolling Stone calling it a "typically aggressive Anselmo vocal against a twisting, grinding musical backdrop."
The six song EP is the first in a series of four EP's planned for release over the next year. DOWN, which includes Philip Anselmo (Pantera) on vocals, Pepper Keenan (C.O.C.) on lead guitars, Kirk Windstein (Crowbar) on guitar, Jimmy Bowery (Eye Hate God) on drums, and Pat Brudners (Crowbar), the newest addition to the line-up, on bass.
Self-produced and recorded at Nodfertu's Lair, located at Anselmo's New Orleans home, Down IV Part I – The Purple EP is undeniably the product of the iconic collective that is DOWN, whose members origins span from Pantera, Corrosion of Conformity, Crowbar, and Eyehategod.  Staggering riffs, thunderous drums, and Anselmo's inimitable delivery crush and captivate over the course of the collection's six songs. It's dark. It's dangerous. It's decisive. It's DOWN at their best.
"I do believe that we have delivered a record that will be accepted and hopefully enjoyed by the DOWN horde—if you will," says Anselmo. "If you're looking for a DOWN record, it's very pure and real."
Lyrically, the EP goes beyond just personal experiences, and explores themes that include the faith of mankind, the imperfection of mankind and cultural belief systems.
"DOWN gives me the platform to be poetic and paint imagery with lyrics," says Anselmo. "That's the approach I took. They complement the music and create an ominous feeling. Ultimately, when people consume the words, it's always their interpretation that matters. I could be image-conscious though when I wrote. It's not so gut level or street. The darker shit is some of my favorite."
With an album sales history totaling over 725k, these New Orleans natives are no strangers to success.  Their legendary 1995 debut Nola is certified platinum, while Down II: A Bustle In Your Hedgerow [2002] and Down III [2007] remain fan and critical successes. Count on The Purple EP to garner similar achievements!
EP 1 Track Listing:
Levitation
Witchtripper
Open Coffins
The Curse Is A Lie
This Work Is Timeless
Misfortune Teller
Down IV Part I – The Purple EP is out on September 14 through Roadrunner Records.
http://www.down-nola.com/
www.facebook.com/down
au.roadrunnerrecords.com