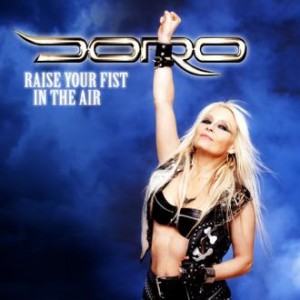 The undisputed queen of metal, Doro, marks her arrival on new record label Nuclear Blast (fellow Germans), with the release of this four track EP, Raise Your Fist In The Air.  With a new full length album due out in October set to contain the tracks on this EP, this release acts merely as a teaser for what is to come.
Title track Raise Your Fist is indeed a fist-pumping anthem…basically, I would have been disappointed if it wasn't given the title!  If you dig All We Are by Warlock and the Scorpions, then you will dig this one!  Victory serves another dose of Doro styled metal with some big riffs, but is a bit darker and more menacing than it's predecessor.  Engel is a soaring ballad sung entirely in German and the closing track is Raise Your First sung entirely in French.  Interesting, yes indeed it is!
It's been well over 3 years since Doro's last studio release Fear No Evil and to whet our appetites for the new album due in October, this EP serves as a pretty tantalising introduction!
Essential Information
For fans of: Doro, Warlock, Heavy Metal!
Release date: August 3rd, 2012
Record label: Nuclear Blast/Riot! Entertainment
Website: www.doro.de
Track listing:
Raise Your Fist
Victory
Engel
Raise Your Fist (French)