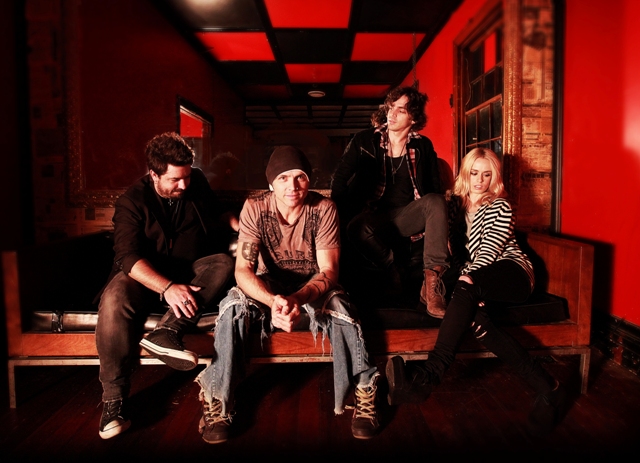 Nat Col & The Kings are no strangers to the pages of May The Rock Be With You, having first featured an interview with them back in February 2011, which you can incidentally check out right here…  On that occasion we chatted with the bands guitarist and vocalist, Nathan Cavaleri, however last week we thought we would mix it up and have a chat with manic drummer, Col Hatchman.  Since releasing their debut EP a few years back, the band have followed that up with a second EP and have taken their powerful, bluesy, fiery brand of rock all around the country, tearing up everything from the smallest of stages all the way through to festival appearances at the likes of Byron Bay Blues Festival, The Indy V8 Supercars, Apollo Bay, Caxton Street Festival, Queenscliff, Broadbeach Bluesfest and many more.
Having been locked up in the studio preparing for their third EP as well as getting everything in order for the next phase of their domination, the guys are raring to go and do what they do best…tear up a stage near you, whilst also launching new single Coming Home.  You can watch the video for that below!
Check out our chat below with Col Hatchman and make sure you check out the upcoming Victorian and NSW dates below and go support live Aussie rock at a local venue near you!
Hey Col, thanks for taking the time to have a chat!  So tell me, you are kicking off the Coming Home tour this week, it's no doubt stating the obvious that it must be great to get back out on the road again…
(Laughs) mate, Nath and I have been texting each other saying we've gotta get the fuck out of here and get back on the road and let that energy out.  We're like caged animals when we haven't played for a while haha!
So what's been keeping you from touring, has it mainly been finishing off the new EP?
We finished off the EP a while ago, it's more so been getting together some video footage and doing some video edits.  I actually just uploaded a video edit for our next live at the clubhouse series.  It's a song called Sunshine which is off our 2nd EP, but there's a live version video wise that's gone up that's on the next EP as well.  We've also been doing the Coming Home single clip and getting the song to TV and radio and stuff like that.  We've been running through new stuff and rehearsing, so we've been definitely getting the whole package together again.
The single Coming Home from your to be released forthcoming EP has been doing the rounds now for a little while, but it seems that it's really been getting some strong interest recently on radio and some airtime on TV.  Who came up with the concept of Monkey Man (appears in the video) or whatever you guys might call him (laughs)?
(Laughs) you know, we bounced around some crazy ideas as we didn't want just a standard stock miming along type clip, because we aren't that kind of band, we would want to do it live.  Part of our management team actually came up with the final concept, we used a great producer and director and it all came together really well, we're really happy with it.
Later in the year your third EP is on the way, do you have any release dates for that yet?
I would say that might be out around the end of September.  We aren't too far off, we wanted to release that single first and it's a four track EP.  There's no set release date as such, I've left that up to our management to deal with that side of it.  It's actually nice to be back in the seat of playing drums and playing the artistic side of things and leaving the logistics to management.
That's obviously a great sign given back in the beginnings obviously it was you guys doing all that logistics and hands on stuff!
Nathan and I have lived and breathed this thing for a few years now, getting the beast up and running.  All the job descriptions that you could complain about doing we've done, but it was such a great learning experience for us.  Now it's nice we've got a great team built up around us, management, publicist and radio plugger and even our own internal team has grown as well with our website guy and promo girl.  All those hats we used to wear have now been delegated and it's nice to get back into the creative seat!
I guess musicians are never really satisfied that they've "nailed" their true sound so to speak, but with this being your 3rd EP now, where would you say you guys  are at in terms of defining the Nat Col & The King's sound?
I think you hit on the head, a musician is rarely ever happy.  But I am really happy with the place we are on this one, we've definitely fine tuned the beast, especially compared to where we were for the first EP.  I guess that's the beauty of EPs as well, you don't have to evolve say twelve songs all at once, you can do bits and pieces and I guess that's how the industry is these days as well.
So have you guys recorded and produced the EP yourselves, or have you been working with someone?
Nath's really good in the studio, he's very well tuned.  Me, I'm the opposite, I've been playing drums far too long and I'm the color blind, deaf bloke (laughs).  We work with a great guy called Josh Telford at The Grove Studio on the Central Coast here.  It's an awesome studio, for example they did Silverchair's Diorama, Superjesus have done stuff there, and it's just a world class studio.  We had the pleasure of going in there, it's in some obscure part of the Central Coast that you've gotta take dirt roads to get to and it's set out on like 25 acres, so you get to stay there and disappear, there's not even any phone service.  Everything we like!
When you guys started, you had a revolving cast of players coming through, now you have Kenny on bass, who seems to have settled into the band, so is he now a permanent fixture as one of the "Kings"?
Yes he is, he's definitely a part of the NCK team.  The revolving door happened for far too long, but we played with some great bass players when you look back, there are just some great players out there.  To get that one who's willing to put in the real hard yards and just not be a session guy and who matches up with Nath and I, Kenny's the man.  I've known Kenny for years, being part of the furniture around Newcastle playing in bands before I was even in the Jets. We all gel really well, so yes, he is the main King!  Nat Col and The King!  We've actually got a new girl on this run, Toni Bird, it will be nice on this run to have another soldier in for the long haul helping to build the band.  She's got her first van trip with us this afternoon, so that should help break the ice (laughs).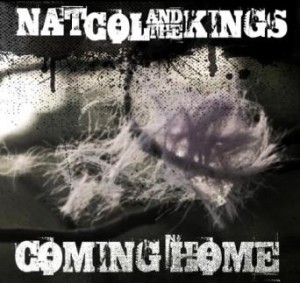 Speaking very generally, over the course of Nat Col & The Kings, the word "blues" is never usually far away when describing the band, and I myself even use this term "blues" to describe you guys very loosely.  So where does that sit in terms of what you guys perceive the band to be?
Well I don't really read a lot of reviews written about us per se'.  With the term blues being used in relation to us, well Nath is obviously comfortable with and grew up playing the blues, so that blues element certainly comes through in the notes he chooses.  Then the rock element really comes from the way I slam things.  We definitely fit into the bluesy character and it's such a tweak on blues, because we're not traditional, that's for sure.  When we put this band together as a massive departure obviously from Dirty Skanks, Nath kind of got to a point where stylistically he wanted to play what he grew playing and do it well.  It was a fun little blast for him to go the other way with Skanks and go quite funk heavy and just ignore the blues, but I think he definitely feels more comfortable and he's so fucking good at it, playing those notes.
Flipping that last question around, when you look out into the crowd during a Nat Col & the Kings show, what do you see as far as diversity of fan base, I would expect you must get all types coming to check you out?
It's really, really diverse.  Out of all the hundreds of shows we've done over the last couple of years, it's like a Zoo (laughs).  It's kind of like going to a Mr Bungle show, you'll see someone in a suit, someone with dreads, you'll see all the flavours, young and old. There's the old, or should I say mature ones, that knew Nathan as a kid and then there's the kids that come along.  I guess the one thing about Nat Col & The Kings when we play live, there's an energy that doesn't even translate onto record, and you can only get it live.  I think that's why the crowd is so diverse as well, you get one 16 or 17yo that comes along and sees us maybe at some outdoor festival and all of a sudden there's a whole bunch of kids online checking us out and wanting to know when the next underage shows are, when's the next festival and so on. When we sat down with our management and marketing team a while ago, we had a really hard time picking our demographic, because it is so completely varied and diverse.
So what does the rest of 2012 hold for you guy, after this run of shows is over, I assume it will be then another tour to promote the EP?
We'll probably be back in the studio again even before the EPs released working on stuff for the next (fourth) EP and road testing it on the next tour.  But right now it's all about promoting Coming Home, the Sunshine live video and then the EP coming out.  I know we are heading over to the West Coast in November, so that may mark the very beginnings of the EP tour, I would say we will be doing both East and West for the EP tour.
Well I look forward to catching you guys in Melbourne in the 30th at The Evelyn!
I've never played The Evelyn before, so I'm really looking forward to that one, I've heard its got a really good vibe!
Essential Information
From: Sydney/Newcastle, Australia
Band members: Nathan Cavaleri – Vocals & Guitar, Col Hatchman – Drums
Website: www.nck.fm
Latest release: Coming Home (Single)
Tour dates:
Thursday 30 August
The Evelyn, Fitzroy VIC
$12 + bf presale & $13/15 Inc Walkup
Tickets via www.Oztix.com.au & www.Moshtix.com.au
Friday 31 August
Ruby's, Belgrave VIC
$12 + bf presale & $13/15 Inc Walkup
Tickets via www.Oztix.com.au & www.Moshtix.com.au
Saturday 1 September
Bended Elbow, Geelong  VIC
$12 + bf presale & $13/15 Inc Walkup
Tickets via www.Oztix.com.au
Friday 7 September
The Vanguard, Sydney NSW
$12 + bf presale & $13/15 Inc Walkup
Tickets via www.thevanguard.com.au
Saturday 8 September
Fitzroy Hotel, Windsor NSW
Free Entry
Friday 14 September
Grand Junction Hotel, Maitland NSW
Free Entry
Saturday 15 September
The Heritage, Bulli NSW
$12 + bf presale & $13/15 Inc Walkup
Tickets via www.Oztix.com.au