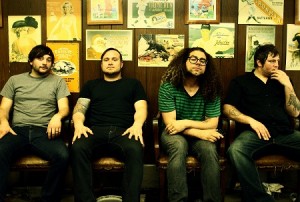 First Installment, 'The Afterman: Ascension' to be released October 12
Modern progressive rock band Coheed and Cambria's upcoming sixth studio album will be a double concept album entitled, 'The Afterman',and will be released in two separate full-length volumes.
The band made the announcement this week via a cinematic video trailer, a 90-second black and white classic film-noir style short, from director Robert Schober online now at www.coheedandcambria.com
The first volume, 'The Afterman: Ascension,' will be available on both physical and digital platforms October 12, 2012 via V2 / Cooperative Music. The second volume, 'The Afterman: Descension' is slated for release in February 2013.
'The Afterman' sees the band perfecting their powerhouse progressive rock, soul and even pop landscapes. The dual release also marks the return of original drummer Josh Eppard, who the band parted ways with in 2006, bringing with him his benchmark percussive grooves. Coheed and Cambria self-financed and co-produced the album alongside Michael Birnbaum and Chris Bittner, who produced the band's first 3 albums, in Woodstock, NY. 'The Afterman' was mixed by Rich Costey (Muse, The Shins, Foster the People) and Ryan Williams (30 Seconds To Mars).
"This is without a doubt, the most honest record I've ever written," says Sanchez. "Though all the songs can be interpreted through our main character in the story, they were initially written in a very spontaneous manner." "In the past, I've always had a predetermined idea of what the story was going to be when I approached the songs. With 'The Afterman' being a new story within the (Amory Wars) arc, it allowed the events of my life to drive the concept, and therefore opened up the songwriting to a fuller degree."
A deluxe version of 'The Afterman' will include a hardcover coffee-table book with expansive art by Heidi Taillefer and Nathan Spoor with collaborative written work from singer/creator Claudio Sanchez and writer Peter David that will create a song by song experience.  All the band's titles, including 'The Afterman', fall into a grand sci-fi story arc called The Amory Wars'
It was announced previously at this month's San Diego Comic Con that The Amory Wars has been picked up by Mark Wahlberg and Stephen Levinson of Leverage Productions to be developed into a live-action feature film.
The Afterman: Ascension wil be released on October 12, 2012 via V2 / Cooperative Music.