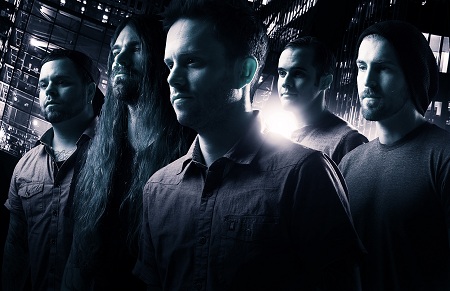 Destroy All Lines and Australian Guitar Magazine present…Between the Buried and Me Australian Tour
Metal heroes Between The Buried And Me have confirmed an Australian tour, kicking off this November in support of their forthcoming seventh studio album.
The North Carolina five-piece will come straight off some serious US and European touring to make their first trip to Oz since 2010. They'll hit five capital cities with their decade strong arsenal of impressive, dynamic speed-meets-prog metal.
Out October 9th, Between the Buried and Me's The Parallax II: Future Sequence is the quintet's most complex, ambitious and accomplished release to date, and their first-full length release on Metal Blade/Riot Entertainment.
The 12-track conceptual release was described by Tommy Rogers (vocals, keyboards) as: "A conceptual journey that takes the listener to worlds that seem familiar and worlds that make you scratch your head. From start to finish this is music we want to create, not music we think people want us to create. We create songs that keep us (and hopefully you) excited about heavy music."   The first single from the album, "Telos," can be streamed at www.metalblade.com/btbam.
Between The Buried And Me have sold in excess of 400,000 records internationally since their 2002 self-titled debut.  "The group's ability to layer long, melodic arcs over squibs of dissonance has never been more surgical and soulful," said Alternative Press of the band's prequel to The Parallax II (2011 EP The Parallax: Hypersleep Dialogues).  Revolver described the record as "a cohesive piece of art" adding "Between The Buried And Me are on a level of songwriting skill that few bands hope to reach…"
Visiting Oz in support of BTBAM will be US instrumental metal act Animals As Leaders. The trailblazing trio have two albums under their belts, exhibiting an excellent mix of progressive metal with jazz, electronic and ambient flourishes. Steve Vai called them "the future of creative, heavy virtuoso guitar playing." This will be the band's first trip to Australia and they'll be an awesome accompaniment to the BTBAM live show.
Australian fans can expect some thrilling shows courtesy of BTBAM and their brand new album come November.
Tickets on sale 9am Thursday 30 August
With guests Animals As Leaders

RSVP ON FACEBOOK HERE!

Tuesday 13 November – Amplifier Bar, Perth (18+)
Tickets: www.heatseeker.com.au, 78's, Mills, Planet Video or Star Surf

Wednesday 14 November – Fowlers, Adelaide (Lic/AA)
Tickets: Moshtix on 1300 438 849 or www.moshtix.com.au,
Venue*Tix on (08) 8225 8888 or www.venuetix.com.au

Thursday 15 November – The Zoo, Brisbane (18+)
Tickets: Oztix on 1300 762 545, www.destroyalllines.oztix.com.au, and Oztix Outlets

Friday 16 November – The Corner Hotel, Melbourne (18+)
Tickets: Corner Box: 57 Swan St Richmond 10am-8pm Mon-Sat, 03 9427 9198 www.cornerhotel.com or Fist2Face (03) 9095 7911

Saturday 17 November – The Metro, Sydney (18+)
Tickets: Ticketek on 132 849 or www.ticketek.com.au
Metro Theatre Box Office 02 9550 3666 or www.metrotheatre.com.au


www.facebook.com/BTBAMofficial
www.metalblade.com/btbam
www.twitter.com/btbamofficial
www.facebook.com/metalbladerecords
www.destroyalllines.oztix.com.au